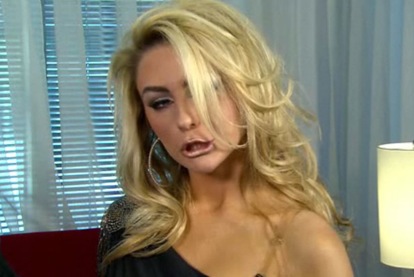 Using the word "PDA" when it comes to Courtney Stodden and Doug Hutchison is wholly inadequate. I'm sure they were doing something so gross that observers would have preferred eating raw pumpkin guts to having to see them. After I wrote that, I saw the photos and it was just as bad as I assumed. Courtney is wearing the same white boots that the hookers in Berlin wear to stand out. (Really, the prostitutes in Berlin wear white stripper boots just like that. I can't speak for hookers in other cities as I haven't really noticed them.) On their own, those shoes can signify a working girl but paired with Daisy Dukes so short half of her ass cheeks are hanging out and a tied-up stomach-baring plaid shirt she just looks like a parody of one. Seventeen year-old Courtney is cartoonish and plastic looking in a way that doesn't seem human, but when you see her kissing her old husband she looks somehow vulnerable and it's just disturbing. Others agree with me and complained so much that Courtney and Doug were supposedly asked to leave the pumpkin patch. It wasn't the same pumpkin patch where all the faux-celebrities go, it was another one with slightly higher standards. I'm sure that Courtney and Doug wanted to make sure only one photo agency got their "exclusive," since they're so famous and in-demand. This "kicked out of the pumpkin patch" story could be total bunk for publicity too.
'Teen bride' Courtney Stodden and husband Doug Hutchison were tossed from a pumpkin patch in the Santa Clarita Valley over the weekend, after fellow pumpkin prospectors complained the amorous May-December couple had behaved inappropriately at the family-geared venue.

Onlookers also complained that Courtney — wearing Daisy Dukes and a plaid shirt tied to show off her flat belly — was not dressed appropriately for the patch. After Courtney, 17, and Doug, 51, were 86'ed from the patch, they went to a nearby area where Courtney struck some sexy poses for the camera.

Courtney presumably referred to the incident on her Twitter page, writing: "Have a beautifully blessed Sunday! "Do not judge by appearances, but judge with right judgment." John 7:24″

While Courtney's parents have pledged their full support to their daughter's marriage to The Green Mile star, the unlikely duo has raised some eyebrows since going public with their marriage.
[From Radar Online]
How would you explain that to your kid? Most kids wouldn't realize that girl is just 17, so at least you wouldn't have to field questions about why she's kissing her dad. You'd probably try to hide their eyes, or divert them with something else. "Hey look at that pig all cute wallowing in the mud over there!"
Also I love how this girl quotes Bible verses. Do you think she went to church dressed like that?