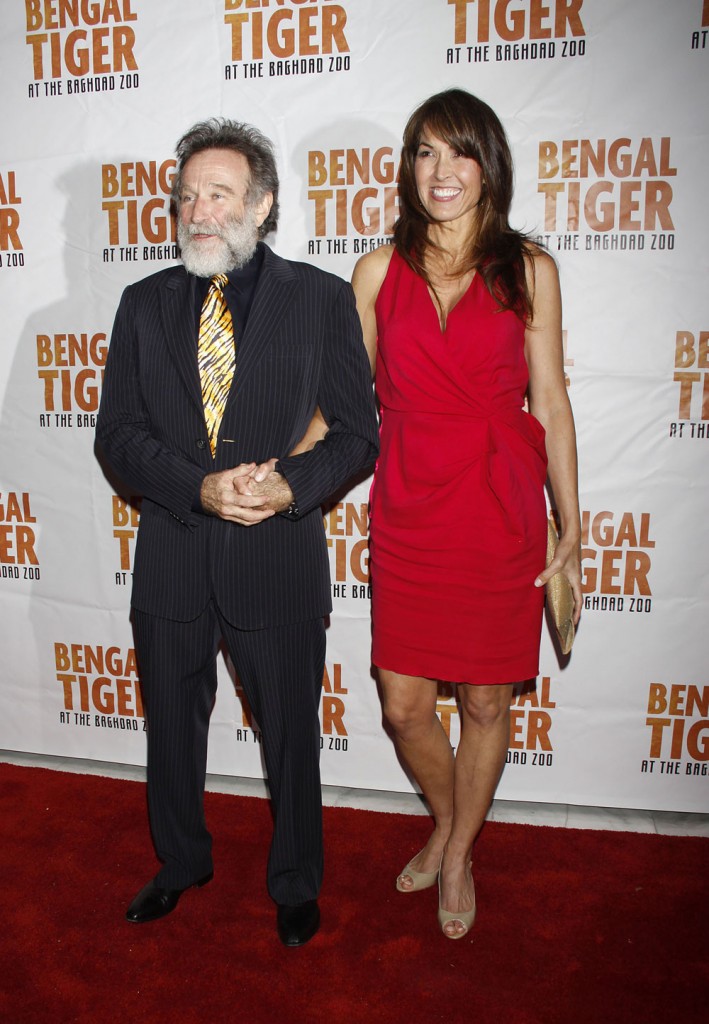 We don't gossip much about manic comedian Robin Williams, 60, but he divorced his wife of 19 years, Marsha Garces, in 2008. The National Enquirer reported that Williams' cheating that drove his wife to file for divorce, and that he was dating a 27 year-old artist from Connecticut and paying her $10,000 a month to rent an apartment in Manhattan at the time. Williams' wife shouldn't be surprised that he was stepping out on her. She worked as a nanny to his son from his first wife when he got her pregnant and then married her in 1989. Anyway Williams just got married for the third time, and it wasn't to the young artist. This time he married a 47 year-old graphic designer who tended to him during his recovery from heart surgery. It sounds kind of sweet actually and they look really good together.
Robin Williams exchanged vows with graphic designer Susan Schneider on Sunday at the Meadowood Resort in Napa Valley, his rep confirms to PEOPLE.

The couple met shortly before the actor and comedian, 60, had heart surgery in 2009, according to Britain's The Guardian, which also reports that Schneider helped nurse him back to health.

It's the third trip down the aisle for Williams, who has three children – Zachary, 28, Zelda, 22, and Cody, 19 – from his first two marriages. His previous wife, Marsha, filed for divorce in 2008.
[From People]
Well good for them. I hope he shaved off that giant white beard for his wedding. It really ages him. I think he's sporting it for a role, though. Williams plays a foul-mouthed tiger (really) in a Broadway play called "Bengal Tiger at the Baghdad Zoo."