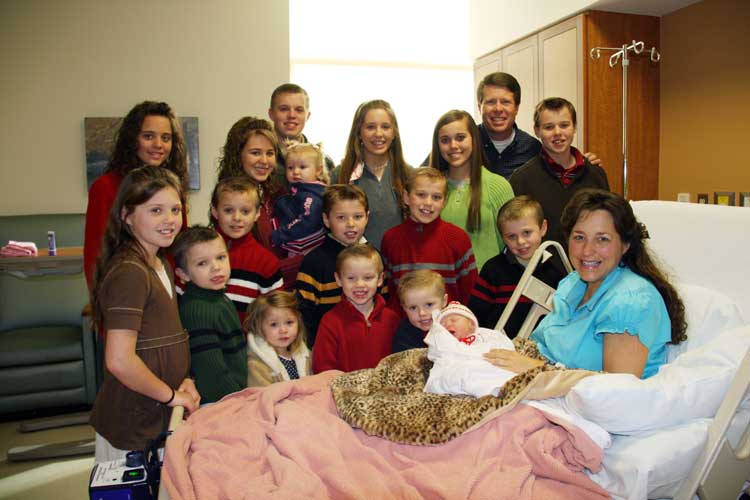 Rob Shuter of HuffPo has a new interview with The Duggar Family to promote their reality show. This is probably not news to Duggar-loonies, but this family with 19 kids doesn't let them watch any regular television or have pets at all. The television thing makes sense in a way since they're devoutly religious and homeschool. They're starring on a reality show on a trashy network, though. I mean TLC airs My Strange Addiction, Strange Sex and Toddlers and Tiaras. What do they think about those shows? The Duggar kids do get to watch wholesome old shows like "The Andy Griffith show" on DVD, though. Jim Bob explained that they don't have pets because they were told by some doctor that they would be a distraction. They didn't get any pets at the start of their marriage and their kids aren't allowed to have any either.
Oh and Jim Bob heaped praise on Kirk Cameron, that former "Growing Pains" actor who believes evolution is a myth. Cameron is so self righteous he won't kiss anyone on screen apart from his wife. I'm sure that explains his current lack of an acting career.
According to Jim Bob and Michelle Duggar of TLC's "19 Kids and Counting," the secret to a successful marriage is pretty simple: ditch your TV and say no to pets.

"I grew up watching TV, but when we got married a doctor friend of ours encouraged us not to have a pet or a TV the first year of marriage. So we did that. For the first year we lived on love," Jim Bob tells me. "And after that someone gave us a TV and for the first three weeks we were both glued to it. Communications dropped off, we weren't talking as much and we couldn't believe the content on TV we didn't think was appropriate. This is detrimental to our marriage. We prayed about it and felt we had to pull it out of our house, which we did. And I would say that is one of the best things we have done for our family."

The couple admits they do now have a television in the house — not to watch other reality shows, but to watch "wholesome" family programs on DVD.

"We do watch DVDs — 'The Andy Griffith show,'" Jim Bob tells me. "We are very selective about what we watch. We actually don't watch broadcast TV."

And forget Brad Pitt or Johnny Depp. Michelle's favorite actor is Kirk Cameron because he refuses to kiss anyone but his wife.

"I really appreciate what he stands for. He says whenever he plays roles and whatever movie he will not kiss another woman besides his wife," Michelle explains. "Whenever they have to do that they have figured it out that they will bring his wife in and he will kiss his wife and I'm so impressed. That's one of my kids' favorite actors."
[From Huffington Post]
What are the Duggar kids even watching Kirk Cameron in, this Biblical Armageddon series called Left Behind? (Check out a trailer for the sequel here, the bad acting is hysterical and it looks violent.) As for the "no pets" rule, there are enough babies and toddlers for the children to care for, they don't need a damn dog or cat. Every kid's job is to look after another kid though that "buddy system" they have going. The youngest one is going to have it easy.