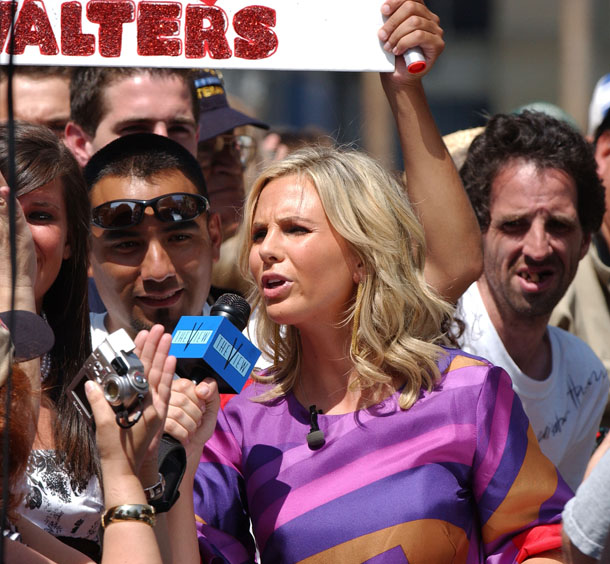 Things have obviously gotten very tense on The View in the last few weeks as we've gotten closer to the election. Joy Behar and Elisabeth Hasselbeck have been at each other's throats constantly, with things coming to a head last week both on stage and off.
Hasselbeck responded to all the criticism by campaigning for Sarah Palin over the weekend. According to Whoopi Goldberg, the outspoken Republican gets more death threats than any of the other women on the show. Wonder if that bothers her or if she considers it a complement?
ELISABETH Hasselbeck gets more death threats than anyone else on "The View," Whoopi Goldberg revealed Monday night at Cooper Union. Whoopi – part of a panel discussion on Art and Educational Justice hosted by the Stella Adler Studio with Rosie Perez, Phylicia Rashad and Anna Deavere Smith – said of her conservative co-host: "Politically we could not be more opposite, but I respect her tremendously. Truth is, we could not have a dialogue without Elizabeth. It's not that we have to agree, the important thing is that we have the conversation."
[From Page Six]
While I don't think I've ever once agreed with Elisabeth Hasselbeck, I do appreciate Whoopi's point. You need to hear both sides to really think about the issues. The problem is that the way The View often goes about it is clearly to get ratings, up the drama, and thus up the gossip. So no one's really paying attention to the issues so much as they're paying attention to how pissed off they are.
Whoopi's probably the most fair person on the show when it comes to politics. But I think this is another case of her assuming that her way of approaching things is everyone's way of approaching things, and that's not necessarily the case.
Here's Whoopi Goldberg walking through Soho in August. Elisabeth is shown at the ceremony for Barbara Walters honoring her star on the Hollywood Walk of Fame in June 2007. Images thanks to Bauer-Griffin.