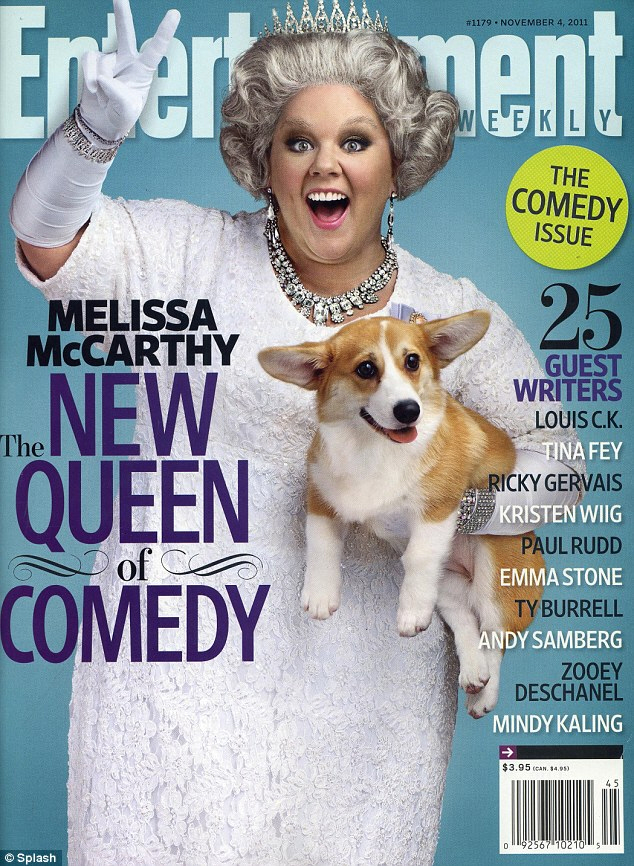 I LOVE this Entertainment Weekly cover. This is one of the most fantastic things I've ever seen. I love Melissa McCarthy's "Queen-face". I love the corgi! Is that a real corgi, or is it a cartoon? I'm asking because his expression and his eyes are so cartoony. It's amazing! In the early EW excerpts from the cover story, Melissa talks about body image and how she used to be a goth when she was a kid (I want pictures), and she also discusses that controversy last year with the Marie Claire blogger who went completely crazy criticizing Melissa's body.
Bridesmaids, Mike & Molly, and a winning SNL gig have turned Melissa McCarthy into a red-hot star, as well as the cover girl for our 2011 Comedy Issue. EW sat down with the hilarious McCarthy for a little steak, a bunch of drinks, and an unexpected amount of tears.

"Comedy to me is all about the bumps and bruises and weird tics," says McCarthy. "It's everything you find out about somebody when you fall in love with them that on paper is really creepy but you find adorable."

When McCarthy was a teenager at an all-girls Catholic school in Plainfield, Ill., she stunned her mild-mannered parents by diving deep into a wickedly surly goth phase.

"There was a three-year chunk as a teen where I should have been tranquilized and put in a cage," she says. If her daughters ever try to pull some of the crap she did in high school, she has a plan. "I will embarrass my kids to their core. I will threaten to show up in hot pants and a tube top. Their dad will drive me. And he'll let me and my friend Lisa get pretty drunk in the backseat and we will come into that party and just rip it up."

Now she's suddenly finding herself one of comedy's most sought-after actresses, even though she doesn't look like your typical movie star. "Do I sometimes hope I wake up in the morning and people are like, 'What's wrong with her? She looks emaciated,' " she says. "Of course I would love that. I'm such a clothes whore I would love the opportunity to be a hanger. But I think I'm more confident than I've ever felt in my life."

The Emmy Award winner also spoke out about how she felt when a blogger famously commented on her weight and said: "My first thought was 'Gosh, I hope she doesn't have a daughter.' And then after a second I thought, 'What a sad, troubled person. You're making such a sh**y judgment on people.'"
[From Entertainment Weekly & The Mail]
I'm glad that Melissa is being crowned the "Queen of Comedy" and that she's getting so much love from so many people. I like that she seems to have a plan too – she's producing and developing her own projects and not just waiting for people to hand her work. That's very smart.
As for her comments about body image and all of that – isn't it refreshing to hear from someone who isn't completely delusional? I mean, Melissa knows what size she is. She's not trying to convince us or herself that she's a size 4 (side-eye at Kim Kardashian and Kirstie Alley). Melissa has a realistic self-image and she's not putting on airs. I really like that about her.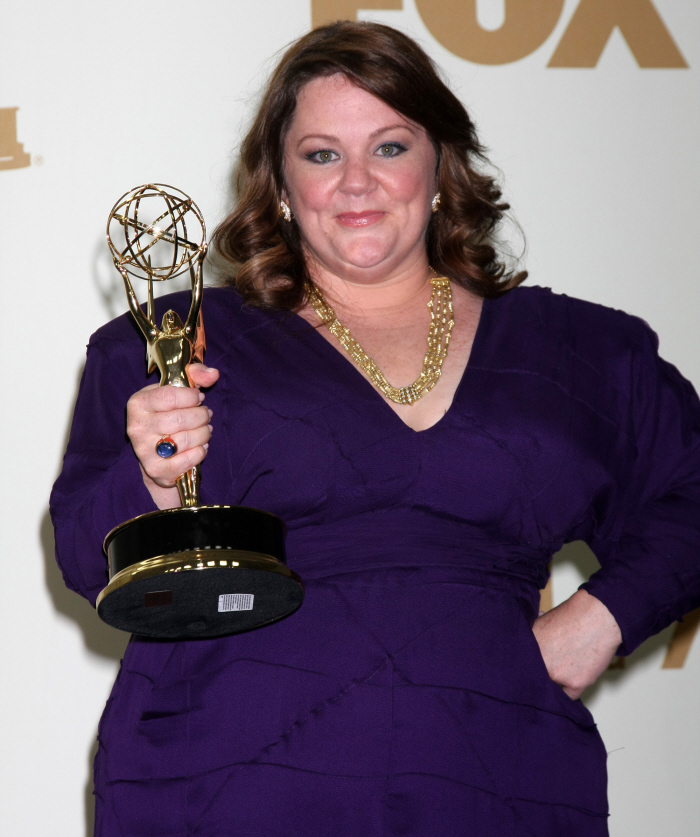 Cover courtesy of EW, additional pic by WENN.