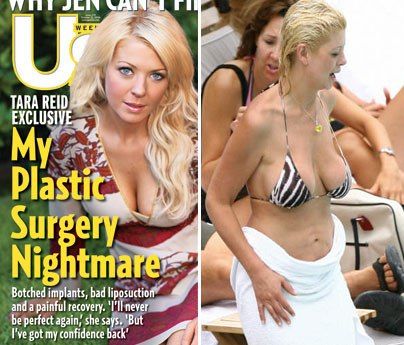 Tara Reid has admitted that she hired a cheap hack who made her look like a Frankenbarbie, ruining her movie career, sending her into a drunken depression, and forcing her to steal swag in order to survive. She said she sold her story to US Weekly in order to pay to get some stuff fixed, and hopes that her next direct-to-DVD horror film helps her afford the mortgage on her condo:
On why she had plastic surgery in the first place:
"I got my breasts done for the first time because my breasts were uneven. I was a 34-B, but the right one was always bigger than the left. I weigh 110 pounds now, but I always used to fluctuate by 10 pounds, so my skin was kind of saggy. I figured, I'm in Hollywood, I'm getting older, I'm going to fix them."
On what went wrong:
"First of all, I asked for big Bs, and he did not give me big Bs. He gave me Cs, and I didn't want them. At all. Right after the surgery, I had some bumps along the edges of my nipples, but the doctor said, 'Don't worry, it's going to be better.' But after six months of 'it's going to get better,' it started to get worse and worse."
On being intimate:
Guys I was dating would be like, 'What's wrong with them? They look really bad. You know, you should really get them fixed.' So embarrassing. I mean, you definitely need to turn off the lights, that's for sure."
On getting lipo:
"I got lipo because even though I was skinny, I wanted – I'm not going to lie – a six-pack. I had body contouring, but it all went wrong. My stomach became the most ripply, bulgy thing."
That's great of poor Tara to come clean and all, and maybe she can make friends with pregnant Tori Spelling now that they're both selling their sad tales to US to run as cover stories during slow news weeks.
We haven't seen any pictures of Tara lately apart from the pitiful scene where she got shut out of Hyde and waited patiently, making self-depricating comments. Either she's so "last week" that she doesn't warrant the space on the paparrazi's digital memory cards, or she's staying out of trouble by not hitting the celebrity hot spots while she's recovering from surgery.
She looks really cleaned up the cover of US Weekly, and maybe she'll settle into a comfortable sober lifestyle of relative obscurity, but I doubt it.