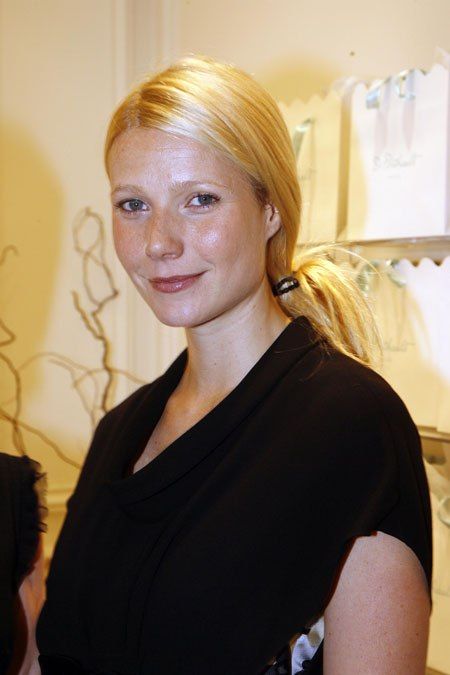 Gwyneth Paltrow is on one of her supposedly crazy diets again where you don't eat dairy or gluten/wheat products and avoid most fruit. It's the lead story in the celebrity section of The Sun today, and they make a big deal out of it, but it doesn't seem so strange to me:
GWYNETH PALTROW is taking desperate measures to shift her baby bulk…
But incredibly I can reveal Gwyn has taken up an even more extreme diet, drawn up by her long-term health guru Dr Nish Joshi.
He's the same man who introduced Gwyn to cupping — a bizarre suction therapy that involves pressing jars full of hot air to the skin to improve blood flow and remove toxins.
Gwyn is BANNED from wheat, dairy products, sugar, gluten, booze and red meat.
She is allowed turkey, chicken and white fish but NO swordfish. Veg is OK but she can have NO tomatoes, peppers or other fruits, except for bananas.
Coldplay singer CHRIS MARTIN's missus is also taking various herbal supplements to flush out toxins and undergoes regular reflexology and cupping sessions and a rather unpleasant series of colonics. In case you're interested, Dr Joshi, who is based in London's famous Wimpole Street, charges £750 for the detox diet and, er, accompanying procedures.
His other clients include CATE BLANCHETT, who did the same diet in August, and NICOLE APPLETON, who has been getting into shape for the ALL SAINTS comeback.
Gwyneth just must have started this diet, because she sure had plenty of champagne at her birthday party last month.
I have gone on diets like that and once you're used to the routine you feel pretty healthy as long as you're getting the right nutrients. After my son was born I went on a no-wheat no-milk diet in order to make sure my milk was digestible. Some claim that it's a myth that food you eat passes through to your breastmilk, but I got the diet from one of Dr. Sears' baby books and I swear my baby stopped being colicky afterwards. After a few months less passes through to the baby through the milk so I went back to eating normal food again.
A lot of people are sensitive to gluten and dairy and a "paleolithic diet" is considered quite healthy by experts. A friend of mine's wife had MS and was nearly cured after giving up wheat and dairy. For more on these type of diets, read up on Dr. Weston Price's "Nutrition and Physical Degeneration."
I know I am talking about diets a lot lately, but I think they really work if you're sensible about them and eat enough.
Here is Gwyneth at Paris Fashion Week with Kim Cattrall. She doesn't need to lose weight, but she could do something about her makeup. I really dislike it when people put eyeliner on the membranes of their eyes without putting it beneath the eye too and think it looks strange. Makeup artist rubygirl214 commented on our J.Lo looks terrible post, so I wonder what she thinks.
Pictures [via]