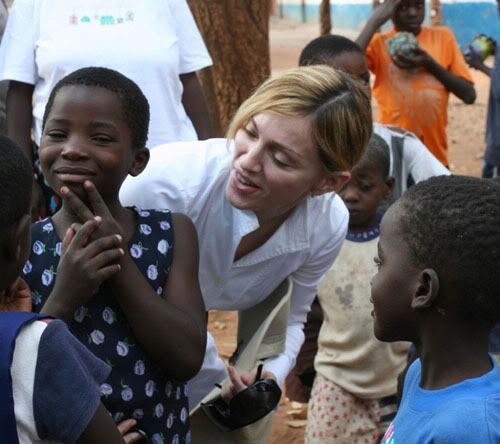 A 32 year-old Malawian man claims that Madonna adopted his one year-old son, who has been staying at the Home of Hope Orphan Care Center in Mchinji since his mother died from childbirth complications when the baby was a month old.
Malawian government officials have made public statements that Madonna is looking to adopt a one-year old orphan, but Madonna's publicist said that they were just looking for press and that those stories weren't true.
Now a man says that his son has hit the lottery jackpot after being picked out of a baby lineup set up by the orphanage for Madonna:
Madonna has made no public comment since her arrival. Her publicist, Liz Rosenberg, said in a statement last week that the star was on a private visit working on projects for children, and dismissed statements from Malawian government officials that she and her husband, film director Guy Ritchie, planned to adopt a boy.
"I am the father of David, who has been adopted," [Yohame] Banda 32, told The Associated Press Tuesday. "I am very very happy because as you can see there is poverty in this village and I know he will be very well looked after in America."
Since Banda isn't aware that Madonna actually lives in England, not America, it lends more credence to his statement, considering that he's not well informed enough about pop culture to be able to use the media for publicity. He might be trying to get his son adopted, though. People would jump at the chance to scoop up a little one year-old that was supposedly passed over by the aging pop queen.
I'm not sure if this is true and although it seems likely given the stories that Madonna wanted another baby to save her marriage, I think we should wait and see on this one.
There are stories that Guy Richie is telling Madonna to be careful about adopting a child that may be perceived as a celebrity status symbol, but I'm sure these were easily made up by anyone observing the situation.
Madonna is in the poor Southeastern African nation for some time, having rented out a luxury guesthouse on a cattle and horse ranch near the Malawain president's palace. Her bodyguards say that they are staying for "a while":
"We are not leaving soon," said Madonna's chief bodyguard, who gave his name only as Steve. "We are here for a while."
Madonna and her entourage have taken over a posh guesthouse called Kumbali Lodge, situated on a cattle and horse ranch in a well-to-do part of the capital, Lilongwe. It is near the presidential palace — and not far away from poor settlements of mud huts, which are home to the vast majority of Malawi's population.
If Madonna has adopted a boy we may not hear about it until she brings him home with her.
It is possible that she is just doing her best to spread her cult religion around the world. Her orphanages will educate children on the sham belief system of the Kabbalah cult.
Pictures from A Socialite's Life.