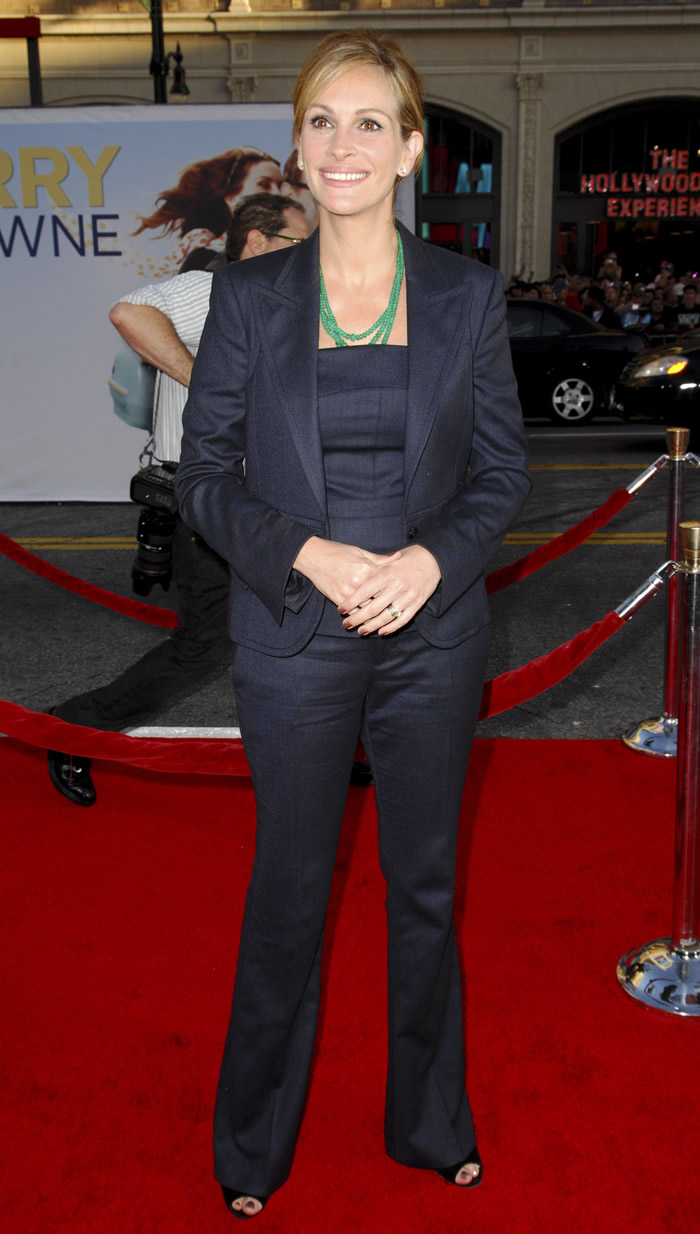 So far, Julia Roberts has been able to keep the fact that she's playing the Evil Queen from her kids, but that certainly doesn't mean that she didn't acquire some, uh, baggage while on the set of her as-yet-untitled "Snow White" movie. Presumably, Julia's metabolism has caught up with her as she's progressed into her 40s, which means that she's no longer able to stay rail thin without effort. How tragic. Allegedly and according to The Enquirer, Julia's pissed off about this weight gain because it makes her look really bad next to her hardbodied husband, Danny Moder. Here he is looking pretty good while competing in the Malibu Triathlon: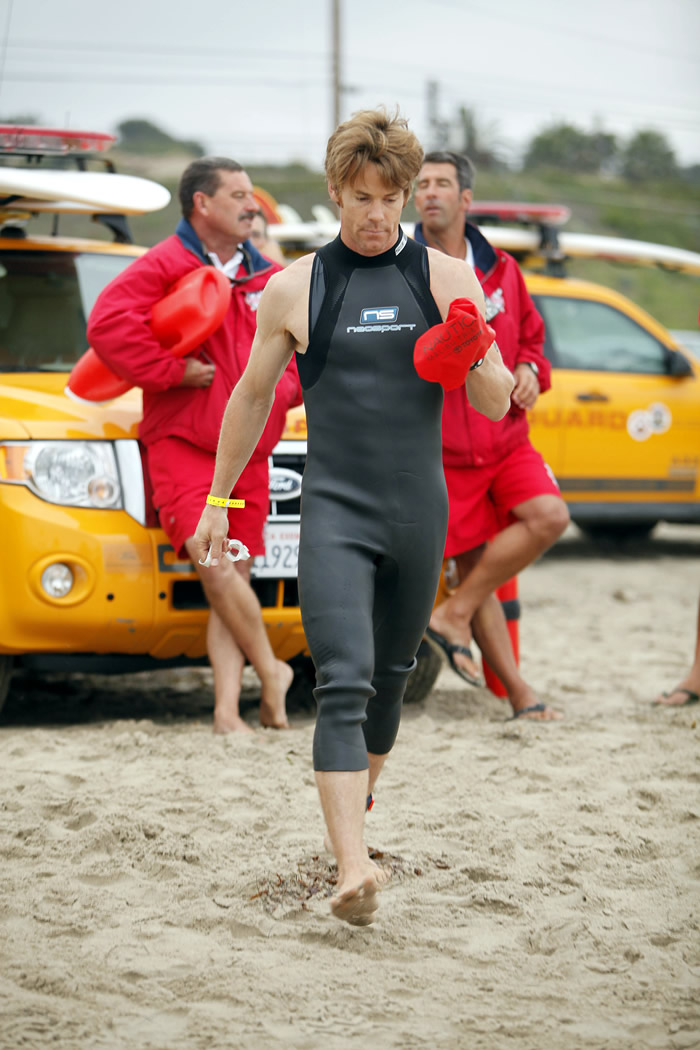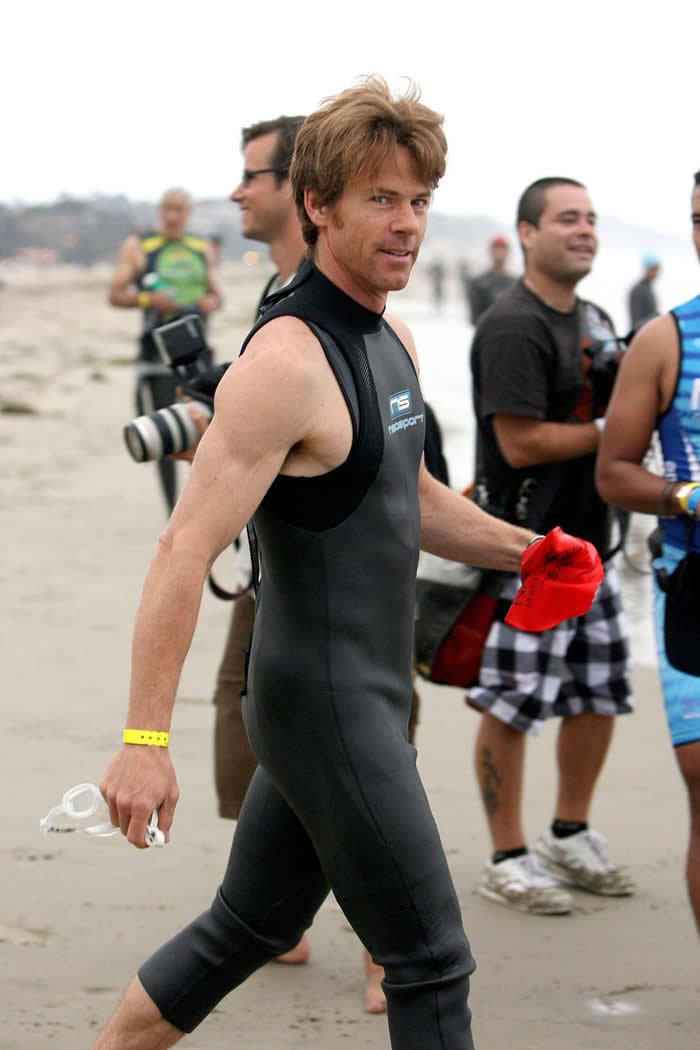 Desperate to maintain her "Pretty Woman" figure after a recent weight gain, Julia Roberts has turned into a workout maniac, say pals.

The fiery redhead, who turned 44 on Oct. 28, is furious at herself for piling on 10 pounds while filming her role as the Evil Queen in the as-yet-untitled new "Snow White" movie.

And the mom of three is determined to trim down by pounding the pavement with pals. In fact, Julia was recently spotted looking winded after jogging with a companion near her Los Angeles home.

Her goal, say insiders, is to get as lean and mean as her six pack-sporting spouse, cameraman Danny Moder.

"Julia saw the photos of herself in the beach in Hawaii this past August and thought she looked pretty good in a bikini," said an insider, "But standing next to Danny, with his taught stomach and muscular arms, she seemed completely out of shape in comparison.

"She told him, 'It's not fair that you get to look as good as you do without even trying, but I have to bust my ass just to lose a couple of pounds!' After that, Julia was absolutely determined to look almost as toned was her hubby."

According to the source, Julia's biggest problem in her battle of the bulge is that she tends to eat whatever she wants when she's working. And that's exactly what happened while making "Snow White" in Montreal.

This isn't the first time Julia has gained weight on a film set. The 5-foot-9 actress normall weighs between 125 and 130 pounds but balooned to nearly 150 by the time she'd finished filming "Eat Pray Love" on location in Italy in 2009. "In the scene with the pizza, we started shooting at eight in the morning and by 8:45 I'd eaten eight or 10 pieces of pizza," she told a reporter.

But now she's running like a madwoman and doing yoga three times a week to get back in fighting form.

Still, the sources says Julia has insisted to pals that she's not weight-obsessed "like some people in Hollywood." "I'll never be a stick figure," she admitted. "But I want to give Danny a run for his money!"
[From Enquirer, print edition, November 14, 2011]
So is this story true? It's not farfetched to believe that Julia gained a few pounds on her movie sets in recent years. Certainly, the lure of the everpresent crafts services table would be irresistable for most people, and eating pizza as a requirement for the job, well, that's tough competition for an aging metabolsm. She probably does feel like a slouch next to her triathlete spouse, but Danny certainly works for his physique, and it never hurts anyone's health to be in better shape. If that's the inspiration that Julia needs to start working out, then she'll be better for it in the long run. Maybe she'll even get a serotonin rush or two and stop being so bitchy to her overweight sister too. Julia was photographed wearing compression pants on 9/14 although that could just be due to poor circulation, but it might also be a sign that she's now obsessed with working out to the point of wearing them underneath her regular pants.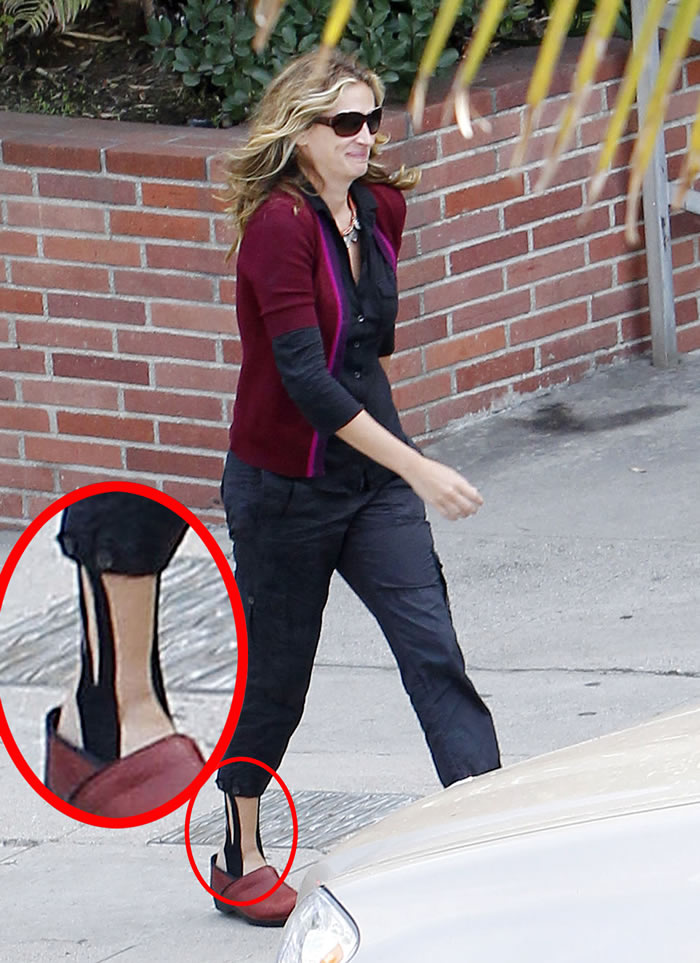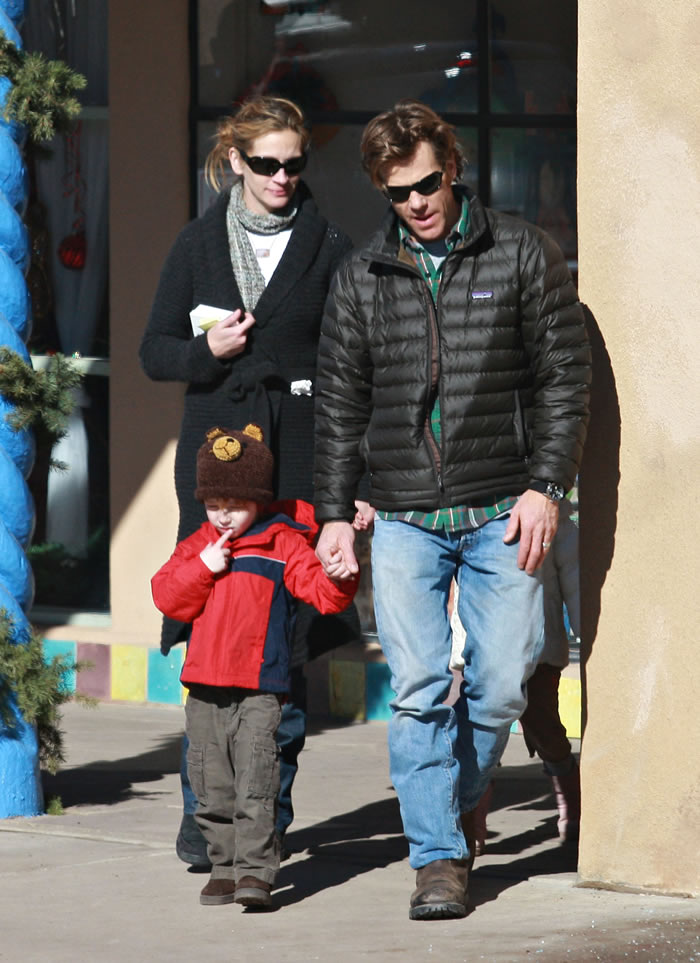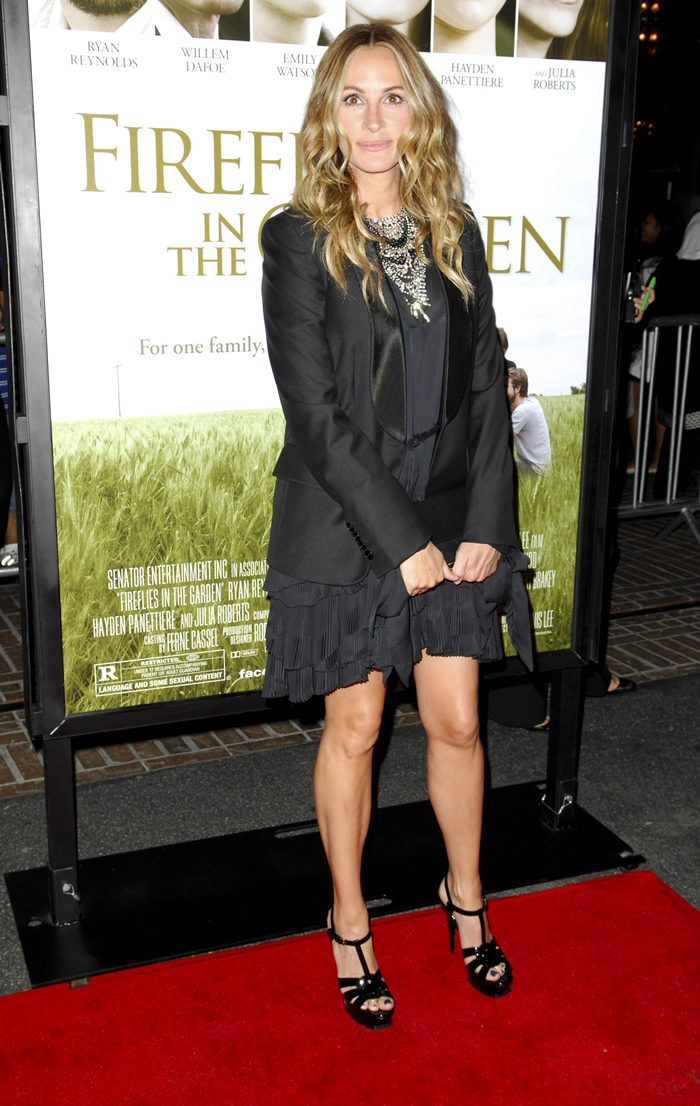 Photos courtesy of WENN, PCN, and Fame