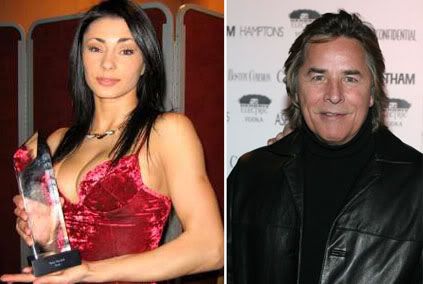 Don Johnson's fifth wife gave birth to the couple's third child just six months ago, but that didn't stop the nasty old codger from sleeping with his co-star in his latest crappy film. 57 year-old Johnson is banging 19 year-old Italian hardcore porn star Sofia Gucci, and Gucci's manager was more than willing to confirm their messed up relationship:
Former MIAMI VICE star DON JOHNSON has been romancing his teen co-star in Italy just months after his wife gave birth to their third child, according to media reports in the US.
Johnson has been in Trani, southern Italy filming BASTARDI with 19-year-old porn star SOFIA GUCCI and the romance has reportedly moved off the set.

The couple were spotted strolling hand-in-hand around the city on 27 September (06) before heading back to Gucci's hotel room where they spent two hours before emerging for a romantic dinner.
Gucci's personal manager, who would only identify himself as PAOLO, confirmed the relationship to US publication THE NATIONAL ENQUIRER saying the couple "did go out for dinner together and they were intimate. Sofia told me to say they spent a wonderful few days together. She does know that Don is married, but she doesn't want to say anything else."
Gucci has a hard-core pornography past, appearing in steamy adult films such as DIRTY DANCE and HOT DREAMS. She has also appeared nude on the cover of European magazines.
The five-times married Johnson and current wife KELLEY PHLEGER have three children together and their youngest, DEACON JAMES, was born in April (06).
I did the math in my confused head, and Johnson is old enough to be Gucci's grandfather. His wife just had a baby, and this is beyond dispicable if it's true.
When you look at the bloated saggy Johnson, you wonder how a guy like that can score a young girl like Gucci. Gucci's a porn star, though, so she's used to bedding all sorts of nasty old guys and maybe in her mind Johnson is a big star. They're probably still playing Miami Vice reruns on Italian TV. I know Baywatch is on all the time here. Maybe The Hoff should come to Europe to try and score a porn star of his own.
You can contrast this story with the amusing but classy tale of 57 year-old Bill Murray partying with Scandanavian students in Scotland. He met up with the hot 20-something blondes at a bar after a golf match at famous course St. Andrew's and went back with them for a party at their apartment. He drank vodka from a coffee cup, cracked jokes, and even washed the dishes afterwards. Murray was a perfect gentlemen and went home afterwards the talk of the town.