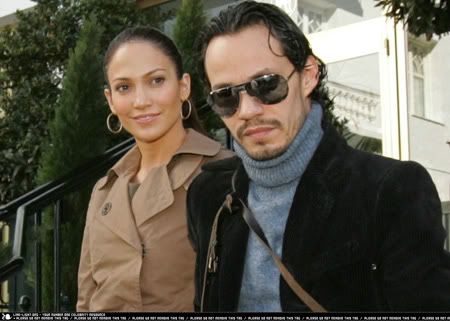 Marc Anthony hightailed it out of there when he saw his poorly made-up wife getting it on with healthy hottie LL Cool J for a video shoot.
WHO could blame J.Lo's husband for leaving after two minutes of her video shoot with raunchy rapper LL Cool J?
According to the sexy hip-hop hunk, poor Marc Anthony did a runner right after he started to get a groove on with his missus for the video Control Myself.
The 38-year-old stud, who was performing a live gig at Brixton Academy last night, tells us: 'We had a lot of chemistry going on. So when Jen's husband came on set – he was only there for a minute before he left again.'
Hey, at least he didn't freak out, flip anyone off or shove and shout at LL for getting too close to his woman. Marc probably realizes he would lose any fight with buff LL. in about two minutes. Hell, LL is so confident about it he's telling the story to the papers.
Here are Marc and J.Lo leaving their hotel in Santander, Spain on 10/12. Man I would love to be able to take a private jet to travel. [via]