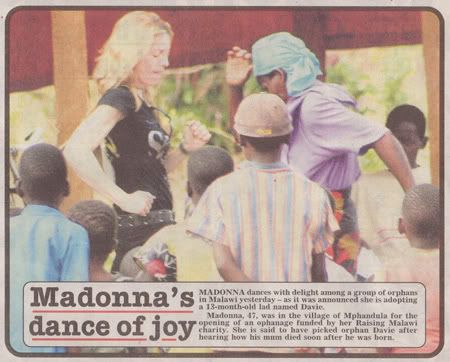 Madonna has been granted an interim order from a Malawi court to adopt little half-orphan David Banda from the impoverished nation. She was granted custody of the infant, which supposedly meant that she was able to leave the country with him, but she has since left without the baby, because he does not yet have a passport:
POPSTAR Madonna flew out of Malawi yesterday without the one-year-old boy she was planning to adopt, a government official said.
"She left Malawi without David because there was very little time to sort out passport and visa issues," Penston Kilembe, director of child welfare services in the Ministry of Gender, Children and Community Services said.
He said 13-month-old David Banda would be re-united later with Madonna, who left addresses in London and Los Angeles where government officials could reach her and monitor David for 18 months.
This doesn't mean that the adoption is final. She has to be monitored for 18 months as per Malawian law (which requires average, non-donating parents to stay in the country for that period of time) and must attend another hearing to finalize the adoption.
Madonna has come under fire for skirting Malawian laws that require adoptive parents to stay in the country for a year and a half before being granted the right to adopt a baby. A human rights group is challenging her adoption of the infant, saying that the laws are being changed just for Madonna and that isn't fair to the child or to other prospective parents:
But Morderchai Msisha, a senior constitutional lawyer from Malawi, tells PEOPLE that Malawi's law clearly bars international adoption. "If Madonna wants to adopt this baby she has to stay here," he said. "Someone is bending the laws for Madonna." Madonna – through her charity Raising Malawi – is establishing an orphanage for underprivileged children, mostly AIDS orphans. She is also funding six existing orphanages.
As I've mentioned a few times, I'm conflicted as to how I feel about this. There are arguments on both sides, and here's a quick recap of the major issues:
1. Con: Madonna skirted Malawian laws and just dropped a bunch of cash to get this baby when regular people are required to live in the country for eighteen month before they're eligible to adopt.
2. Pro: Madonna did give plenty of money to Malawi, but she did it with red strings attached.
Orphanages founded by Madonna's "Raising Malawi" organization will have to teach Madonna's cult religion to impressionable little children. Kabbalah is a cult, pure and simple, and destroys lives and brainwashes people. It may have a kinder, gentler image than fellow celebrity cult religion Scientology, but it's no less evil, manipulative or money-grubbing.
3. Con: This baby is not an orphan, and has a living father and grandmother.
David Banda has a father and a grandmother who are subsistence farmers and had to give the malnurished infant to an orphanage when they could not care for him. In fact the father has said he always dreamed of being able to care for his son after his wife died and he was forced to give up the child. He said he never imagined the baby leaving Malawi, but that he gives Madonna his blessing and knows that David will be well cared for.
Some commentors note that Madonna could just have given charity to the Bandas to help them care for David, while others say that Malawi is so impoverished that the money would be extorted or ineffective in helping care for the child.
4. Pro: People adopt children from other nations all the time
People adopt babies from China, South America, Russia and all over the world. I've watched a few "Adoption Story" episodes on TLC and this seems to be a long, difficult process for couples, though.
What makes Madonna's story different is that she lined up babies and selected one, while other people have to choose from afar or have a child picked for them, and that she got a child in just over a week, while from my understanding this usually takes years.
As Glitterati pointed out, there are many needy children in America that could have used Madonna's help. Madonna wanted an infant, though, and babies are notoriously hard to come by.
What do you think? Did Madonna do the right thing? Is she getting flack because she's such a media whore and it's hard to imagine her doing anything that isn't for publicity?
She's giving charity but she's essentially acting like a missionary and trying to spread her belief system throughout the third world.
She's adopting a baby from another country, which many parents do, but she did it quickly, chose a boy with one parent, and didn't obey national laws pertaining to adoption.
Can Madonna ever catch a break or does she deserve our ire?
Pictures from Madonnalicious.