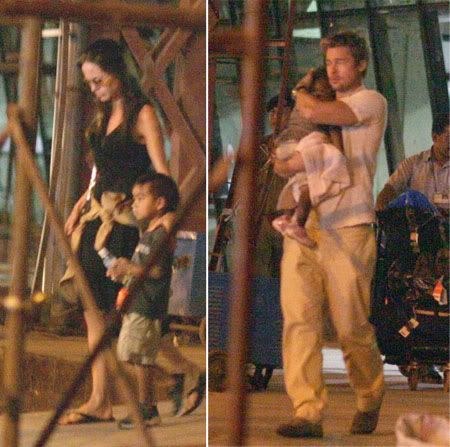 Brad, Angelina, and their children were on the set of "A Mighty Heart" at the airport in Goa. (Thanks Irish.) Angelina was seen escorting her son, Maddox, while Brad looked hot and fatherly carrying little Zahara and shielding her head from the cameras. They seem to be entering the enclosed bungalow in a gated community that has been decorated to resemble the area in Karachi, Pakistan where Marianne and Daniel Pearl stayed.
All is not well with the Brangelina family and the media storm that surrounds them in India.
Angelina's convey was involved in a possible hit and run accident with a motorcycle driver last week.
Angelina's notorious bodyguard, one-time murder suspect Mickey Brett, was photographed and videotaped threatening and choking a British photographer, and now it's said that another security guard threatened an Associated Press photographer with a gun, and that a different member of Angelina's security force punched the photographer out:
The photographer representing the AP, Guautum Singh, said he gained legitimate entry to the area and was accosted by security guards after giving Jolie his business card.
Singh said he was down the road from the bungalow when he spotted Jolie in the back of a taxi while filming a scene from the movie. When the filming paused, he said, he put down his cameras and approached Jolie to give her his card, which she accepted through the window of the taxi before it drove off.
At that point, he said he was approached by one American security guard and two Indian guards, all of whom verbally abused him. One of the Indian guards punched him in the face and he swung back, also hitting the guard in the face, Singh said. Then, he said, the other Indian guard "grabbed me and the first guard punched me again."
Singh said the first Indian guard then drew a gun and said he would be shot if he did not leave. The American guard did not take part in the scuffle, but witnessed the incident, the photographer said.
While the mean mofo that heads Angelina's security force might not be responsible for this latest incident, he was said to have looked on without intervening. The photgrapher only gave Angelina a business card, is that an offense worth threatening his life for?
Considering this incident along with the stories of photographers getting beat to a pulp and threatened in Naimibia, it's easy to conclude that Angelina's security force condones such unacceptable behavior, and thrives on a culture of violence.
The longer it takes Angelina to fire Mickey Brett and send people the message that violence is unacceptable the more her public image is going to justifiably suffer.
Thanks to AngelinaWeb for these photos.