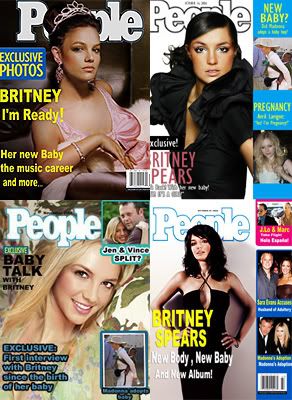 Britney Spears must have read our fantasy celebrity futures wish list, because she's hired a team of nannies, nutritionists, and trainers, and is working out furiously to drop the baby weight in time for K-Fed's Halloween CD release party:
In other news, TMZ is reporting Britney Spears plans to drown Kevin's little star. Britney Spears has targeted her husband Kevin's album release party at the end of this month to make her return as the svelte, sexy young starlet we once knew — and a source close to the family tells TMZ that she's enlisted a small army of nannies, trainers, and nutritionists to put her through her paces to make sure she's looking her best.
According to the source, Brit has hired a nanny for each of her sons, and is constantly in the gym "for hours at a time," working out feverishly to shed all the extra poundage she put on while having two babies in 13 months — and indulging her penchant for Taco Bell gleefully and often along the way. "She really wants to make a huge splash at Kevin's release party," says our source, "and she totally wants to outshine Kevin and announce to the world that she's back."
Let me put in another unpaid plug for Best Shape of Your Life, because you can drop weight quickly in less than three hours total a week – including cardio – at the gym. It's all about eating right and lifting heavy weights to shape your body quickly.
Britney would work out for hours on end, though. She doesn't seem to quite get the concept that you need to cut calories too and that mocha frappuccinos are fattening. Let's hope that she's hired good people and that she's not sabotaging her efforts by trying to do too much too soon. There was a rumor that she had a tummy tuck after SPF2's (?) birth, and that could have been true.
When Halloween rolls around we're set to find out if Britney had a boy or a girl, what the infant's name is, and how fast Britney can lose weight. K-Fed's album will undoubtedly be ignored at his CD release party as everyone talks about his wife and latest spawn, and that's sure to piss him off.
The fake People covers featuring Britney were found on BreatheHeavy.com.