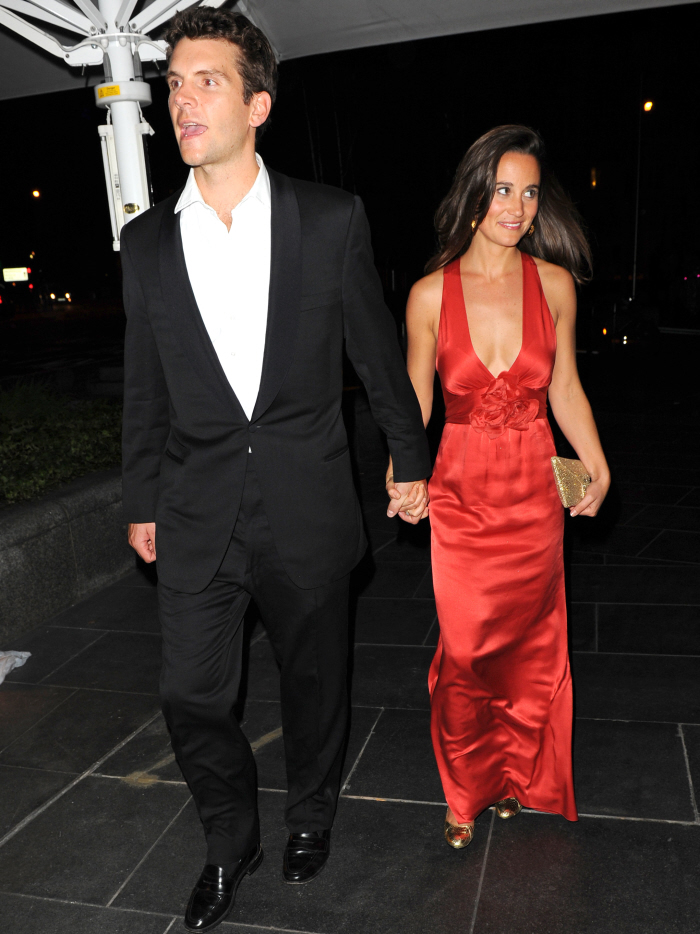 Last Friday, the British tabloids were all in a tizzy because Pippa Middleton and her boyfriend of a year and a half, Alex Loudon, seemed to have finally called it quits. Allegedly, they broke up over the summer, but reunited and tried to work through their problems. Initially, the reports made it sound like Pippa was the one to pull the plug, and I assumed that she had as well, likely to "uptradey" her way into being a duchess too. But! The Mail on Sunday reported yesterday that their sources claimed it was Alex Loudon who dumped Pippa, on the advice of his snooty family. Apparently, Loudon comes from old money and a very distinguished family, and they don't want Alex marrying some upstart chick who is famous for her arse. The full report is here, and here are some highlights:
The Mail on Sunday has learned it was in fact Alex who, after one-and-a-half years together, decided to end things. According to a friend of both Alex and Pippa, the 31-year-old former England cricketer could no longer cope with the 'circus' that accompanies his girlfriend everywhere she goes.

The friend said: 'The plain truth is Alex adored Pippa but he couldn't stand the circus that now surrounds her. Nothing is straightforward anymore.'

Inordinately private, with impeccable manners, the Old Etonian simply hated the attention . . . attention that Pippa appears to rather enjoy. Another family friend said: 'Pippa sees the connection with the Royal Family as a golden opportunity but she knows she cannot afford to look vulgar. She now gets invited to every show in town, every door is open to her but Alex hates parties. He loves his cricket and has a very close-knit circle of Old Etonian friends. Alex comes from a very well-to-do and discreet family who do not relish the spotlight. He hated the fact they were followed by paparazzi and he avoided going out because of it. Alex is very strait-laced. He loves his family and his friends and has no time for celebrity.'

Last night a member of Pippa's circle said her friends were not surprised the courtship had come to an end. The friend said: 'Alex's parents were welcoming but they were always somewhat lukewarm about the relationship. They didn't see Pippa as 'wife material'. James [Loudon, Alex's father] and his wife Jane both come from very good families. Pippa is very sweet but she is socially ambitious – all her friends are so "trophy posh" it's ridiculous. They didn't honestly see Alex and Pippa's relationship as a long-term thing. James and Jane are very old-fashioned and prefer to keep things low-key. They do not go out of their way to court attention for themselves and they tend to shy away from the media – even when James was High Sheriff he took on the roles and responsibilities but didn't attempt to promote himself. They're a very "proper" family.'

In contrast to the newly wealthy Middletons, the Loudons are 'old money' and pride themselves on remaining consistently discreet. So tensions were inevitable from the moment Pippa's pert posterior catapulted her on to the world stage. When she and Alex first met through mutual friends, they were still enjoying the freedom of their post university years – Alex studied at Durham, Pippa in Edinburgh. Now their lives are very different. Alex is carving out a serious career, working at the brewing giant SAB Miller as a corporate finance and development analyst. Pippa, meanwhile, flits between her job as a party planner at caterers Table Talk and working on the newsletter for her parents' company, Party Pieces.

The couple's mutual friend said: 'Alex couldn't cope with the star that Pippa had become. It's sad really because Alex and Pippa get along very well, but they are also very different personalities. It has been up and down for a while. It was Alex who called the parting shot and said it was over once and for all last week.'

Pippa is apparently devastated. Only two months ago the couple were celebrating her 28th birthday and one of Alex's presents to her was a set of keys to his Fulham home. Although the couple didn't live together, Pippa was staying with Alex at least three nights a week.

The friend said: 'This has come as a big shock for Pippa. She was over the moon when he gave her a set of keys to his place and she was talking about moving in together. She was in this for the long term. They have had a few problems but she was not expecting them to break up and she is heartbroken. Kate has been comforting her but she is also upset because she liked Alex. All the Middletons did, they adored him.'

A friend said: 'Alex never wants to be the centre of attention. When they got together, Pippa was a nice girl whose sister was going out with Prince William. That wouldn't phase him, William was his friend at school. Alex was always the one in control. Now he's seen as little more than Pippa's appendage and really, what man could cope with that?'

While Alex is said to be looking forward to life away from the 'circus', Palace officials are said to be worried about Pippa's public persona.

One insider said: 'There is quiet concern within the Royal household that Pippa has no real job. The photographs of Pippa on the dance floor were something that Palace officials would rather avoid. There has been some suggestion that Kate might utilize Pippa in a lady-in-waiting role, or at least a more up-to-date version of it. It would make sense with William going to the Falklands.'

Last week Pippa was being comforted by her family but according to one friend it won't be long before she picks herself up.

The friend said: 'When Kate and William separated in 2007, Kate employed the age-old tactic of showing her man what he was missing. She put on a big smile, said yes to every invitation and the hemlines on her skirts raised a good few inches. Pippa will do the same. She is utterly determined, whether it is a marathon, a game of tennis or bagging the best titled boy at a party. She is tough and focused. In a week or two she will be sparkling at some high-end event, flashbulbs a go go, because that is what the Middleton girls are expected to do. The Middleton mantra is grin and bear it. There's no puffy eyes or hiding behind closed doors, at least not for too long.'

Whether the strategy will work for Pippa in the same way it worked for Kate, however, remains to be seen.
[From The Mail]
"There is quiet concern within the Royal household that Pippa has no real job" – WTF? Not that I'm some huge Pippa fan, but she works more than Kate has ever done. She has an office job with her ex-boyfriend and she truly works for her parents (writing their company's newsletter), and she's setting up her own party planning business. Pippa knows how to hustle, and yes, maybe she doesn't really have a "career" but she knows how to work. Unlike her sister, who seems to balk when forced to do anything more strenuous than flip her hair.
Now, as for Pippa's uptradey act and how she's determined to marry well – sure, that's true. That was known about her BEFORE the wedding – she would basically "date" anyone with a title or a large bank account, the older the money, the better. I'm kind of rooting for Pippa, I have to admit. I want her to make a smart marriage with someone dashing and wealthy. She should go for someone a bit older, I think.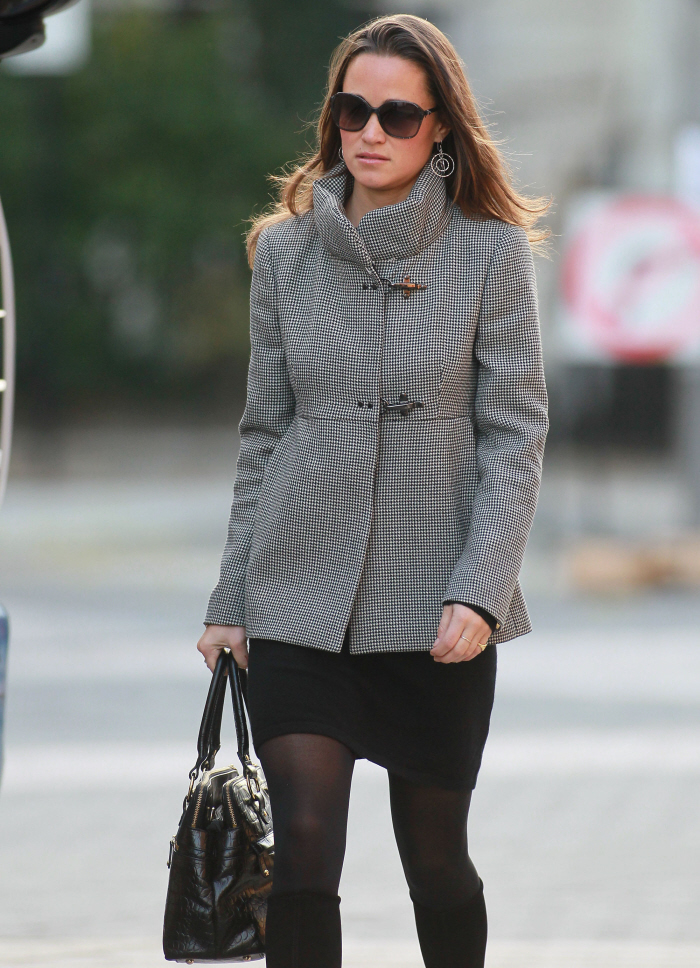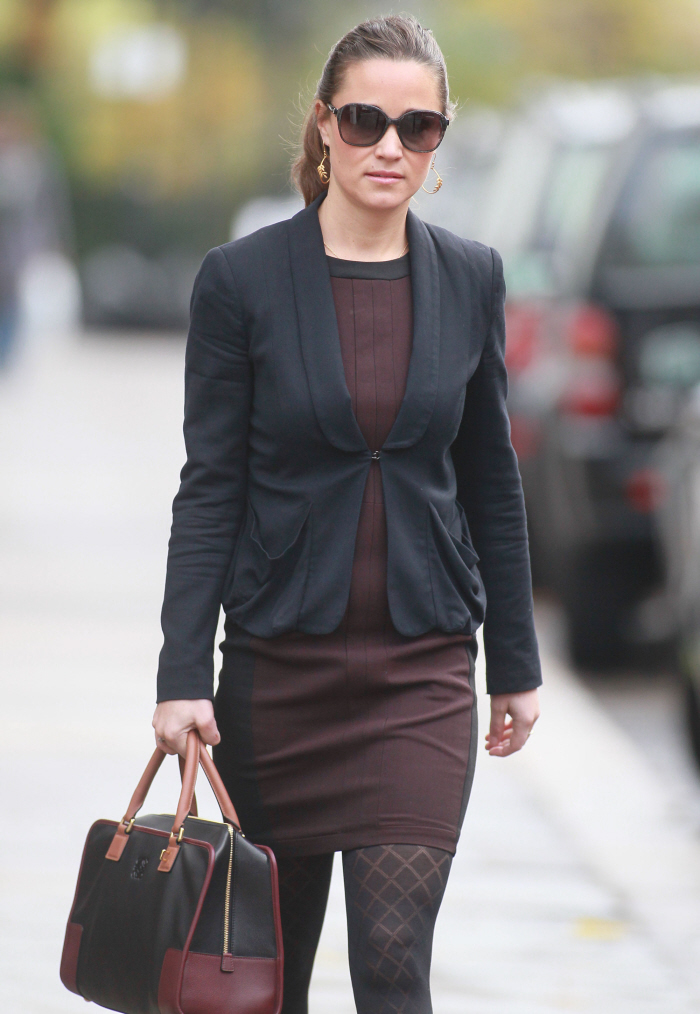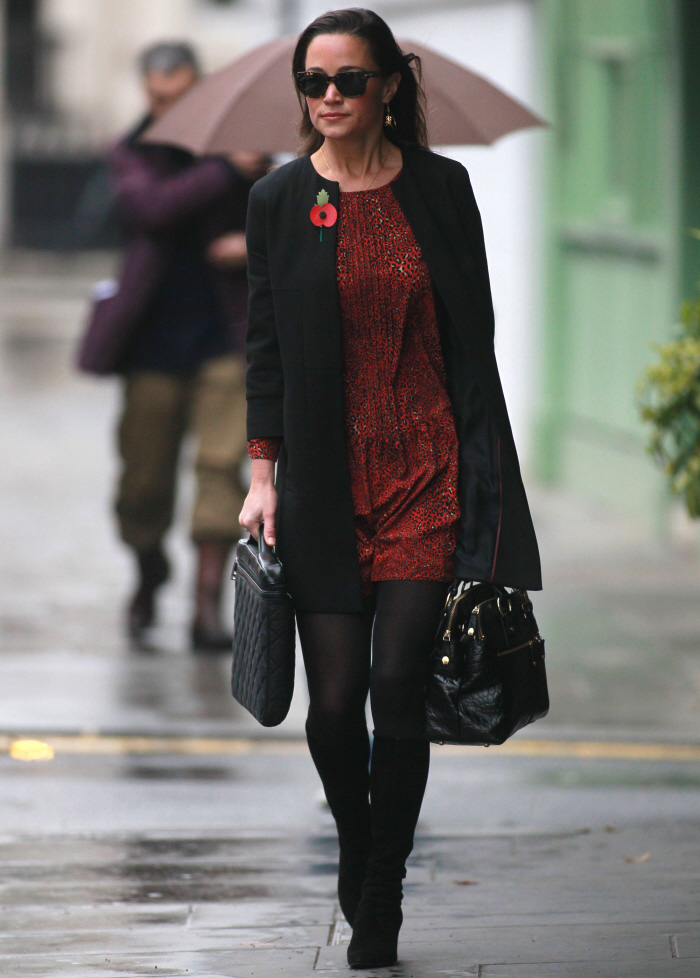 Photos courtesy of WENN.