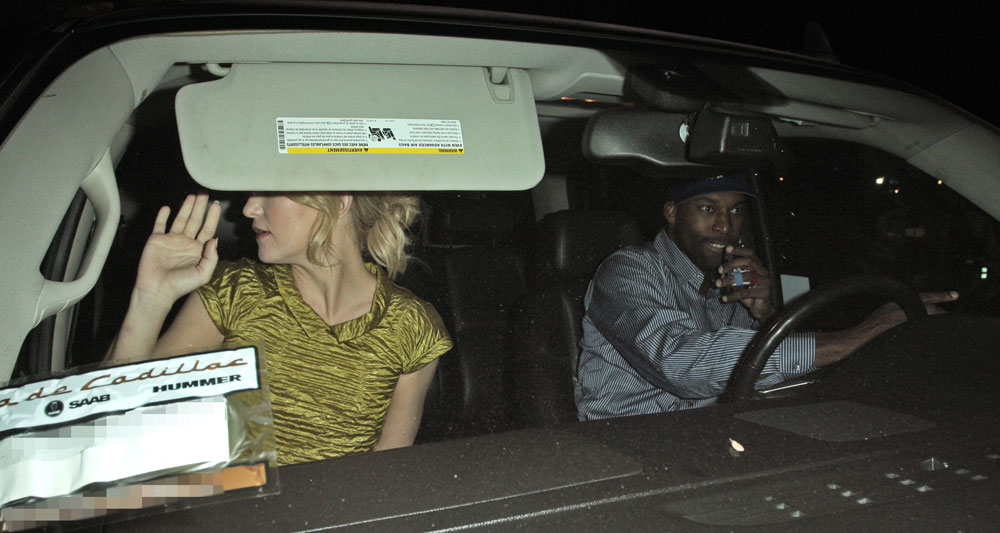 Kate and Baron out on 10/20/08. Credit: Bauergriffinonline
Questionable source Star Magazine claims that divorced single mom and romcom sweetheart, Kate Hudson, 29, is dating LA Clippers basketball player Baron Davis, also 29. Hudson was spotted out with the 6'3″ point guard on October 20 at a club, and they were supposedly seen going back to Hudson's house together. They're former classmates from school and have known each other for years, according to Star:
Kate Hudson… was spotted looking supercozy with L.A. Clippers star Baron Davis at Hollywood's Bardot club on Oct. 20. "Kate and Baron looked like they were on a date," says an insider. "They enjoyed a few drinks together and whispered in each other's ear throughout the night. At the end, they jumped into his car and drove back to her house in the Pacific Palisades. This isn't the first time the two 29 year-olds have been spotted together. After all, they've been friends since they were 16 and classmates at Crossroads School in Santa Monica. But, a pal of Goldie Hawn's daughter tells Star, this is more than just friendship. "They've been spending more and more time together since Baron moved back to LA this summer."
[From Star Magazine, print edition, November 10, 2008]
Star isn't always wrong and this could possibly be true. They were spotted out together and I found the photos, below. It's hard to know how serious they are though. Hudson gets a lot of grief for just dating and throwing her all into it, sometimes having her son Ryder, 4 and a half, meet her boyfriends after a few weeks. This was most evident in her summer romance with Lance Armstrong, in which they met each other's kids. Kate seems to really get enmeshed quickly in relationships and not take her time to decide if she's with the right person before she makes a commitment. She's cautious with the press, though, and wouldn't admit to a relationship with Lance despite being photographed out with him multiple times. Maybe she'll be more careful in this new relationship, but if she did take Baron home with her it doesn't sound like it.
Here are some photos of Davis being announced as Jenny Craig's latest spokesperson on 9/26/08. Maybe they figured if they picked a hot athlete they wouldn't have to worry about him gaining weight. I haven't heard of this guy before because I don't follow sports, but he is just gorgeous! Kate Hudson is shown below at the airport on 10/30/08. Photos of the two out together are from 10/20/08.
Credit: PRPhotos (Baron Davis), WENN (Kate Hudson), and Bauergriffin (car photos)