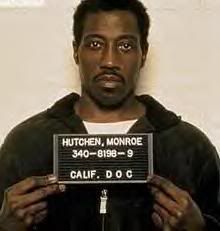 Holy crap, Wesley Snipes owes 12 million in back taxes to the US Government, and he's on the lam. It's just like one of his movies, and if I could remember any of them to reference I would.
Wesley Snipes is officially a fugitive of justice. According to the US Attorneys office, a warrant was issued last week after the feds filed charges that the actor defrauded the Internal Revenue Service of millions of dollars.
The "White Men Can't Jump" star is accused of failing to pay nearly $12 million in taxes. Officials allege that Snipes fraudulently claimed refunds in 1996 and 1997, and then failed to file returns between 1999 and 2006.
According to the eight count indictment obtained by TMZ, Snipes and two other defendants, Eddie Ray Kahn and Douglas Rosile, are accused of attempting "through deceit, craft, trickery, and dishonest means to make it appear as if Snipes had no liability for federal income taxes, when in fact defendant Snipes had such liability." Each count carries a maximum prison sentence of five years.
The indictment claims Kahn ran a enterprise promoting fraudulent tax schemes. Rosile was a CPA who allegedly prepared fraudulent tax returns for Kahn's business. According to the charges, Snipes used the services of Kahn and Rosile to defraud the IRS.
I remember reading an article about a woman, Lynne Meredith, who believes that taxes are voluntary and that people can get out of paying taxes by putting their money into some kind of bogus "constitutional trust" tax shelter. She made a mint selling her anti-tax literature and seminars, was eventually convicted of fraud and tax evasion, and sentenced to ten years in federal prison.
It sounds like Snipes got involved in a similar tax shelter snake-oil scam, but he was pretty stupid not to learn his lesson the first time. Snipes was cited for non-payment of taxes back in 2002 when he filed an amended return listing zero income and claiming a $7.4 million refund.
He didn't realize that phony tax shelters are illegal in the four year interim and it looks like he'll be going to jail.
Curiously, Snipes was busted last year for trying to use a fake South African passport.