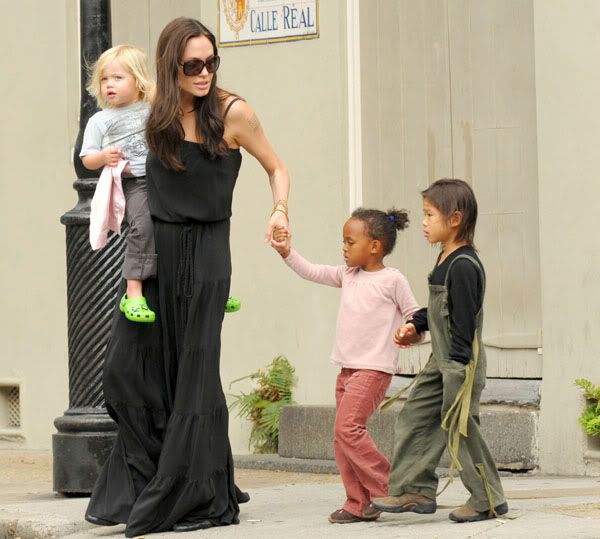 Angelina and the kids in New Orleans on 10/6/08. Credit: Bauergriffinonline
If I had a family half as large as the Jolie-Pitts, and was just 1/20th as rich (I did the math and that would leave my family with 11 million dollars), I would easily employ one nanny for each child, maybe two. As many of you pointed out in the comments, Heidi Klum and Seal have one nanny for each of their three children, so if Brad and Angelina have six nannies what's the big deal? The only problem is that the six nanny story isn't true, and the couple uses just two nannies who don't even stay overnight to watch their half dozen children:
It was widely reported Wednesday that Angelina Jolie and Brad Pitt have six to eight nannies working for them to help take care of their adorable brood of six. But when momlogic asked Jolie's rep, he told us that the story is untrue! Jolie's rep Oren Segal tells momlogic that the family only employs two part-time nannies and they do not live on the property.
[From MomLogic.com]
Either way, Brad and Angelina have happy well adjusted kids and are helping raise awareness of good causes and international adoption by donating their time to charity and bringing orphans into their home. Who would begrudge them six nannies? They can have 12 for all I care.
Angelina told Hello! Magazine in a super long interview published earlier this month that the family is enjoying their stay in Berlin and that there are plenty of family-friendly places to go. She said that her children have been making friends with the children of architects that Brad knows in Germany, and that Shiloh even had a playdate, in which she quickly picked up the German word for no, "Nein".
Brad and Angelina are involved with their kids and clearly cherish their family, which Angelina described as "big, loud," and "busy" to Hello. They plan their work schedules so that one of them is always available for their kids. You often see one of them bringing one or more of their children on business trips and on movie sets. The famous couple probably doesn't have a lot of nannies because that would keep them from missing some of the special moments in their children's lives. They wanted a big family, and they're enjoying it.