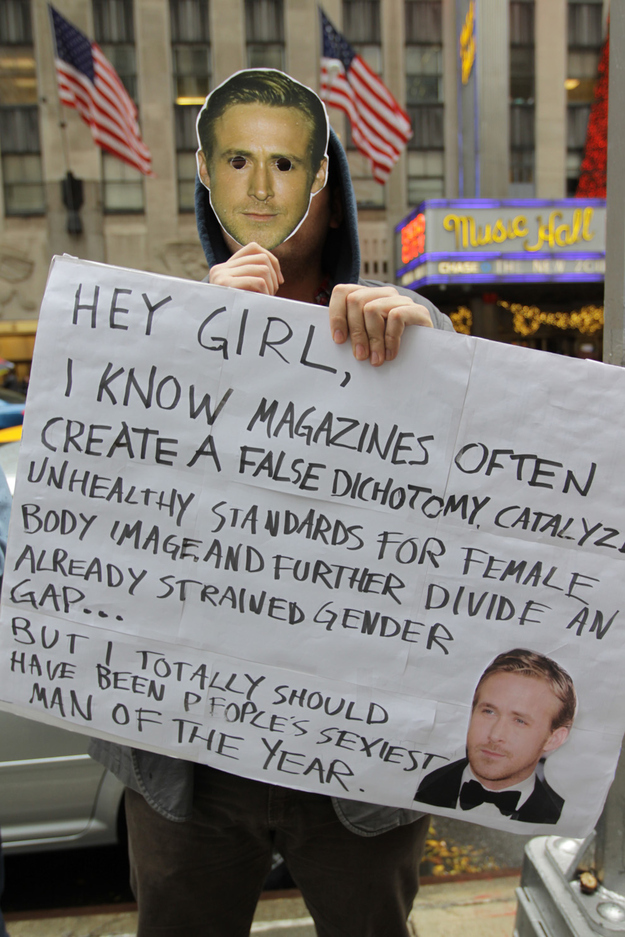 As research for this post, I looked up the "Hey Girl" Ryan Gosling meme, which I'm familiar with but never paid much attention to in the past. I'm now irrationally happy after viewing these videos of Ryan Gosling reading his internet memes. (Kudos to MTV's Josh Horowitz, who does the best celebrity interviews of anyone.) If you are able to, please watch Ryan Gosling giggle and get embarrassed as he reads some of his "Hey Girl" memes.
I'm not a Ryan Gosling superfan, like I don't get hot for him like I do for Matt Damon at any age or Johnny Depp prior to his recent phase of debauchery. After watching these I feel giddy, though, and like a surge of puppy love is rushing over me. He's hot, funny and he doesn't take himself seriously. I can imagine screwing this guy and enjoying the hell out of it. Compare that to Bradley Cooper, who is a competent actor with no discernible personality traits. Cooper was just named "Sexiest Man Alive" by People Magazine, and I saw his video interview for it (at the end of this page on People's site) and was totally underwhelmed. He's a decent-looking guy, but if he wasn't famous and he came at me with that personality I might not even go out with him. I'm not kidding. He just doesn't do it for me in any way.
Many people agree with me. About 15 protesters gathered outside of People Magazine's headquarters in New York Wednesday to protest Cooper and demand that Ryan Gosling be named the Sexiest Man instead:
There are a lot of protests going on in New York City these days, but this was unexpected.

Call it Occupy Sexy. Announcing themselves from the social-content website BuzzFeed.com, about 15 protesters in Ryan Gosling masks showed up – in the rain, no less – outside PEOPLE's headquarters at Manhattan's Time-Life Building on Wednesday.

"We are devastated," Buzzfeed's Matt Stopera, 24, said of PEOPLE's decision to name Bradley Cooper 2011′s Sexiest Man Alive. "[Gosling's] left arm alone makes him the Sexiest Man Alive. Hello, look at his abs!"

Facebook users also got into the act with an entire page devoted to The Pro-Gosling People Magazine Protest, illustrated with this week's cover of Cooper with a great big red X over it. (Gosling's photo is circled. What, no heart?)

Of course, Gosling is in the issue that hits newsstand Friday, along with 123 other hot guys.

As for the equally ab-tastic Cooper, "We stand by our man!" says PEOPLE's Executive Editor Liz Sporkin. "Bradley Cooper is the whole package. He's gorgeous, talented, brainy, loves his mom, can cook up a storm and speaks fluent French! Who can argue with that?"
[From People]
Cooper is definitely sexy when he speaks French, but that's about it. The French speaking doesn't make up for the rest of his blah-ness, and it's not going to come in handy unless you're on a trip with him to a French-speaking country. (Which could be cool, I could entertain that thought.) That novelty will wear off fast though, and you're left with a guy who is about as interesting as a room temperature light beer. Gosling has swagger and he loves to go to amusement parks. Sure he has crap taste in women sometimes, but that just means that he's not that discerning. I could definitely get behind him as Sexiest Man Of The Year. I doubt I'd stand outside in the cold complaining about it, but thanks to these brave souls I don't have to.
Here's a petition to ask People Magazine to admit that they were wrong and should have chosen Gosling. He is named as one of the sexiest this year, but he should have taken top honors.
Thanks to Jezebel for this video of the protest. It just cracks me up.