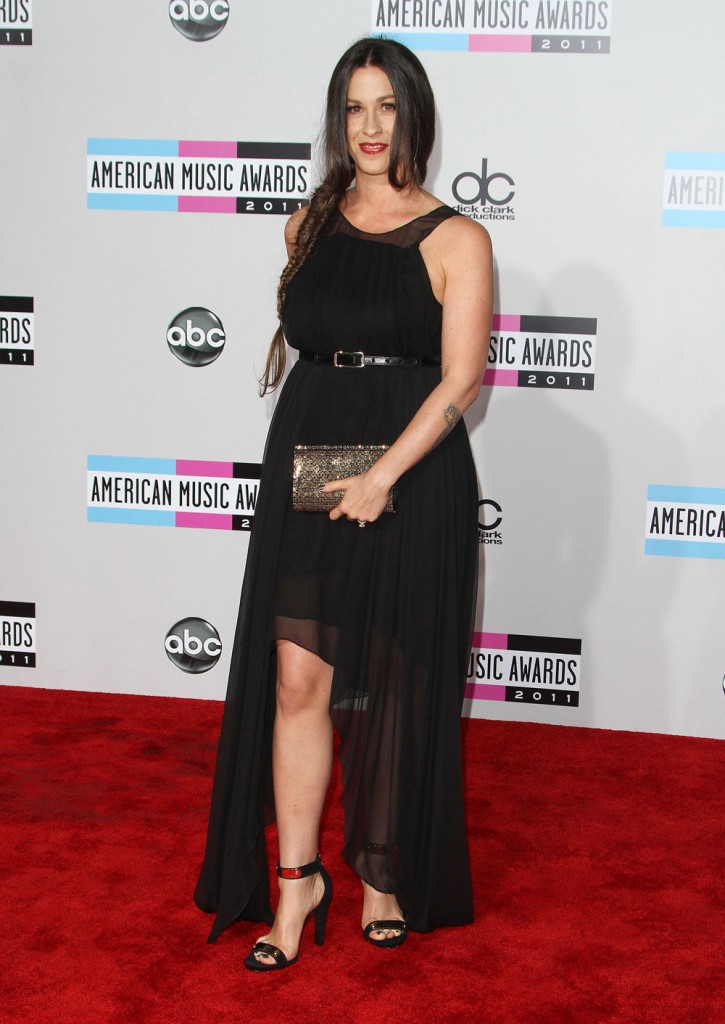 Alanis Morissette has penned a very long essay for iVillage on food and body image. Alanis looks great and just had a baby less than a year ago, but she's not super tiny like so many other celebrities and she seems to be feeling the pressure. Alanis' essay was long and I can't really do it justice even in this extended excerpt. If you have time you can read it here.
Alanis, 37, lost over 20 pounds in 2009 by following a vegan diet and running. She said at the time that she lost weight by "eating like an adult rather than like a 7-year-old at a candy store." She had her first baby, son Ever, in December of last year. Here's some of what she wrote about weight and our culture's obsession with it. It comes across as preachy and in need of editing but I get what she's saying.
Not much upsets me quite like someone making a declarative and derogatory comment about someone's weight when they themselves have never struggled with an eating disorder.

To so offhandedly and dismissively reduce someone's challenging journey to a quip about them needing to eat less hamburgers — or even the opposite, that they "should eat a sandwich" — completely overlooks the deeper and subtler complexities at hand (or at heart and mouth in this case). At the very least it ignores the epidemic that is a society obsessed with a rail-thin aesthetic, where once achieved, derides that very same goal as being sickly and dangerous. What's a well-meaning perfectionistic girl to do?

If ever there were a double-edged butter knife, this would be it. We of the Hollywood standard-affected variety (read: sadly, the world) work tooth, nail and treadmill to adhere to this number (measuring tape, scale and otherwise) that hovers directly below any that would allow for a cupcake here and there, and when we do, we confusingly elicit either concerned looks of admonishment or compliments on "how fantastic we look." I remember being at my most thin one day, feeling like I could barely drag my lethargic body around, only to be met with the most compliments I had ever received.

I don't think it's a coincidence that America is derided for its obesity levels, while also being a country that is obsessed with skinniness. This all-or-nothing approach is endemic to our Western society. Equally, and perhaps more abrasively, when someone inside the struggle with food tips the scales high above the average Hollywood red-carpet star, comments are thrown out about how indulgent and undisciplined they are.

There's one thing I know from the inside, and it's that you will never meet a more willful, disciplined, motivated and nutrient-well-read person than someone who is in the throes of disordered eating! The idea that people with food addictions are undisciplined is yet another gross misperception among many. You will rarely meet someone who has a higher capacity for restraint than someone who is struggling with the pain or fear that symptomatically affects weight.

To derisively discuss fat without discussing our feelings and traumas and our sense of disconnection from our souls, ourselves, and each other, is focusing on the effect and not the cause. This oversight perpetuates the self-abuse that fuels this and many other disorders and addictions.

The relationship to food cannot singularly be addressed through a steely structure-by-diets-and-food-plans alone, or a slap on the wrist. Our addressing why we might turn to food beyond sustenance reasons is part of the multi-layered aspects of being human….

See, my fraught relationship with food and fat has always been a cloaked invitation into a more profound kindness to myself (one I have so often ignored). Being kind toward my fragility in the face of a monolithic message of perfectionism and intolerance has not been an easy path — nor, I'm ashamed to say, a consistent one. Writing about it helps.

Fat, unlike other more secretive disorders and addictions, is expressed and exposed on the outside for all to see. That being what it is, we'd do well to see "unwanted weight" as that-which-has-yet-to-be-investigated, rather than as a stamp of our confirmed inadequacies.

So for the love of being part of this larger conversation around addressing the pop-culture-sanctioned-fatism, next time we see someone who is yo-yo dieting and has a tortured relationship with food and their body, rather than make fun of them, I beseech us all to pause and offer a little curiosity for what lurks underneath, and, if appropriate, maybe even move toward it.

Maybe this kindness can slowly make those of us in the heavier-than-Twiggy group feel less alone, less relegated, less abandoned. And perhaps then we can, ever so gently, start to accept (and even love) these deeper and more fragile parts in ourselves that are being repressed and expressed through our bodies and food. And in so doing, deliver us back to the wholeness, essential unique expression, and weight we were born to be.
[From iVillage]
The nature of gossip is to make offhand remarks about people and not think too deeply about it, but I can relate to what she's saying. I do pay close attention to my weight, and I beat myself up over minor weight gain and feel guilty for small pleasures that I should totally enjoy. This is something that I've seen even my skinniest friends do. People who I would assume wouldn't worry about their weight at all say that they think about it and that they shouldn't have had that ice cream the other night.
I guess what I'm saying is that what Alanis is talking about here is almost universal, and it sounds like she's trying to convince herself as much as the rest of us. Loving yourself at any weight can be a bitch, and as elusive as a lower number on the scale can be, self acceptance is even harder to find. So a lot of us do point out other people's flaws. At the heart of it we're even more focused on our own.
Maybe she would feel better if she wore cuter clothes though? I'm just saying. She's hot but this dress isn't doing her any favors. I probably just proved her point.