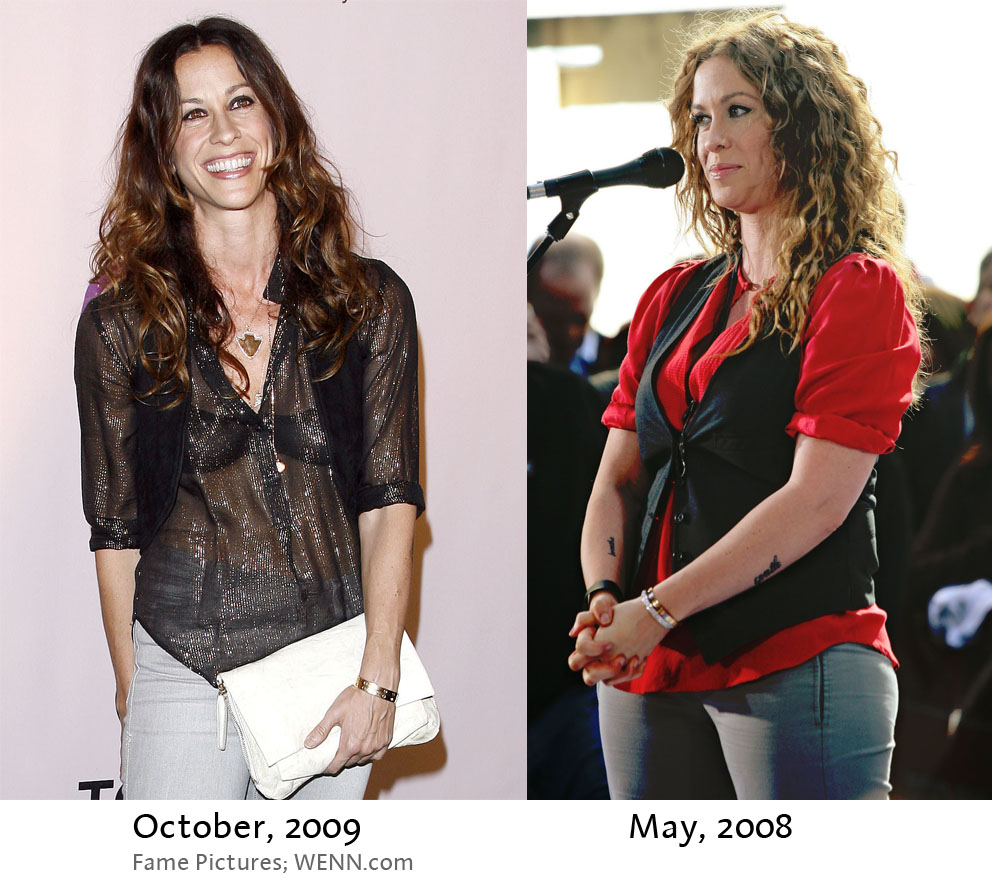 Alanis Morissette's weight loss is featured in People Magazine this week. The 35 year-old Canadian singer lost over 20 pounds through a primarily plant and fruit-based vegan diet and just completed her first marathon. She speaks candidly about her eating disorder as a teen and how she finally broke the yo-yo cycle. Alanis credits a book called Eat to Live by Dr. Joel Fuhrman as helping her turn her health around and lose the weight.
Morissette is proud of her new, fit body – because, for the first time, she achieved it in a healthy manner. In addition to her workout regiment, Morissette, 35, follows a mostly vegan diet inspired by Dr. Joel Fuhrman's book Eat to Live. "I'm eating like an adult rather than like a 7-year-old at a candy store," she says. "Now, around food, I can be trusted."

The star's eating issues began in her early teens, when the budding singer was told by a music exec that she had to lose weight if she wanted to succeed. She quickly took the criticism to an extreme, turning to anorexia and bulimia. "I'd go up and down at least 20 lbs. fast – sometimes in two weeks," says Morissette, who became "covert, lonely and isolated." After years of feeling helpless, she reached a turning point at age 17 when a friend "followed me to the bathroom," she says. "I just started sobbing. She held me, and that was the beginning of the end. I took myself to therapy."

But Morissette insists there was no heavy emotional issue behind her weight gain last year – not even her highly publicized 2007 split from fiance Ryan Reynolds… "Any breakup I've been through, the weeks following are fragile," she admits. "But when I go through emotional shifts in life, I actually don't eat as much." So what was the cause behind the curves? Simply having fun on the road. "I was eating Italian food at two in the morning, drinking wine and margaritas," says Morissette, who dubbed this period her "Indulgence Tour." "It was the most fun I've ever had! But I didn't want to stay there…"

[Inset information] The Book. Morrissette's "redefining moment" came when she discovered Dr. Joel Fuhrman's diet, which stresses nutrient-dense foods such as cucumbers and collards. "It was a big lifestyle change for me."

Her Meals. The singer starts out with a spinach banana smoothie and then digs into a kale salad for lunch. For a snack, she'll have her favorite grapefruit.

Mini indulgences. "If I'm PMSing and I really need chocolate, I'll eat the chocolate."
[From People Magazine, print edition, November 9, 2009 via PDF on Dr. Fuhrman.com]
Dr. Fuhrman has more details on his website, and I've read the first few chapters of Eat to Live and have to say I'm convinced that my family needs to eat more fruits and vegetables and cut out some of the meat in our diet. Dr. Fuhrman backs up all of his recommendations with studies and pretty compelling evidence that eating a high-fat high-processed food diet is bad for us. This is stuff we already know, but the way he presents it is very factual and convincing and helps clear up some of the conflicting information we've received about health and nutrition. If you'd like to lose weight and are open to radically changing your diet, it's worth reading.
You may want to leaf through it at the bookstore first and/or read through Dr. Fuhrman's website before you buy it, though. Eat to Live recommends what most of us consider a very strict diet. You basically eat as much fruits, vegetables and beans as you want and a minimal amount of whole grain pasta, rice and carbs. You can still eat meat, bread, and dairy in small amounts, but he makes it clear that you really need to eat a ton of fruits and vegetables. The weight loss is supposed to be astounding, though. Fuhrman has clients who have lost 20 pounds in six weeks, and he claims this is both safe and effective. He also addresses possible vitamin and mineral deficiencies on the diet and how you can ensure that you're getting all the nutrients you need.
Good for Alanis for losing weight the right way and for being so open and honest about what she went through. After seeing her dramatic weight loss, I wondered how she lost it. Ellen Degeneres also said that she lost weight through a vegan diet recommended by her wife, Portia. People sometimes scoff at vegans and the diet seems very restrictive, but they're definitely on to something. I find this health-based approach a lot more convincing than the guilt and scare tactics some organizations use to try and convince us to go vegetarian.