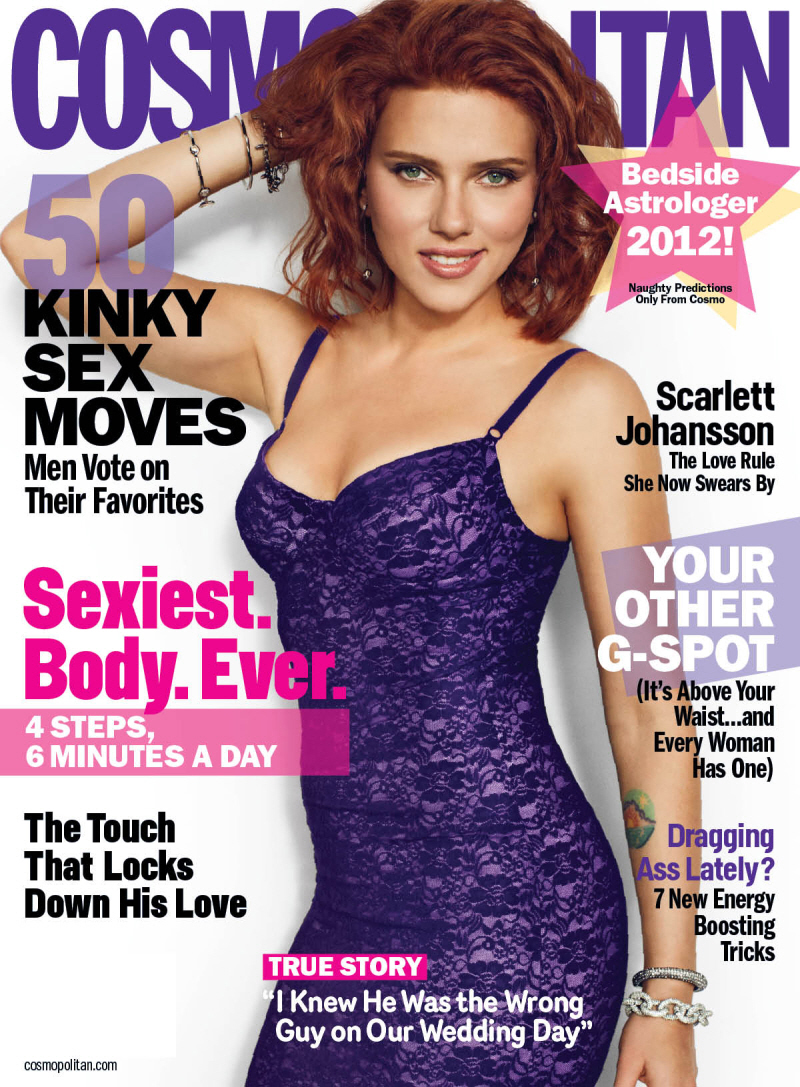 We already previewed Scarlett Johansson's Cosmopolitan cover (for January 2012) a few days ago, but now The Mail has some excerpts from the interview. I'll say it again – Scarlett, like Lady Gaga, doesn't really have much to say. Scarlett, like Gaga, does too much press for too little work. That being said, Scarlett didn't come off too badly in this piece, mostly because she's trying to sound like her marriage and divorce was all cotton candy and rainbows and she just learned so much.
Scarlett on her marriage to Ryan Reynolds: "I'm a big believer that when something feels right, you should do it. I'm a big believer in instinct. Getting married was the right thing to do because it was natural. It grew out of a romance and love and a desire to have a future with somebody and I was very fortunate that I married somebody who turned out to be the person I thought he would be."

Marriage wasn't what she thought it would be: "Relationships are complicated and being married is a living, breathing process. I think I was not fully aware of the peaks and valleys. I wasn't prepared to hunker down and do the work."

On the divorce: "Both of us were extremely busy. We spent so much time apart. It's very difficult. It's bad."

No regrets: "It seemed like a very romantic thing to do, and it was. It was the best thing I ever did."

Learning from her starter marriage: "You have to be very confident and solid within yourself to have a successful marriage."

She's currently single: "I've never been single for a chunk of time before. You miss having a partner and a confidant, but I have to say, I'm appreciating having the time to get to know myself."

That story about having sex with Benicio Del Toro in an elevator the Chateau Marmont: "It's the worst story ever. That story will haunt me for my whole life. If you have ever been in that elevator you know it's like 31/2 seconds from one floor to another. It's crazy. But anyway a journalist asked me about this rumour and I was 19 or 20. I didn't realize how sarcasm would come off and I said something like: 'I don't know, I would find that very unsanitary'. And the guy printed that and at the end he wrote: 'Which isn't to say that she denied it'. So of course, other outlets ran with it! I hate that it's become, like, Hollywood lore, but what are you going to do?"

Trying to move away from her sexpot image: "As a 19-year-old girl I was very eager to play into that. Why not? You're 19 and you're feeling fabulous and young. I don't know that I could have sold myself as a character actor at 19. It's nice for people to think you're attractive. But I was never, like, a model or anything. I think because I wasn't 90lbs, I was suddenly this "bombshell" and "hourglass" and all those things, but I never wanted to make my career off that. Everything I've been doing in the past year involves characters that the last thing on their mind is finding Mr. Right or being taken care of."
[From Cosmo via The Mail]
Aw, damn! She denied the Benicio story! I love that story. That's how I've always chosen to think of Scarlett – as the kind of girl who would bone Benicio del Toro in an elevator and then never speak to him again. I wish she was that girl. I get that she's trying to sound all mature and "Look at me, I'm a real actress, you should nominate me for an Oscar at some point!" But I wish Scarlett would just start boning random A-list dudes, just for the fun of it.
Also – this week's Us Weekly suggests that Scarlett isn't really as "over" Ryan Reynolds as she'd like to be. According to Us Weekly's source, Scarlett is pissed that Ryan is dating Blake Lively because Ryan is supposed to still be hung up on HER. Ryan wanted to reconcile earlier this year, but then Scarlett starting boning Sean Penn, and Ryan got fed up. The source says: "Ryan would have gotten back with her. He was so totally in love, but then she flaunted Sean right after their split, and he was done… Scarlett is pissed that he's not under her spell anymore." Ryan found a new pair of boobs, Scar. Time to pack 'em up and start boning any A-lister that comes along.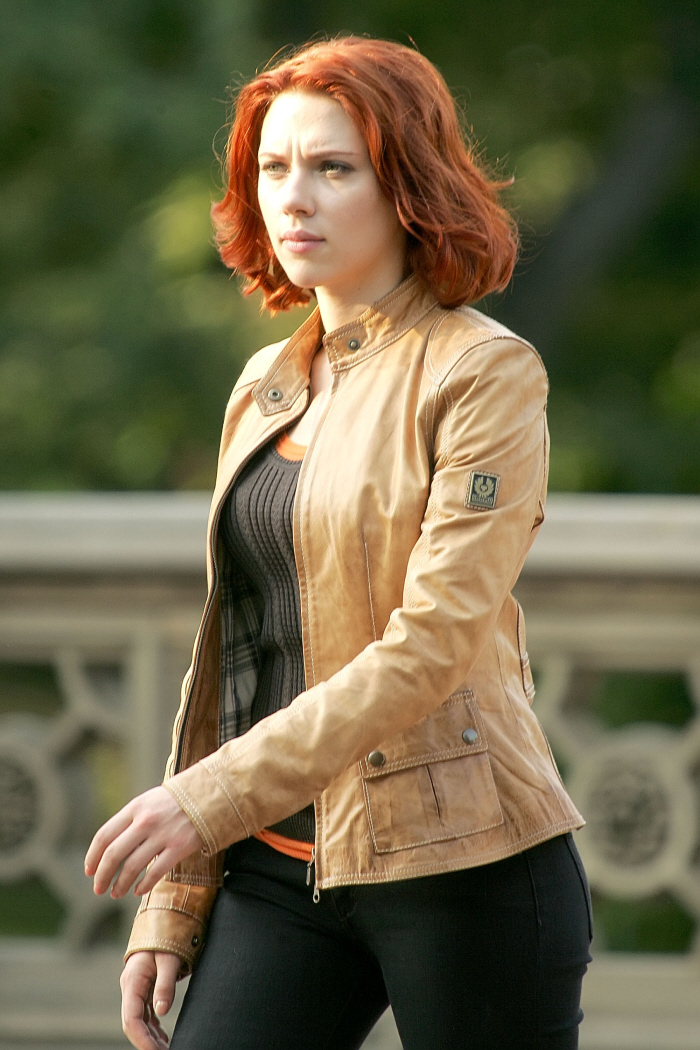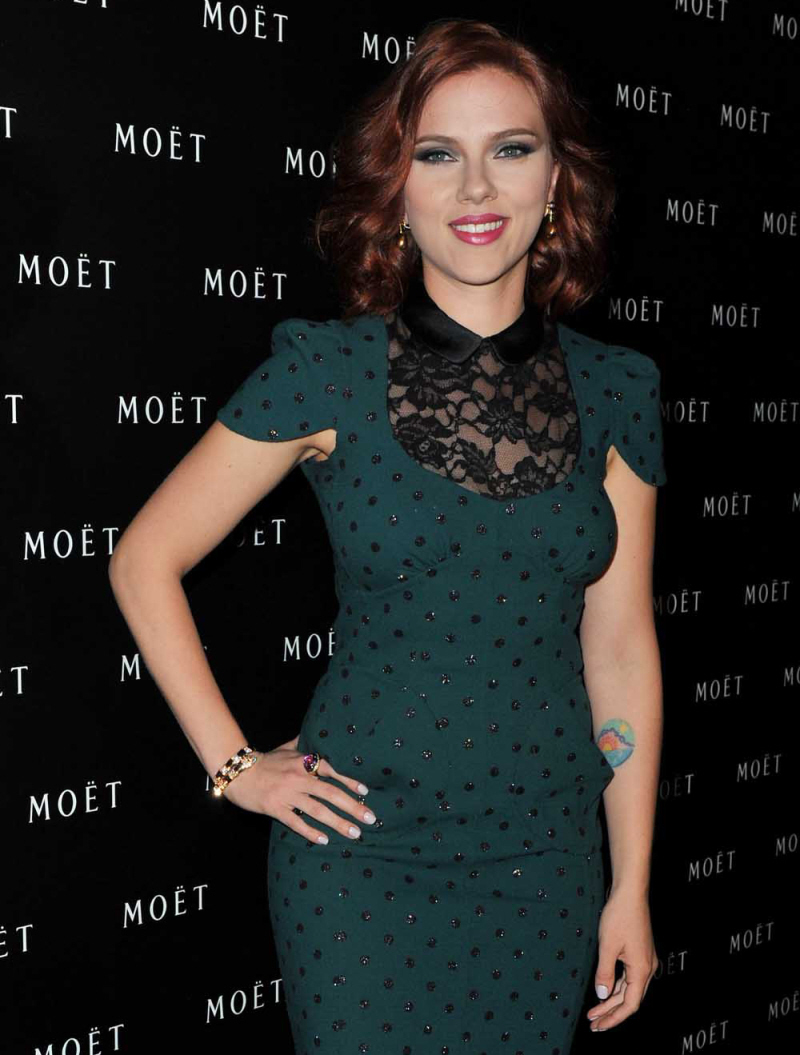 Photos courtesy of WENN, Cosmo.