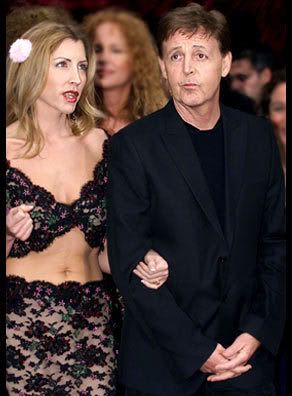 The guy responsible for introducing grieving Paul McCartney to acerbic activist Heather Mills cannot believe the bullshit she's claiming against the beloved rocker in the leaked divorce papers. He says he's really sorry for even bringing them together in the first place, and that Heather is an opportunistic liar:
I introduced her to Paul after the show, and before I knew it they'd fallen in love. It was supposed to be the happy-ever-after script that everyone wanted for the world's favourite, tragic, Beatle.
But Heather quickly began attracting unfavourable headlines. Her past, to put it mildly, was 'murky'. She'd been a party girl for wealthy Arabs, had run through boyfriends and fiancés like a bull through Pamplona, and developed an unfortunate tendency to tell endless porky pies about herself.
She was also a fiery little number, prone to rages, rows and general 'anger management' issues.
Stories soon emerged that the marriage was in trouble – at one stage I was played a tape of a message Paul had left for Heather on her mobile phone.
It was heartbreaking. The couple had clearly had a tiff, Heather had fled to India, and Paul was pleading with her to come back. He sounded lonely, miserable and desperate, and even sang 'We Can Work It Out' into the answerphone.
But despite it all, I still rather liked and admired Heather. When I interviewed her for a TV series, I found her to be a tough cookie with a waspish sense of humour, who was rightly proud of the very effective work she does for charity.
But I also didn't believe a lot of what she said, and thought she was ludicrously obsessed with – and touchy about – the Press. I could also sense a growing – and even more ludicrous – irritation that she had to constantly play second fiddle to Paul…
The separation, when it came, only served to confirm what many already suspected: there had been three of them in the marriage – Paul, Heather and her Ego, and one of them had to go. It was Paul…

We all love Macca because he's always seemed such a nice, ordinary type, relatively untainted by fame. And that's why Heather has made such a hideous mistake in making all these horrible allegations about her husband in the divorce papers.

Even if she was not directly responsible for the leak, she must have known that the details would come out, and presumably assumed we'd all read them with horror and a sudden new sympathy for this poor, tortured, tormented soul.
But we didn't, Heather. We all read them with horror alright – horror that you could be so disgusting about our Paul. As for sympathy, that's all going to swing even further his way. Fast.
Any sympathy I once had for Miss Mills has evaporated. Instead, I am filled with guilt and sorrow that, as a lifelong Beatles fan, I am at least partly responsible for the hell Paul McCartney is going through at the hands of this vengeful, shameless, ghastly woman.
Paul, it may be a bit late now, but I'm sorry.
[via Lainey's Gossip]
That's precious. Heather Mills is making shit up about Paul and it's only making her look bad. I hope lots more comes out in the divorce details.
This woman was a hooker and a porn model before she rose to fame after losing her leg in an accident. She landed the head Beatle, and she couldn't stand sharing the spotlight with him. Now she won't have to, because the press is going to be looking at her with intense scrutiny now, and all the bugs she has under the carpet are going to come scurrying out.