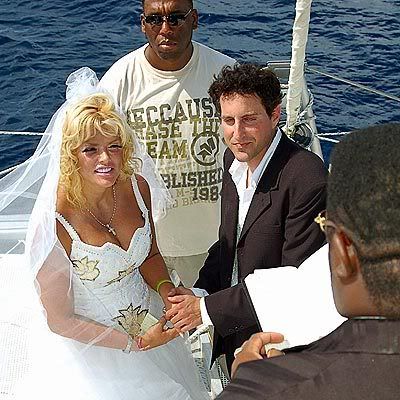 Daniel Smith was finally buried yesterday after dying accidentally from a drug interaction 39 days prior. In the long interim between his death and funeral, his mother Anna Nicole Smith staged a fake wedding, bribed the Bahamian government to fast track her citizenship application, and brokered lucrative deals with photo agencies for pictures of her commitment ceremony and her son's last precious moments with his new baby sister.
Now Daniel has finally been buried in a mahogany casket, wearing his favorite trucker cap and jeans. His mother wore a custom-designed mourning outfit by the same designer who cobbled together her play wedding dress:
"Anna Nicole Smith laid her son to rest today. It was the most difficult day of her entire life," Howard K. Stern, the model's lawyer turned paramour, said.
Stern also gave the eulogy at the service.
"Daniel is Anna's rock, and that became even more profound at today's emotional service. Howard, Anna and [daughter] Dannielynn Hope need to cherish, love and be strong. May the blessings of peace, hope, life and, above all, love, be theirs," added Alex Goen, CEO of TrimSpa.
While Smith's camp declined to go into detail, a spokeswoman for the local Lakeview Memorial Gardens & Mausoleums confirmed to the Associated Press that the funeral had taken place at the cemetery.
Deborah Cartwright told the wire service that a gold-colored hearse brought Daniel's body to the grounds, on which a large green tent had been erected for the private service. She said that he was interred in a mahogany casket.
To ensure the affair was kept as private as possible, six police officers stood guard at the cemetery's main entrance, with plainclothes officers stationed outside the tent. Invited guests of the service were the only people allowed on the grounds for the duration of the funeral.
Earlier in the week, Entertainment Tonight reported that roughly 25 mourners were expected and that Daniel would likely be buried wearing a trucker cap, T-shirt and blue jeans, his preferred wardrobe.
ET also claimed that the mourning mother would be wearing a black dress and veil to the service, created specially for the occasion by designer Pol' Atteu, the clothier responsible for Smith's last-minute matrimonial garb for her commitment ceremony to Stern last month.
I'm so glad that Anna was able to wear custom couture to her son's funeral.
While Anna's pathologist has said that Daniel died from a drug combination of the antidepressants Lexapro and Zoloft along with the heroin substitute methadone, the Bahamian authorities have yet to make an announcement as to the cause of death. The Bahamian police investigation is complete, with the findings handed over to the attorney general's office, who will determine if an additional inquest is needed. I wonder if Anna and Howard bribed that guy yet.
The photographer who claims he's the father of Anna Nicole's baby, Larry Birkhead, has filed suit to get her lawyer, the other guy who claims to be the baby's father Howard K. Stern, to take a paternity test. He also put up a website for his newborn (site has automatic music) to let the little one know how much he wants to meet her.
I'm getting sick of this whole soap opera, but I really want to see Howard K. Stern and Anna Nicole Smith get some jail time for supplying Daniel with the methadone that killed him.