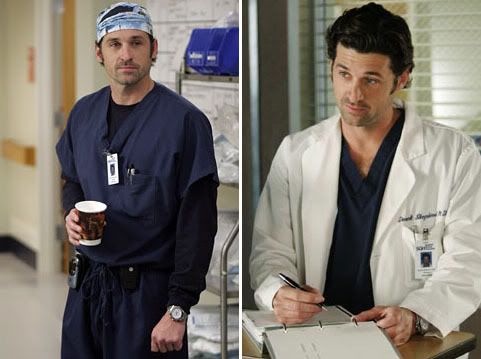 Patrick Dempsey noticed that a Grey's Anatomy crewmember looked pale, and he asked him what was wrong. The man said that he felt dizzy, but that he would be ok shortly. Dempsey told him that he was calling an ambulance right away, and it's a good thing, because the guy had a life-threatening blood clot in his leg!
CALLING DR. McDREAMY! Just days before PATRICK DEMPSEY got attacked and choked by costar ISAIAH "Dr. McJealous" WASHINGTON on the "Grey's Anatomy" set, Dempsey spotted a crewmember hanging onto a pole, looking white as a doc's smock! "What's wrong?" he asked – and when the guy admitted he was dizzy and couldn't feel his legs, the star yelled to a staffer: "Call an ambulance… NOW!" The stricken guy protested, but Dempsey and a crewmember carried him to a lounge chair. Paramedics arrived swiftly, took vital signs… and hustled him to Emergency. Turns out he was seriously ill, suffering from a blood clot in his leg that could have traveled and killed him if he hadn't gotten fast treatment. (Good work, McDreamy! And McJealous, remember your physicians' oath: "First… do no harm, dammit!")
That must be the "deep vein thrombosis" that you hear so much about when you're dealing with all the other crap that goes along with flying commercial.
Not only does Dempsey come to the defense of his costars – he saves lives with his quick thinking!
Dempsey's costar T.R. Knight has come out as a proud gay man, much to the dismay of women everywhere. It is thought that the of story Isaiah Washington choking Dempsey and calling another cast member a "faggot" prompted him to come out.
Pictures from Greys-Anatomy.com