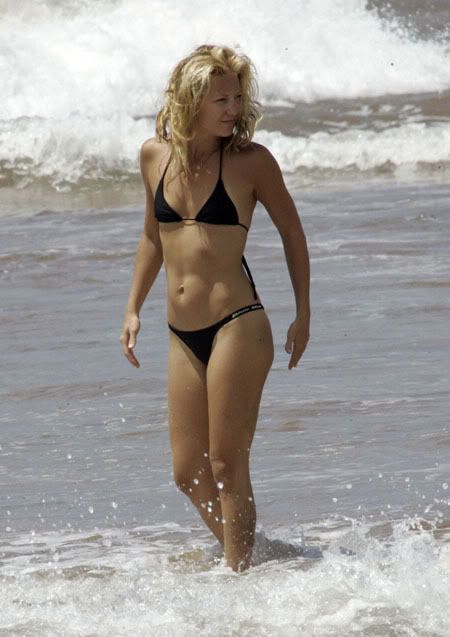 Kate Hudson in a bikini kind of makes it seem like summer isn't over yet. She played in the surf with a friend while wearing a teeny black bikini. These pictures are said to be from 10/19.
Kate is giving her estranged husband, Chris Robinson, a divorce consolation prize. She is said to be splurging on a pricey house for him so that he is set up in style to share custody of their two year-old longhaired son, Ryder:
An insider tells LifeandStylemag.com that Kate has been actively searching around the Malibu canyon area, not far from her own home, for a new house to buy Chris.
"Kate feels like Chris was very generous throughout their relationship and that buying him a house is the least that she can do for him," the insider says, adding that Chris doesn't have the money it would take to buy the kind of real estate Kate is looking at.
Sounds as if Kate has a soft side, right? Maybe. But the insider says the new digs are less for Chris and more for their 2-year-old son, Ryder.
"Kate wants Ryder to have a nice place to go stay when he's spending time with his dad," the insider says.
Not only is she gorgeous, she's generous too. Robinson is reportedly jealous of Kate's relationship with her co-star Owen Wilson, and the house may be an attempt to placate him.
Thanks to GossipRocks for these pics. I think they're new, but if you've seen them before let me know.