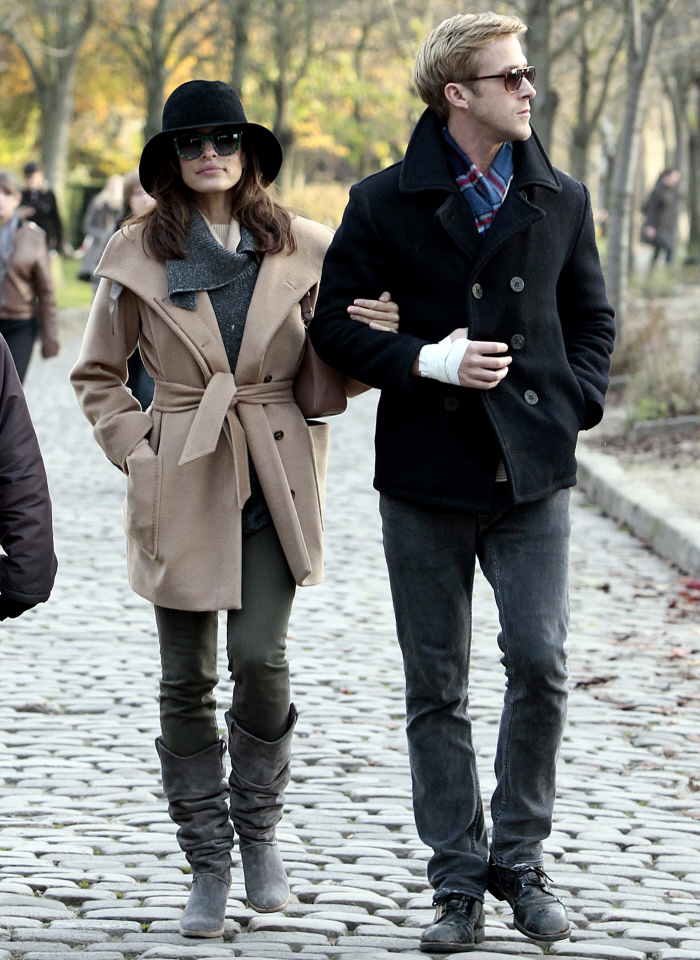 Over the holidays, we (and everyone else) had photos of Eva Mendes and Ryan Gosling, looking and acting loved up all over Paris. Well… maybe not so much. Their physical chemistry seemed totally "off" – it could have been because both Eva and Ryan were very aware of the paparazzi. Or it could be that Ryan and Eva aren't so much "loved up" as "in some kind of contractual fauxmance." Here's what I believe: I believe that Gosling is a much bigger dog than most girls like to acknowledge. I believe that Eva has issues, of the substance abuse variety, and of the "all she has to offer is a sexy body without much talent" variety. I don't know what you get when you put that all together, but I'm sure it's not "love". Still, someone is trying to sell us a great romance. According to In Touch, Ryan thinks Eva is "The One". Srsly?
While in Paris, "Ryan held her close, and kept leaning in to kiss her," an onlooker tells In Touch of the affectionate couple, who spent the Thanksgiving holiday touring Paris. "He looked so happy and so in love."

According to a friend, Ryan is so smitten with his co-star Eva, he's boasting to pals that he's found "The One."

"Ryan is telling everyone that he's very serious about Eva," the friend says. "He is head-over-heels and plans to settle down with her."

What's the rush? Another pal explains: "Ryan doesn't take dating lightly. He falls in love very deeply."

But while most girls would be all too eager to rush down the aisle with the world's hottest bachelor, Eva, who recently split from filmmaker George Augusto after nine years, isn't exactly on the same page as her beau.

"Eva really likes Ryan, but she may not be as serious about him as he is about her… he's moving so fast!"
[From In Touch Weekly, print edition]
I'm working on a theory (in my gossip laboratory) that involves Gosling realizing that being "attached" to so many ladies within the span of a year probably wasn't good for business. After all, he has his Notebook-level heartthrob status to maintain, and he's still got to work on getting more women to see more of his films. So why not take a half a year off from shuffling his latest pieces to Disneyland, and just settle down with one girl – ANY girl – for six months or so? Gosling's appeal to ladies isn't that he seems like a fun one-night-stand – most girls like to fantasize that he's boyfriend material. So maybe that's what this is all about. I don't know, it's just a theory. Because if you're asking me to believe that Ryan Gosling is thinking about how much he wants to marry Eva Mendes… well, I'm not buying it.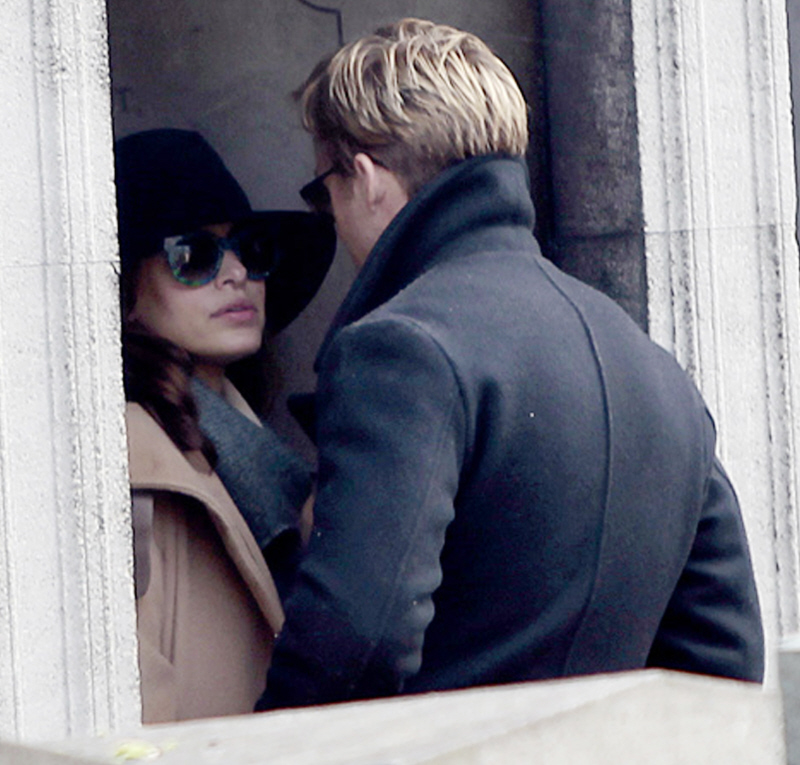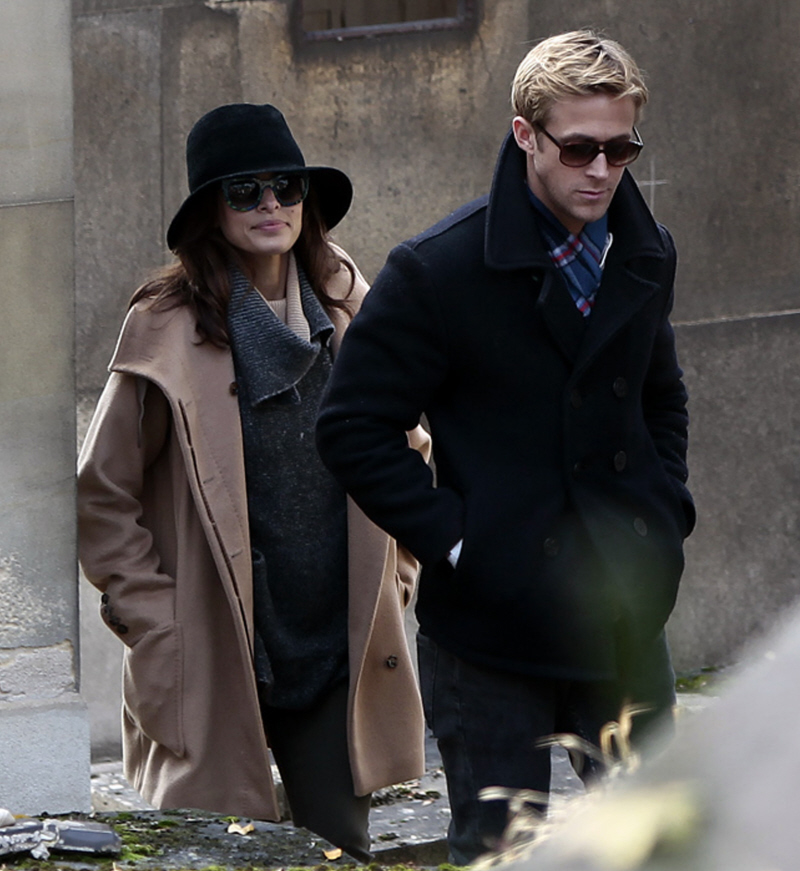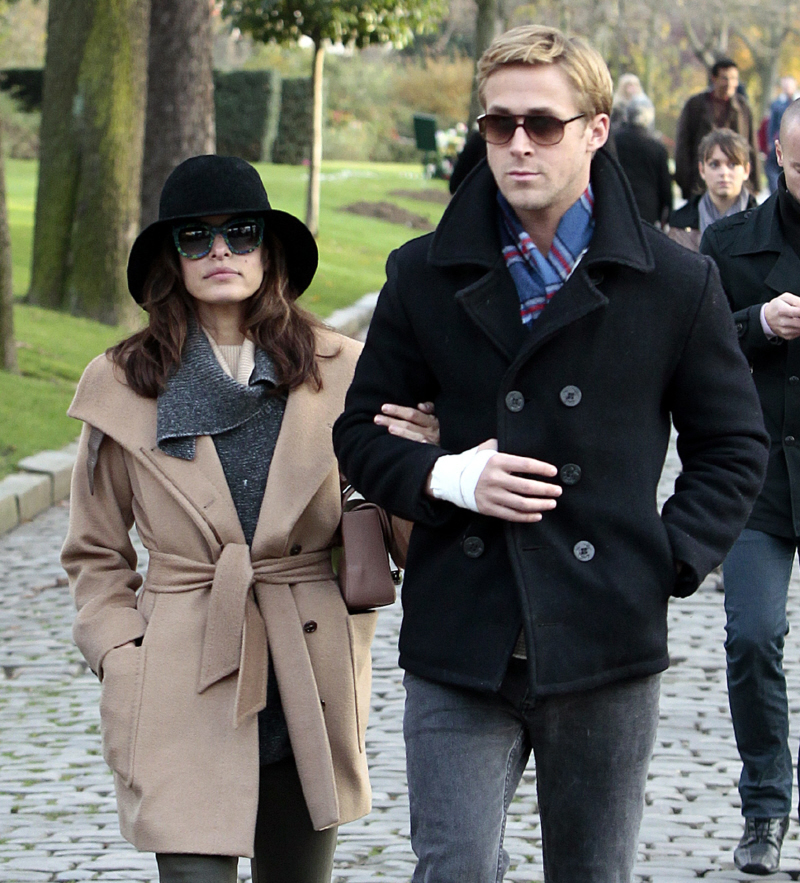 Photos courtesy of WENN.