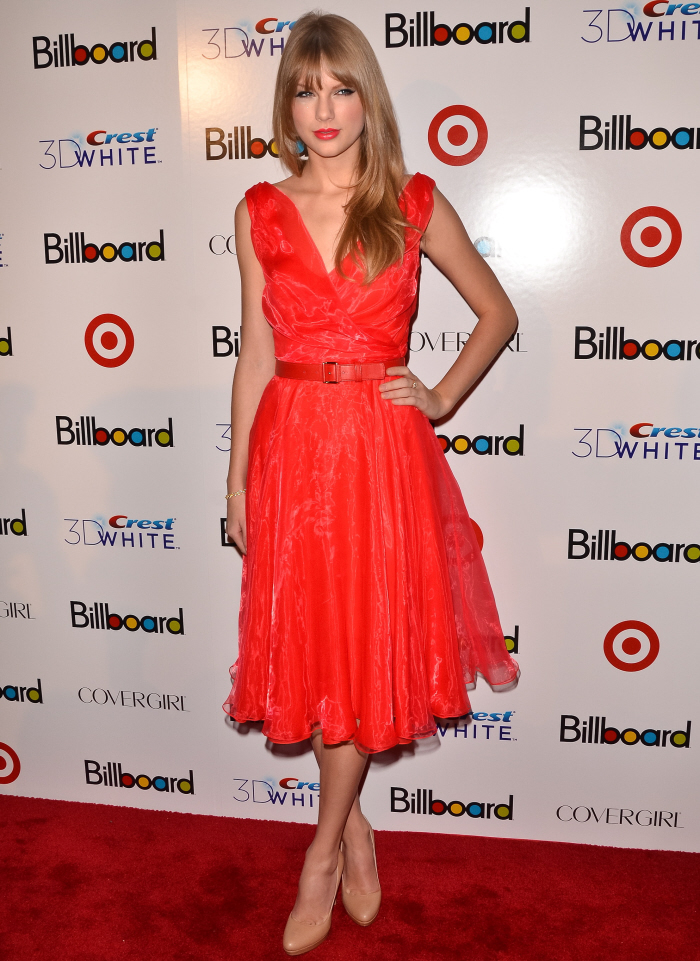 A few days ago, Taylor Swift debuted her new bangsy haircut on her Twitter page, tweeting a photo of herself right after a fluffy blowout. She looked awesome in that photo, but I suspect that Swifty's hair might be similar to mine – you can use all of the product you want, you can get the best blowout ever, and 30 minutes later, our hair is still going to be limp. These are photos of Swifty outside of the Billboard Music Awards, where she was named the Artist of the Year. As you can see, the bangsy cut is real, it's not just a new wig. But as you can also see, her hair looks pretty flat. I still like it better than the old, fried mall hair, but I feel for Swifty and her hair issues. She discussed the situation with Stylelist:
Stylelist: How did you decide to cut your hair?
I was on a photoshoot and they wanted to do, like, clip-in bangs and straighten my hair. I just said, 'Why don't you just cut them?' They did.

Is it hard to have bangs with curly hair?
It's actually not. I think I can figure out a way to incorporate them, I was playing around with it in my hotel room and I think that it might work both ways, but we'll see. It's just fun to play around with your hair and change it up. I never change it up, so this is nice.

What inspired your transformation?
I wanted to change my look a little bit and I've loved the way that bangs look on other people. I always seem to want to straighten my hair in the winter. And I think I just decided to go a step further this time.

How does your style routine generally change in the winter?
I usually wear more jeans. Spring and summer, I'm usually all dresses and skirts, so winter is like jeans, leggings, tights, dresses, dark colors and straight hair.

Are there any pieces in particular you've invested in for winter?
I've gotten a lot of Rugby and Ralph Lauren stuff because I think it looks very winter-y and Christmas-y, so that's been stuff I really liked getting.

What's your go-to New Year's Eve outfit, hair and makeup?
It would probably be some sort of sparkly dress and straight hair and maybe a bold smoky eye and a nude lip.
[From Stylelist]
"…Some sort of sparkly dress and straight hair and maybe a bold smoky eye and a nude lip…" – that's her basic look for red carpets too. That's her red carpet uniform, pretty much, although I like that she mixed it up a little bit with this bold and pretty red Oscar de la Renta – it's princessy, but it's more grown up than the stuff she usually wears.
But let's get back to her hair – is she using a straightened on her hair? Because that might be why it looks kind of limp. What would it look like if she just let it air-dry straight out of the shower? Curly-haired girls, tell me! What happens if you let your hair air-dry and then just brush it out? It would look like Nicki Minaj's wig, wouldn't it? That reminds me, I'm also adding some photos of Nicki Minaj and her Swifty wiglet, and including the closeup of her latest nose. Yes, it's man-made. No, I don't know how many noses Nicki has had in the past two years.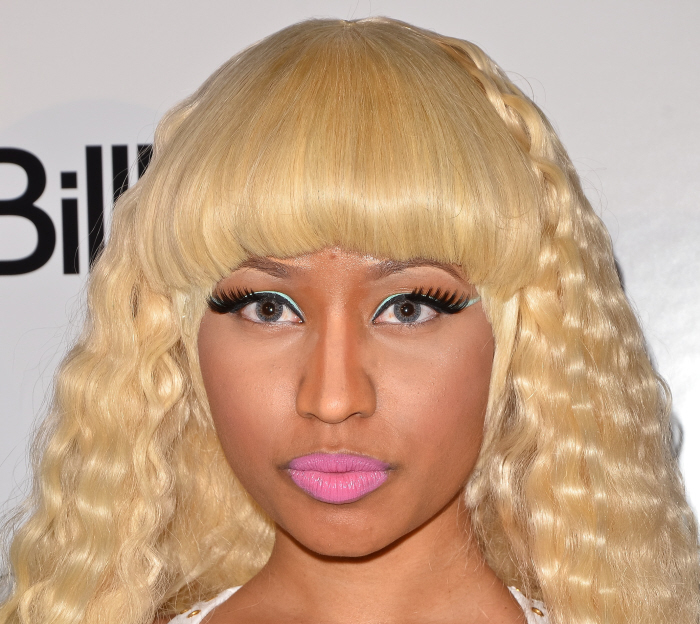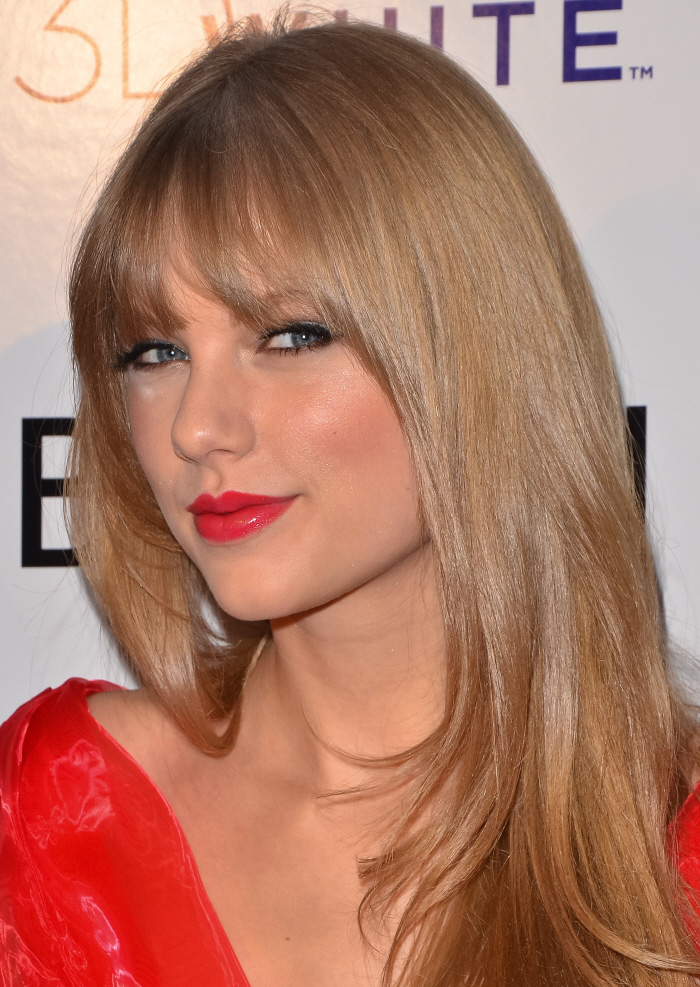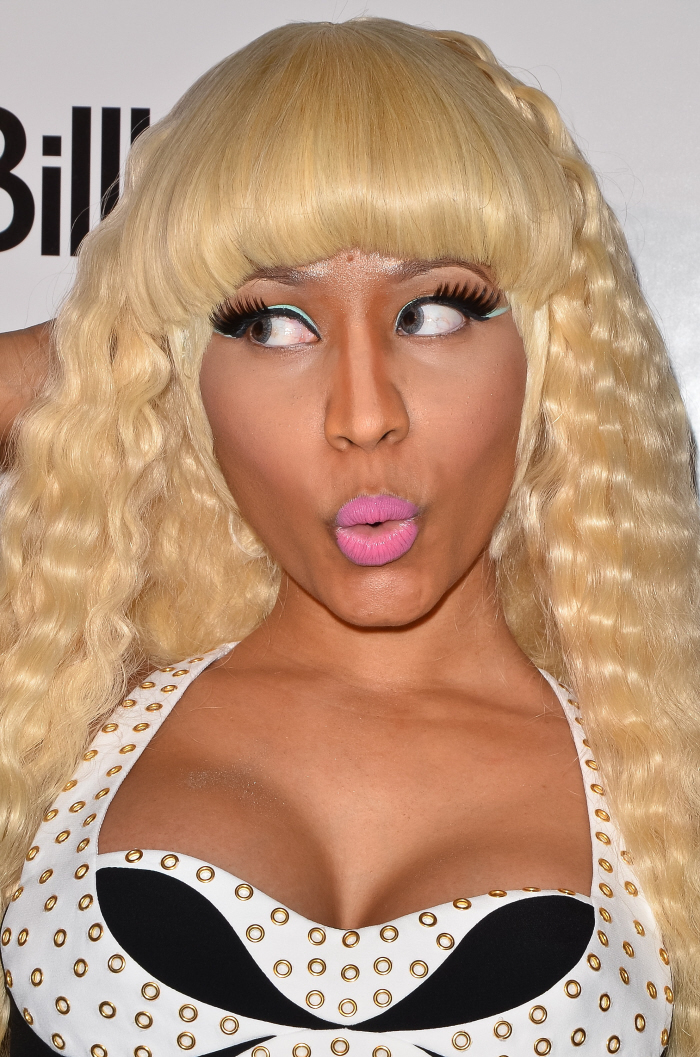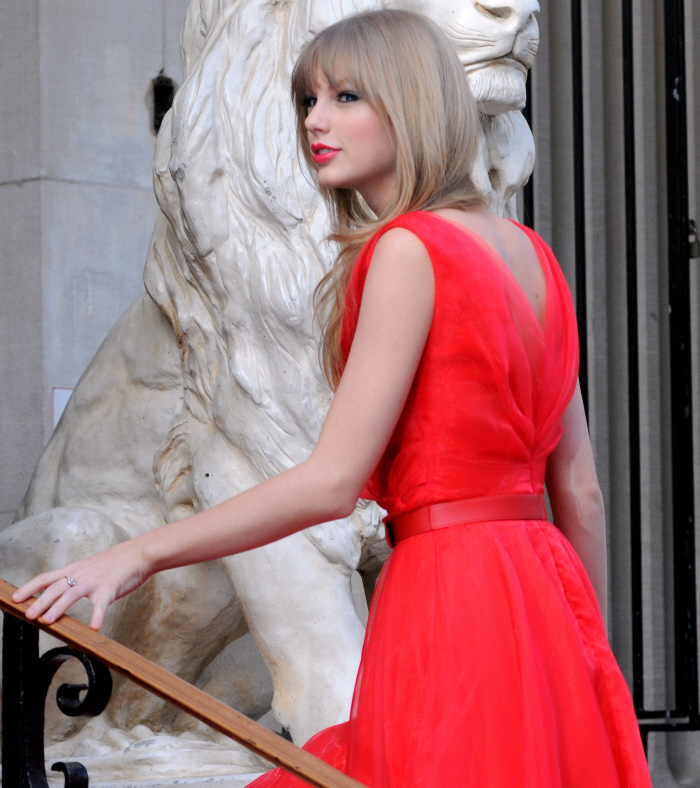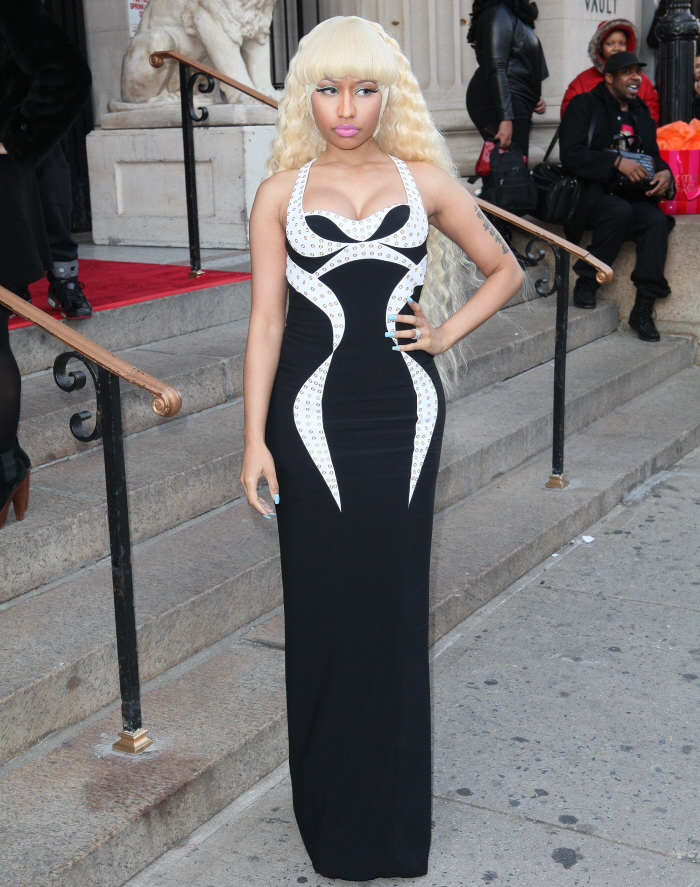 Photos courtesy of WENN.