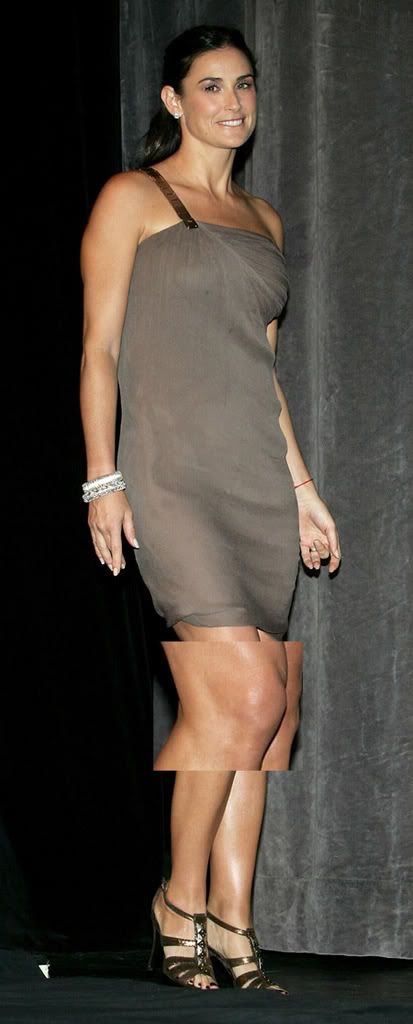 No, Demi Moore wasn't kneeling in prayer while she had a little work done, she actually had her knees operated on for cosmetic purposes. I remember reading a while ago that she was interested in getting her knees done and I thought that was bullshit because who would be so obsessed with their looks that they have their knees restructured? Here's your answer:
The Daily Mail shows before and after photographs of Demi's knees, and said she had some skin taken in by the guy who did all her other work. It's possible that her knees look better because she's wearing tight pantyhose and that the Mail is fabricating this story based on the comparison pictures and that old rumor that she wanted her knees done:
After her flaw was pointed out to her, the mother of three – who is very conscious that actor husband Ashton Kutcher is 15 years younger than her – asked her plastic surgeon to see what he can do.
"Demi went to Brian Novack, who has already done work on her," a source close to the actress said. "He is a fantastic surgeon and his clients don't look like they've had surgery. Demi couldn't stand it that there was any part of her that is not perfect.
"She is also sensitive about her age, although Ashton has told her a million times he doesn't care about what she looks like because he loves her.
"A lot of her friends were trying to talk her out of having more surgery. Worrying about her knees, of all things, is just silly. She's lucky that's the only part of her left to sag!"
Moore has supposedly had over $400,000 worth of work done, and this knee surgery is said to have added $9,000 to that.
I can see a faint scar over one of her knees in high resolution pictures taken on 9/14, so it's possible that this is old news. Still, it seems excessive to get one's knees done. I can see a facelift or some lipo, but knee plastic surgery?
Here are Ashton and Demi at the Hollywood Awards on 10/23. The first five pictures are higher res. [via]