Matthew McConaughey on WhoSay
Did you know that Matthew McConaughey was on Twitter? I didn't. Matthew used his Twitter account to make a major announcement this Christmas: he proposed to his longterm girlfriend, Camila Alves! Matthew, 42, and Camila, 29, have been together since 2006. They are parents to son Levi, 3 and a half, and daughter Vida, who turns two next week. McConaughey tweeted the above photo yesterday with the caption "Just asked camila to marry me, #MerryChristmas" I wonder what prompted McConaughey to propose after so long. In April, McConaughey told Cigar Aficiando magazine that he wasn't opposed to marriage, but that he didn't feel like it was necessary:
"Marriage isn't something I'm against. My parents married each other three times – and divorced twice. I know a few older couples who have been married a long time and are happy; I've been around healthy marriages. I knew I wanted a family and I found a woman I love and felt was right for me. I thought, 'That's the woman I want to make a family with.' But marriage – it's not something we feel we need to be complete. It doesn't mean we won't do it.

"It doesn't make my mom that happy that we're not married. But it doesn't make her mad either. Of course, I was raised to believe that you don't have sex until you're married. So there you are."
[From Cigar Aficionado, print edition, via Celebitchy]
So it sounds like he's been cautious about it for a while, but that he finally felt ready to take the plunge. Congratulations to Matthew and Camila! I find holiday proposals so romantic, and I'm hoping they have a big showy wedding with a photo spread in People. Maybe they'll do a barefoot beach wedding, though. That's sounds more their style.
For those of you who are going to mention the blind item about the famous couple doing cocaine that has been neglecting their kids, I hope it's not true. It was obviously written about McConaughey and Alves, but that doesn't mean it's true at all. That's the problem I have with blind items: even if you figure out who they're supposed to be about, that doesn't make them accurate. That's why no names are used.
Here's another photo Matt tweeted of his newly-shorn head. He's looking a little thin, but I like him bald.


Matthew McConaughey on WhoSay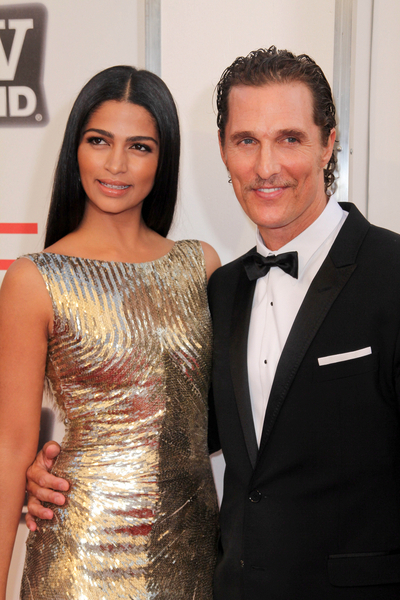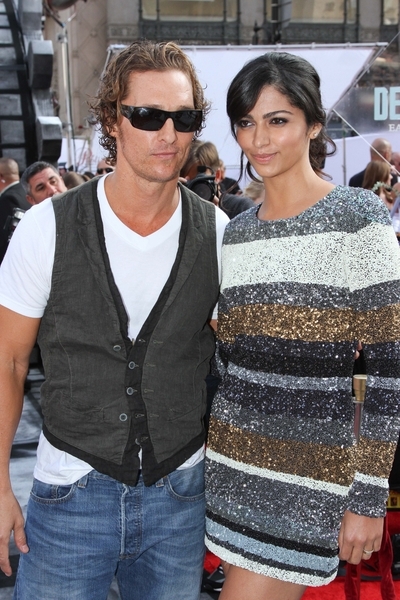 Matthew and Camila are shown on 6/9/11 and 9/25/11. Credit: PRPhotos