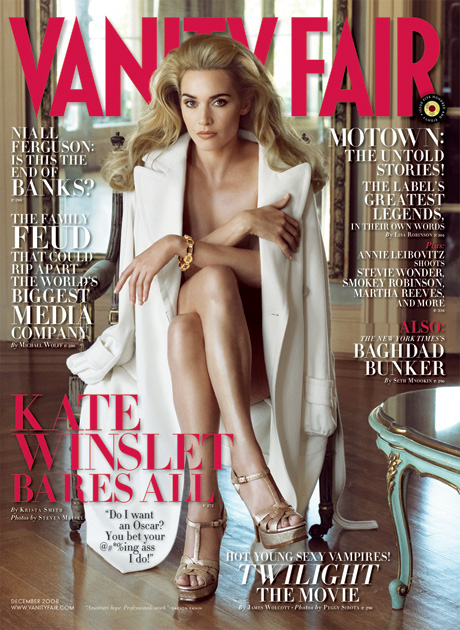 British actress Kate Winslet is back in the spotlight to promote two new films coming out soon: an adaptation of the novel "The Reader," co-starring the yummy Ralph Fiennes, and her much-anticipated reunion with "Titanic" co-star Leonardo DiCaprio in "Revolutionary Road." So much attention is heaped on Kate as a great example of a beautiful woman who doesn't necessarily fit the stick-think Hollywood mold – although her pictorial spread in Vanity Fair this month shows off a decidedly thinner physique for Kate. But she's also an accomplished actress who has been nominated five times for an Academy Award.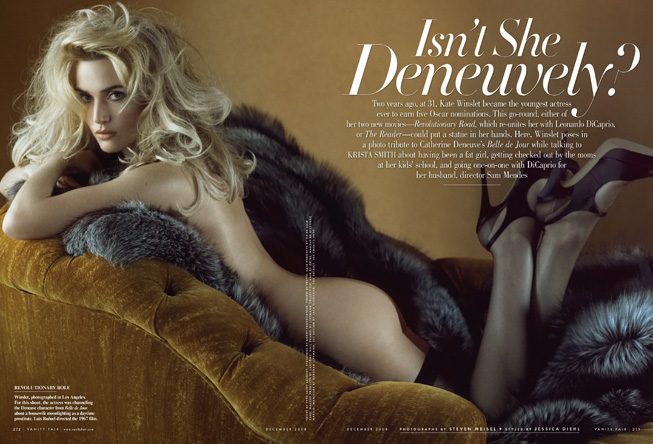 Winslet is well aware she's the subject of intense scrutiny in both her professional and private lives. "You know why I fear people's judgment?" she's asks. "Because I know they're judging. I know they are." She talks about walking to school with her kids—Mia, eight, from her first marriage (to Jim Threapleton, an assistant director she met while filming Hideous Kinky, in 1997), and Joe, five, her son with Mendes—and catching looks from the other parents. "You know, these mothers are going to read this article and they're all absolutely great, but I know when I walk into that classroom in the morning, even if it's for a split second, at some point I'm being checked out. And some of them will even say to me, 'O.K., what's the secret with the skin?' At which point I'm like, 'Oh my God, there's no secret. I have makeup on. And by the way, since I turned 30, I've had an acne problem on my chin. I'm just like everybody else—I just know how to cover it. If you'd like me to show you how, I'd be more than happy.' "

…In the past, the actress has served as a notable exception to the rule about Hollywood weight obsessions, her full figure celebrated as proof that not all leading ladies have to be stick-thin to be successful. In Winslet's teens, her weight fluctuated dramatically; at one point she stood five feet six inches and weighed nearly 200 pounds. But now the baby fat from her early years is gone, and after having two children, her body has settled into itself, giving rise to those beautiful cheekbones and gorgeous curves. (She doesn't profess to be much of a gym rat. "Everyone can commit to 20 minutes," she says of working out, "especially if there's a glass of Chardonnay afterwards.")

"This is going to sound really weird," she muses, "but I never had a desire to be famous. I never had huge ambitions—never.… I was fat. I didn't know any fat famous actresses. I just did not see myself in that world at all, and I'm being very sincere. You know, once a fat kid, always a fat kid. Because you always think that you just look a little bit wrong or a little bit different from everyone else. And I still sort of have that. I often look at women who wear great jeans and high heels and nice little T-shirts wandering around the city and I think, I should make more of an effort. I should look like that. But then I think, They can't be happy in those heels."
I'm definitely a fan – I have been since she played Ophelia in Kenneth Branagh's "Hamlet." I think her best role to date was in "Eternal Sunshine of the Spotless Mind." But I'm definitely looking forward to "The Reader." Honestly, this woman just doesn't make bad movies. It would be great if her achievements as an actress would be enough without constantly revisiting her weight issues – which seem to be nonexistent at this point.