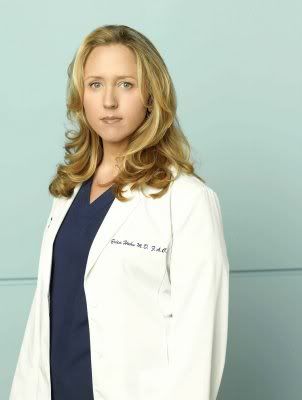 Just released today is that the lesbian storyline between Dr Callica Torres and Dr Erica Hahn on Grey's Anatomy is canned, and that Erica will be leaving this week.
Apparently the decision wasn't made by Grey's writers but actually by the network, who felt that the lesbian relationship was pushing boundaries. An obviously upset Brooke Smith, who plays Erica, gave an exclusive interview with Michael Ausiello of EW.
AUSIELLO: What the hell happened?!
BROOKE SMITH: I was very excited when they told me that Erica and Callie were going to have this relationship. And I really hoped we were going to show what happens when two women fall in love and that they were going to treat it like any heterosexual couple on TV. And so I was surprised and disappointed when they just suddenly told me that they couldn't write for my character anymore.

That's all they said?
Yes. Frankly, it was you that warned me this might happen on the red carpet back in July. You said [sometimes networks get cold feet] with gay relationships. And I was so naive. I'm like, "It's 2008." But I'm starting to realize that not everyone feels the way I do.

Did you get the feeling that the story was making people nervous?
No. At work I had no sense of it. And more fans seemed to like it than not. I don't think I'm ever going to know [why this really happened].

When did you find out?
I found out in mid-September soon after shooting the monologue that aired last week where Erica has the revelation that she's gay. They even came down and told me it was a great scene — one of the best they ever shot on the show. So I was really, really shocked. I was floored when they told me [I was being let go]. It was the last thing I expected. In fact, when they told me I asked, "When is this happening?" And they said, "The [next episode] is your last," which is the one that airs this Thursday. So it was very sudden.

Wait a second – your last episode is this Thursday?
Yes.

How are you written out?
I'm not written out. My final scene is just me heading to my car. I honestly don't know what happens in the next episode. I heard not much.
I'm at best ambivalent about homosexual storylines, they make such a big deal out of what is only ever another relationship on a show. I'm generation Y, we aren't shocked by a same-sex kiss anymore. I suspect the network decided to drop it partly because the storyline was a bit lame (Brooke says that she found Callie asking a man for help with her sex life 'icky' and unlikely) and partly because rival medical drama House started a lesbian storyline that same week. EW suggests that it is because of the 'explicit' nature of the storyline.
Brooke says that she just moved her family to Los Angeles, where the show is filmed, but feels she is going to be 'okay' in her career.
Note by Celebitchy: Grey's creator Shonda Rimes has said that Brooke's character's orientation had nothing to do with her dismissal:
For her part, Rhimes said in a statement to ET, "Brooke Smith was obviously not fired for playing a lesbian. Clearly it's not an issue as we have a lesbian character on the show — Calliope Torres. Sara Ramirez is an incredible comedic and dramatic actress and we wanted to be able to play up her magic. Unfortunately, we did not find that the magic and chemistry with Brooke's character would sustain in the long run. The impact of the Callie/Erica relationship will be felt and played out in a story for Callie. I believe it belittles the relationship to simply replace Erica with 'another lesbian.' If you'll remember, Cristina mourned the loss of Burke for a full season."
[From ET]
Doesn't this show sound like a difficult place to work? There was all this infighting the past two seasons with the Isaiah Washington slur against T.R. Knight and now this woman was fired and isn't sure why.