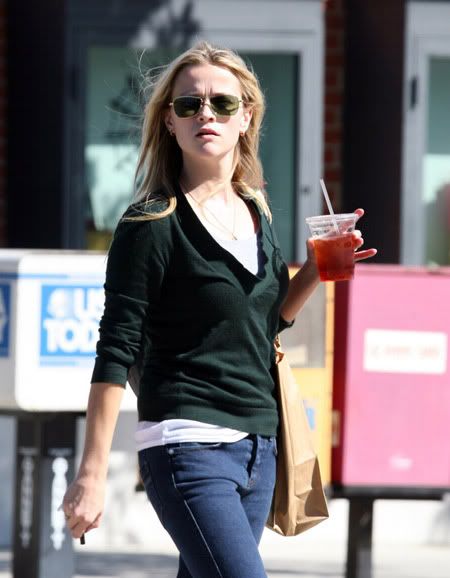 Roger Friedman of Fox News claims to have witnessed Reese and Ryan's huge fight at the "Flags of Our Fathers" premiere. He claims that they had a very obvious fight on the terrace at the party, and that they had already agreed to break up at that point. He mentions it as an aside, though, so I'm not certain he's confident that it's true:
The party took place in the rooftop penthouse suites of the Soho Grand Hotel, and what I saw next was something I decided not to print at the time. The couple went out on the roof terrace and had a knock-down, drag-out fight. It looked like something from "Who's Afraid of Virginia Woolf?"

My line of vision was partially blocked by a big exhaust pipe, so at different times during the fight they were obscured. But then Ryan would appear, disgusted, on one side of it, and Reese on the other.

Suddenly, Reese stormed back inside, crossed past me and headed for the elevator. Ryan followed in hot pursuit. Thus, their security guards assigned for the night went running after them, thinking that they were leaving.

After a couple of minutes, though, clearer heads prevailed. The couple came back from the elevator with security in tow. Perhaps they'd forgotten that many members of Ryan's family, including his grandmother, were still in the room, oblivious to what was going on.

All of this was alluded to in our Oct. 17 column. I referred to their marriage as "tempestuous," trying to err on the side of good manners. It was obvious from their heated exchanges that the couple was in trouble. But no one really knows what goes inside a marriage; maybe fighting was part of their deal.

In retrospect, however, Ryan and Reese already knew it was over when they came to the "Flags of Our Fathers" party. They had already committed to it, and Phillippe's family wanted some kind of celebration.
Reese Witherspoon was photographed out and about by herself in Brentwood on 10/28. She looks gorgeous and well dressed just days before announcing the dissolution of her marriage to Ryan Phillppe. She has reportedly contacted divorce attorney Robert Kaufman, who represented Jennifer Aniston in her split with Brad Pitt. I bet Reese gets right down to it and files divorce papers soon. Still, she's going to take a hit. Reese and Ryan have no prenuptual agreement, and Ryan is entitled to half of the couple's fortune under California law.
Pictures from Gossip Rocks.