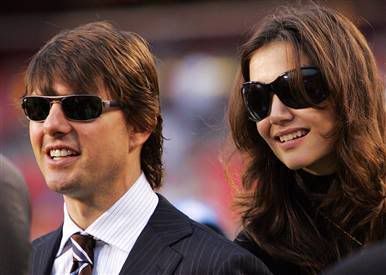 "I now pronounce you Man and Girl."
If you thought the Scientologists' way of giving birth was crazy, you won't believe what they do at the wedding. MSNBC Scoop has reported that TomKat's wedding is going to be done in traditional Scientology fashion, where the groom is going to be addressed as the "Man" and the bride will be addressed as the "girl". The name of the "girl" will not even be spoken, she will only be referred to as "girl" or "you" by the minister, but Tom's full name will be declared to all who are present.
If the wedding will be a Scientology ceremony — as has been reported — any feminists in attendance might be a tad miffed. The vows for Scientology's wedding ceremony refer to the groom only as a "man" while the bride is sometimes called a "girl," notes the Web site, Secrets of Scientology. And some of the notions of marriage seem a bit retro.

Quoting from the book "The Background Ministry, Ceremonies & Sermons of the Scientology Religion," the site reports that the minister asks the bride:

"And do you take
His fortune
At its prime and ebb
And seek
With him best fortune
For us all?
Do you?"

The minister then tells the groom:
"Now, (groom's name),
girls need clothes
And food and
Tender happiness and frills
A pan, a comb, perhaps a cat
All caprice if you will
But still
They need them.
Do you then
Provide?
Do you?"
Do you, well, do you, do you?
I think Katie should take that pan she's getting from His Fortune and whack him over the head with it. This shit is beyond misogynistic, it's mind-control.