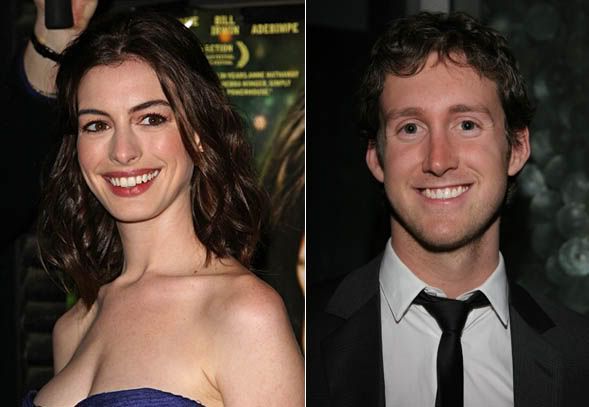 Anne Hathaway's ex Raffaello Follieri was sentenced to four and a half years in prison at the end of last month for scamming investors out of $50 million dollars he used to fund their lavish lifestyle. Right around the time her ex was sentenced, Hathaway hinted to the press that she had moved on and was having great sex with some other, unnamed and presumably legitimately employed, guy.
"This guy I know in L.A. is kind of doing it for me right now, "Hathaway reportedly told People. "When I think of sexy, I think of him."

Still, Hathaway's new romance isn't quite serious yet, People reported, but she still thinks he really has it "going on."

"You know when sometimes you don't know someone very well – you'll probably never see them again – but you just meet them and you're like "WOW, you really have it going on?"

"I'm totally single right now," she told People. "But I happened to meet a sexy guy the other day."
[From Foxnews.com]
How dorky does that sound? "I met a sexy guy." Way to seem desperate, Hathaway. Maybe the obvious approach worked for the skinny bug-eyed actress, though, because she's been seen out with actor Adam Shulman, who confirmed to Life & Style that they were together:
Life & Style recently spotted the happy new couple in New Orleans, where Adam accompanied Anne, 26, to an Oct. 29 screening of her movie at the Canal Place Cinema, then to dessert with pals at local hot spot Patois. At the screening, Adam, unassuming in jeans and Converse sneakers, told Life & Style how he and Anne first met: "We met through mutual friends. I came to support Anne. We've never been to New Orleans before — it's our first time."

At Patois, where the couple sipped white wine and Anne picked off Adam's plate, the star said things with Adam weren't perfect at first. "He was actually seeing someone else," she told the table while resting her hand on Adam's leg, says a witness. "I thought I was going to have to step back."
[Received by e-mail from Life & Style]
I'm not a fan of this woman, but I hope she has happiness in her new relationship. She joked to David Letterman about the con she used to date, saying "We've all been there, right ladies?" No, not all of us, and a lot of us like to think we would have seen the writing on the wall a lot earlier. Maybe she picked the right guy this time around though. Schulman's IMDB filmography is a little light, but his profile is sure to pick up now that he's palling around with Hathaway.
Adam Schulman is shown at the release party of 'Dukes of Hazzard: The Beginning,' in which he starred, on 3/7/07. Anne Hathaway is shown at the BFI London Film Festival's 'Rachel Getting Married' premiere on 10/20/08. Credit: WENN