I don't really understand it when Kaiser says she wants to smack Lea Michele, because I have more of an avoidant type personality and tend to just shut out people who bug me. After watching Lea on the red carpet last night I get it, though. She's very in your face, and she's outrageously over the top. She was wiggling her ass around so much for the cameras that I wanted to give it a hard whack, and not in a sexy way.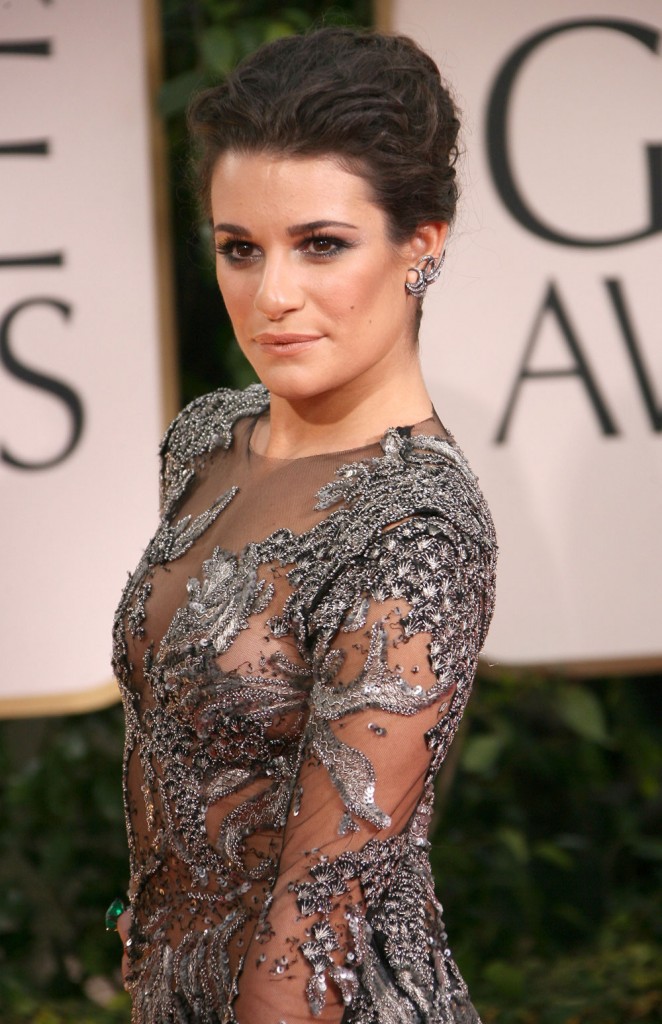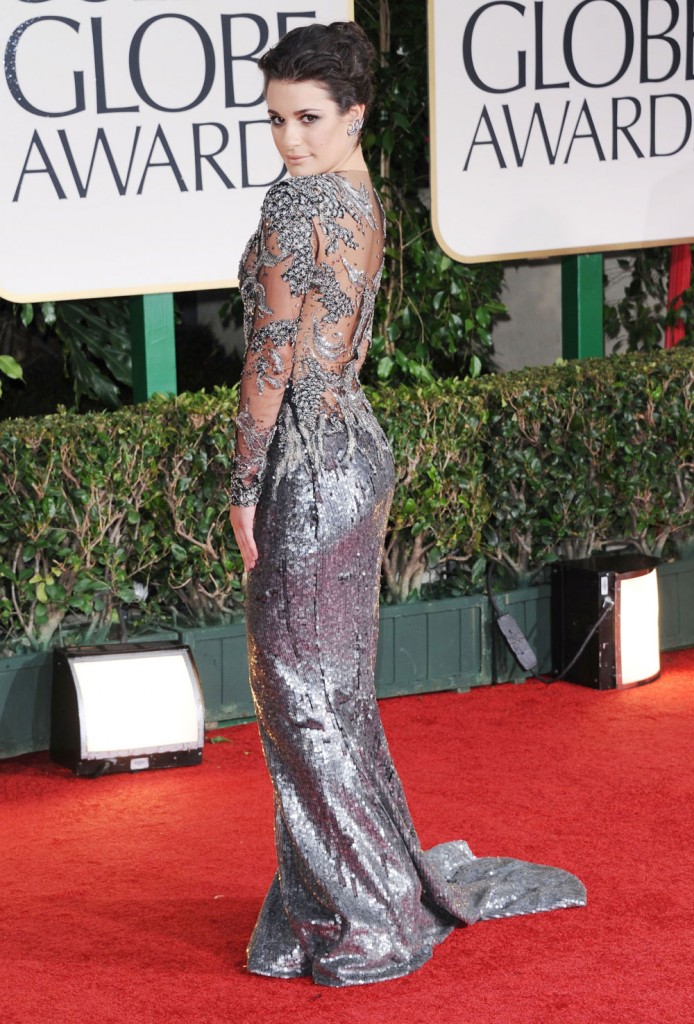 Lea was in this intricately beaded Marchesa gown which looked more like a figure skater's getup than a real dress. She's got a great figure and she's going to dress it up, grind it out and enthuse about it while pulling the stupidest faces you've ever seen. This is Lea, taking herself way too seriously. She's ambition and false pride wrapped up in bacon and served from inside a Boston cream donut.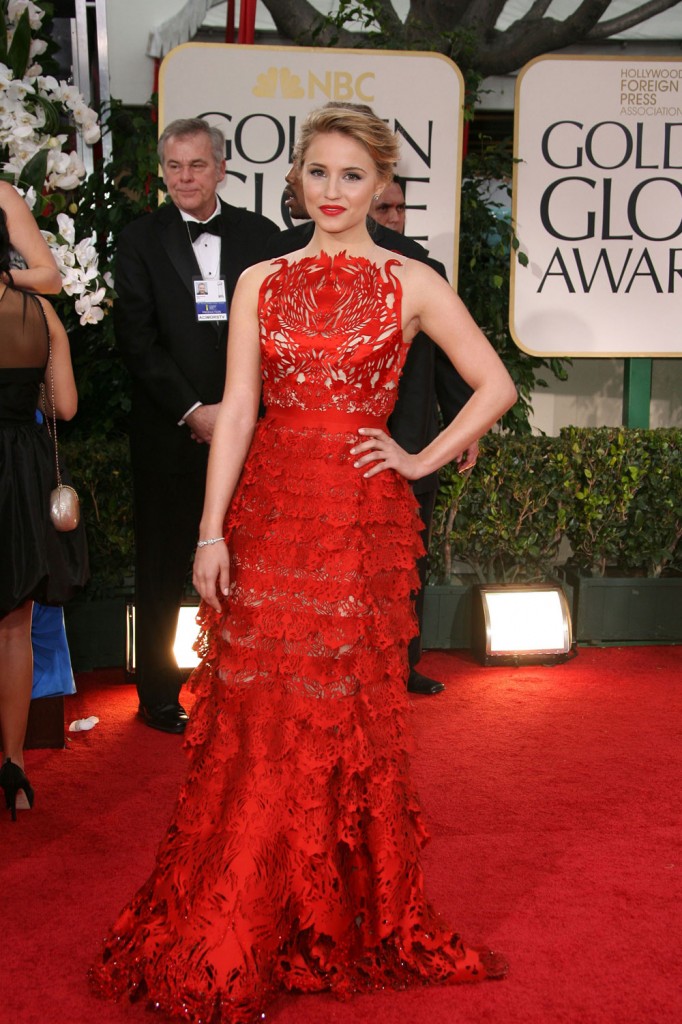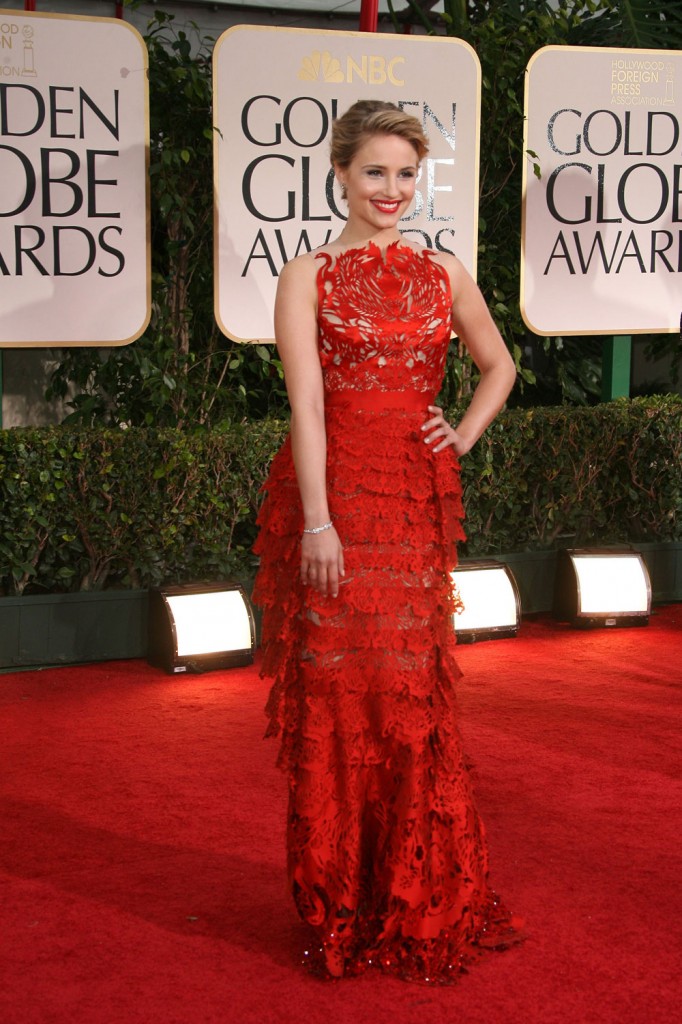 Compare Lea to her co-star, the usually demure and often poorly styled Dianna Agron. Agron looks a little ashamed to be on a red carpet, like she thinks she doesn't belong there and is trying her best to fit in. She's sweet as an apple and seems as pure. So this Giles dress seem somewhat wrong for her in that the tiered ruffle skirt and cutout bodice are too adult, but maybe it's perfect. The skirt is mismatched and out of place with the top, kind of like Agron. She's slightly awkward and is almost apologizing for how pretty she is. I don't like the skirt at all but from the top half she's stunning.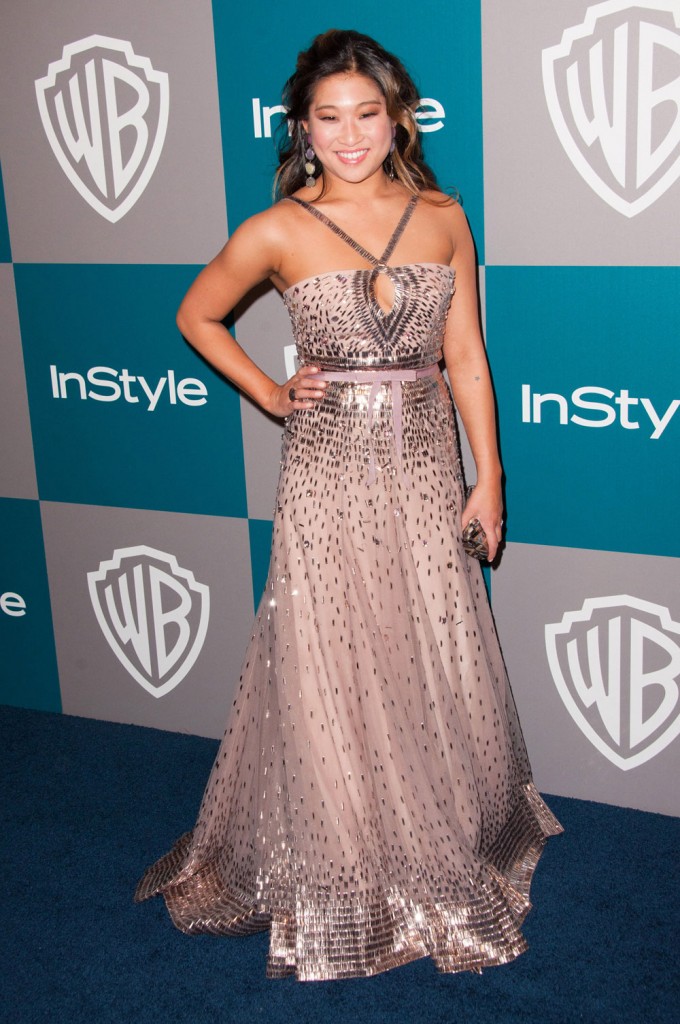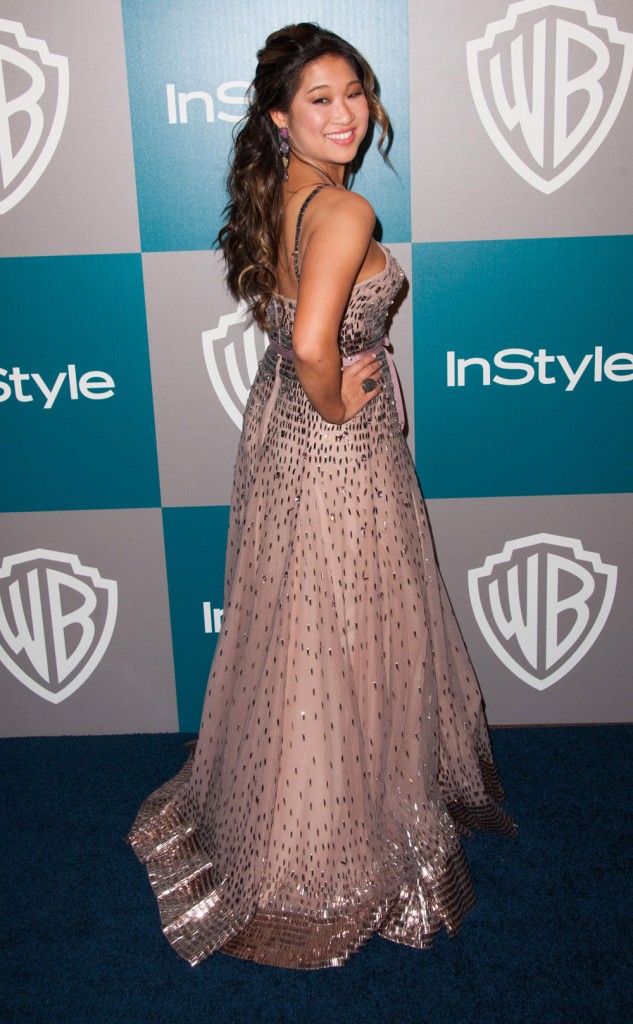 Jenna Ushkowitz attended a Golden Globe after party in a sleeveless Norman Ambrose gown that looked like a prom dress reworked with some beading. It wasn't bad, it just wasn't a unique or standout dress apart from the bead work. I shouldn't nitpick, I would wear that gorgeous dress in a heartbeat.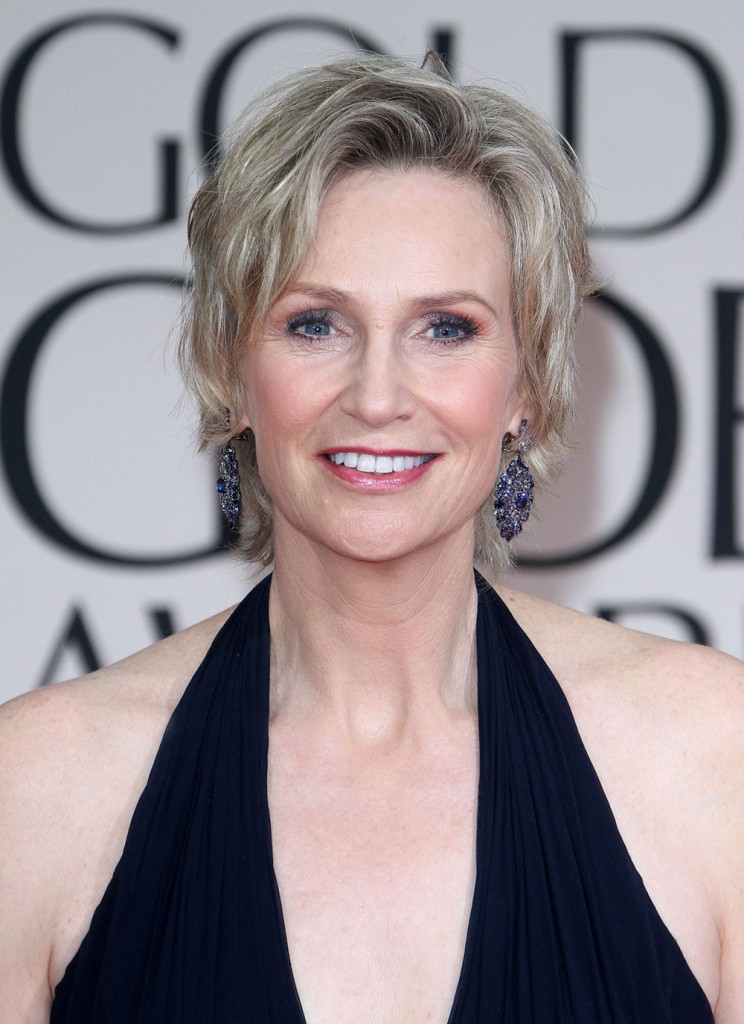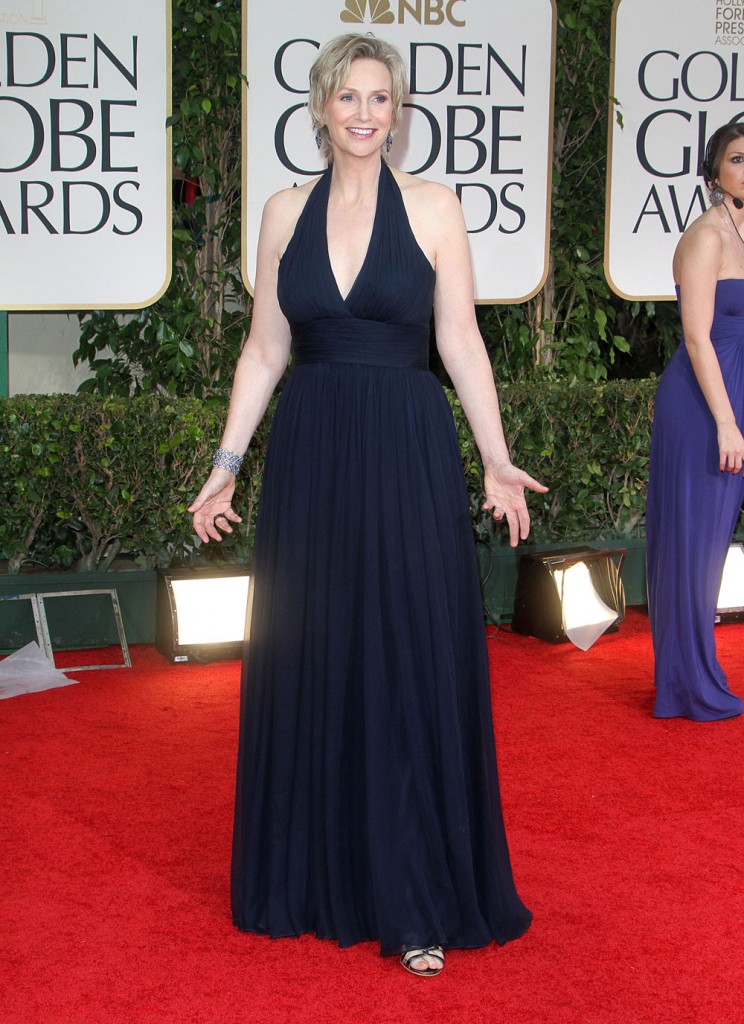 This may sound rude (not that it's ever stopped me before) but I'm kind of over Jane Lynch. She's using her coach Sue schtick to shill all kinds of products, from Healthy Choice dinners to Barnes and Noble. It feels like I'm seeing her commercials constantly. She wore this blue v-neck chiffon gown with looks very pretty when you examine it closely in photos. On screen it was too one-note though and looked plain.
Unlike past years, Glee was only up for one award, for best TV comedy and it didn't win anything. It feels like Glee's time is heading to an end, but I could be wrong. Hope not.
Update: Amber Riley was at the Globes but our agencies didn't carry photos of her there for some reason. Here she is at an after party. She was in a lovely bright red Badgley Mischka gathered dress with a ruffle detail along the bodice. I love this elegant look and especially like her hair and styling.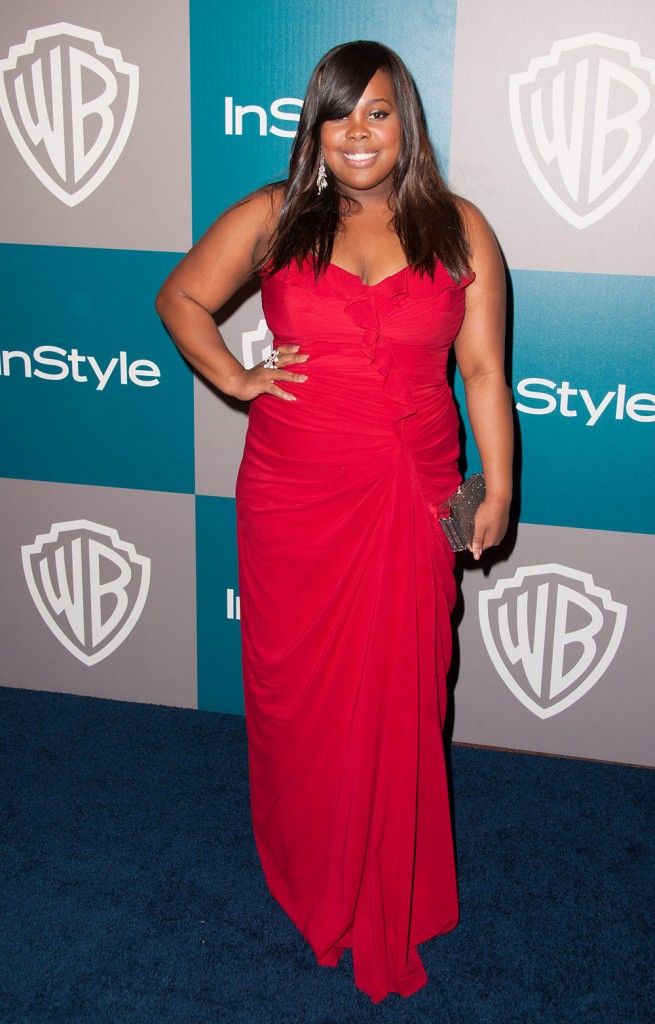 Photo credit: Juan Rico/Fame and WENN.com