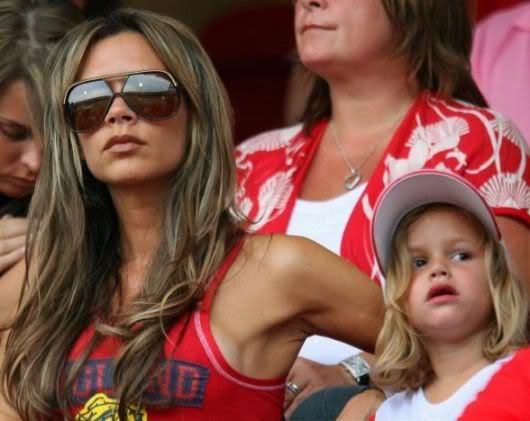 Victoria and David Beckham's middle son, five year-old Romeo, suffers from the seizure disorder epilepsy, which can be triggered by the constant flash of the paparrazi's cameras that follow the couple:
The world's most-photographed celebrity family are desperate to protect little Romeo from fans and paparazzi eager to get a snap.

The lad, who turned four just five weeks ago, has been warned to avoid flashing lights known to cause potentially-fatal seizures.

The frightened youngster reacted violently after being photographed at Heathrow last Saturday as he returned to Britain from Madrid with Posh and brothers Brooklyn, seven, and Cruz, one.

Initially he shielded his eyes against the flashes as his mother pushed him through the terminal building in his buggy and out to a waiting car.

He then started screaming in terror and lashing out with his legs as one photographer pressed his camera inside the car and started flashing.

Only then did horrified Posh, 32, reveal the truth about brave Romeo's dangerous condition.

She pulled her blond-headed son to her, shielded him from the lights and yelled: "Leave him alone.

"He's got epilepsy. All that flashing will start an epileptic fit. You can't do that!"

Kevin Smith — owner of Splash news, the agency that took the shot —said: "No picture is worth putting a child's life in danger.

"Now that we know Romeo has epilepsy I will not be authorising any of my photographers to take flash pictures of him. I think this is absolutely the right thing to do and I hope other agencies follow suit."

And we at the News of the World are only printing the shocking picture — taken BEFORE the facts were known — to persuade fans and the world's press to act responsibly.

The frightening incident came soon after specialists told the couple that Romeo's condition was more serious than first feared and that he had epilepsy.

Romeo has endured a series of frightening fits and has been rushed to hospital four times in three years.

Intially it was thought his attacks were simply febrile convulsions, common in young children running a high temperature.

But when the fits continued with no clear explanation he was tested for epilepsy, which has now been confirmed.

A close friend of Posh and Real Madrid star Becks said: "They have told friends the situation. While it's heartbreaking, he is being brave.

"They are devastated — worried sick about Romeo. He is on medication to control the seizures but obviously things like flashing lights can trigger one at any time.
My son needs dental surgery as something happened when I was pregnant, it's unknown exactly what, and the top four tooth buds did not calcify properly. He needs to get those four teeth taken out and maybe a bridge put in. That is why I had to take some time off last week to consult with dentists.
Anyway this is the only thing wrong with my two year-old son as far as we know and I keep telling my husband to be grateful that he has excellent health and is so smart and happy. I can't imagine dealing with a chronic health problem with my child and my heart goes out to Victoria and David. They may be richer than most of the planet, but they still have to deal with heartbreak. Hopefully Romeo's seizures are under control and now that the word is out his health won't be jeopardized by flashes going off in the future.