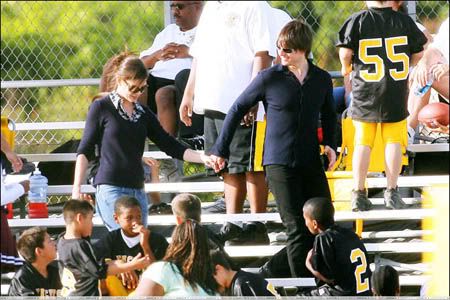 All that frantic PR work by Tom and Katie seems to have paid off, because Tom has just been named head of United Artists film studio. He inked a deal that will gives him and partner Paul Wagner complete control over production at UA, along with giving him the freedom to star in films put out by other studios if they'll have him:
The sweet deal gives the pair — whose film productions include the Mission:Impossible movies, War of the Worlds, and The Last Samurai — complete control of the studio's production slate, expected to be about four films a year, and allows Cruise to appear in films from other studios. Wagner will rule the roost as chief executive of the storied company, owned since 1981 by MGM but founded in 1919 as a haven for artistes by D.W. Griffith and actors Charlie Chaplin, Mary Pickford, and Douglas Fairbanks.

Cruise and Wagner Cruise hit biz-bottom in August when his and Wagner's 14-year producing deal with Paramount was not renewed by the studio. Sumner Redstone, chairman of Paramount parent company Viacom Inc., publicly blamed Cruise's bizarre behavior — his unhinged love declarations for Katie Holmes on Oprah and elsewhere, his dogmatic defense of the more contentious aspects of Scientology, in particular the wholesale rejection of psychiatry and medication — for suppressing public enthusiasm for their Mission:Impossible III film, a "disappointment" at the box office, even though it generated over $390 million worldwide.

"As much as we like him personally, we thought it was wrong to renew his deal," Redstone told the Wall Street Journal. "His recent conduct has not been acceptable to Paramount."

Putting it even more bluntly, Hollywood legend Lauren Bacall slammed Cruise's behavior in an '05 Time magazine interview. "His whole behavior is so shocking. It's inappropriate and vulgar and absolutely unacceptable to use your private life to sell anything commercially, but I think it's kind of a sickness," she said.

Cruise and Wagner 2 Apparently UA/MGM felt otherwise. "There is a complete alignment of interests in this deal," MGM chief operating officer Rick Sands told the AP today. "They are equity owners in the company and they share with us in the upside."
Good for him I guess. I'm going to mention this as an aside instead of running a separate story about it, but I spent a week e-mailing with a guy who claims to be "Big Red," the male hooker that supposedly had a rather tame gay wrestling romp with Tom in the late 90s. The guy didn't tell me his story and I kept e-mailing with him back and forth, hoping that he would write something I could publish.
He claimed that the story told by another guy, Barresi that we published here was inaccurate, and that it didn't go down like it was claimed, but the guy wasted my time and didn't give any details. Here's the relevant part of our e-mail exchange. Again, I cannot verify that this is the person he claims to be or that this is anything more than a person who strung me along via e-mail for a week, but here's what he said:
Segment of one e-mail toward the end of our exchange: I just do not think the story I have to tell is what you are looking for but I will think about it.

Another e-mail: I am actually looking to build Tom Cruise up not break him down

Last one I received: I'm not getting a good vibe from this at the moment – – I think I will wait and I may neveer publish the real story – – afterall, I believe in Karma and Barresi will have to deal with his.
It sounds like whatever happened, it was even less sensational than was claimed, at least according to this person who contacted me and got my hopes up about running this big exclusive. (I even contacted a lawyer and a cult expert about how to proceed, which may be why he got a bad vibe. You can't be too careful with the c0s.) This guy claims to live in Europe now. The book by Barresi says that he left the states after the news of his supposed romp with Cruise got out, but I can't be certain what's true at this point. Tom Cruise is weird and is involved in a harmful freaky cult, but whether he actually had a gay wrestling session is up to question.
Gee, guess that absolves him of all the gay rumors so he's definitely fit enough to run a studio. Look – he even reproduced and he's getting married! There are photos of his baby in Vanity Fair and everything.
Here are Tom and Kate at Connor's soccer game on 11/5. That's what the photo credit says but it looks like they were taken on two separate days as Tom is wearing a different shirt and got a much-needed haircut in the interim. Katie is wearing the same outfit though so maybe it's just the angle and Tom changed his shirt. Thanks to KatieHolmes.com for these pictures.