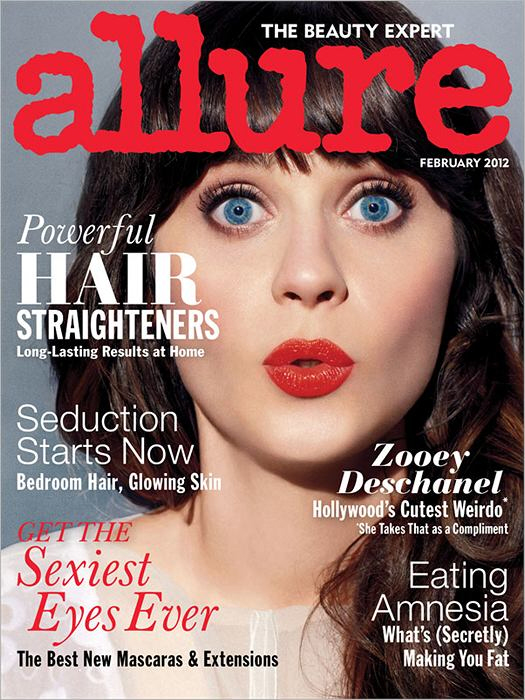 Can you believe this is cover image Allure Magazine chose? For real, Allure? Granted, Zooey Deschanel is "quirky" and she's a "funny girl". But that's not a good enough excuse for putting this photo of her ON THE COVER! Anyway, Zooey is on the cover of Allure because she has gotten a career resurgence with The New Girl – she'd always been a relatively in-demand actress, often in independent films or part of an ensemble in bigger movies, but now she's got a hit show on Fox, and everybody is paying attention to her. Honestly, I was never much of a fan until The New Girl. Now I give her a pass on most of the stuff that used to annoy me, although I would love for her to do something different with her hair. Yes, I take issue with the bangs, but mostly I just want to get all of her hair out of her face – but Zooey seems to think that "bangs and eyes" are her signature. Here are some highlights from Zooey's Allure interview:
Zooey's signature: "I'm bangs and eyes," she says. "It's who I am. There have been periods when I've grown my bangs out, but I always cut them back, so it's like, why go through the trouble?"

She's a lot like her New Girl character: "Because I have brown hair and a low voice, I would get cast as dry, sarcastic, ironic people, which I can do, but it's not my sense of humor. I'm a very positive person. I get excited easily, and I like to jump around."

She doesn't read gossip: "I can't go on Gawker. I actually think the writing is really funny, but there is a chance that somebody is undercutting me," she says.

Criticism about her "overly girlish" style: Deschanel has both worshipful fans and snarky critics who find her overly girlish. Her defense? "If you feel like dressing like a girl, there's nothing wrong with that. I don't know why femininity should be associated with weakness. Women should be free to express who they are without thinking, I need to act like a man, or I need to tone it down to be successful. That's a very good way to keep women down," she says.

She's not an obsessive dieter: While Deschanel watches her weight by sticking to a diet of vegetables, grains, and proteins, she isn't obsessed. "Some people around me, they're like 89 pounds," she says. "I'm not going to say I'm a big girl. I'm a very small person, but I'm a healthy weight. That might be a little weird for Hollywood."

It Girl status: Deschanel finds irony in the label "It" girl. "'It' girl is supposed to be something that only lasts a certain amount of time," she says. "They keep calling me an 'It' girl, and at this point it makes me laugh, because they've done that so many times: 'You're it'; 'you're not it.' What is 'it'?"

Being bullied in school: "Girls spit in my face. People were so mean to me. I'd cry every day."

She went to Northwestern University briefly: "I went to Northwestern because I had gone to a really nontraditional high school. I was like, 'It'd be cool to have a traditional college experience,'" Deschanel, 32, explains. "Then I was like, 'Oh, but none of these people understand what's cool about me. My specialness is not appreciated in this place.'"

Straddling mainstream and outsider status: "I've always straddled a weird line — there's a lot of mainstream stuff that I love. At the same, I still feel like an outsider. I'm the outsider who's on the inside."
I do like that Zooey isn't pin-thin – she's been in some short skirts and some lingerie in The New Girl, and I was surprised to see how lovely and healthy her figure really is – she looks like a girl who eats healthy most of the time and stays active, but really isn't obsessed with it. It's nice. As for the whole "My specialness is not appreciated in this place" – is she serious? Or is she making fun of herself at the age of 18? Because one of the great things about college is that you're away from home and you learn that you're not a beautiful, special and unique flower, you know? Maybe she was joking.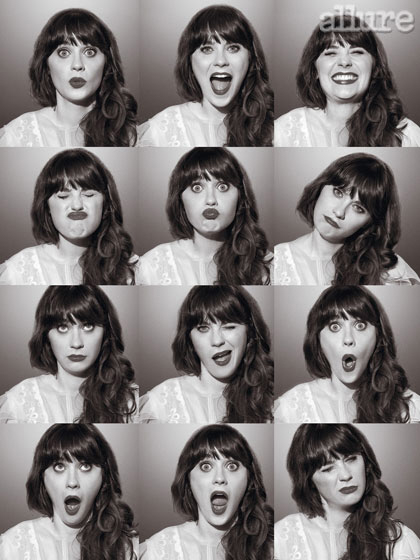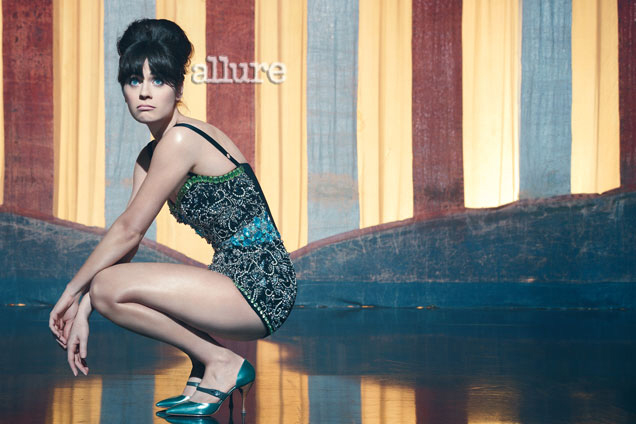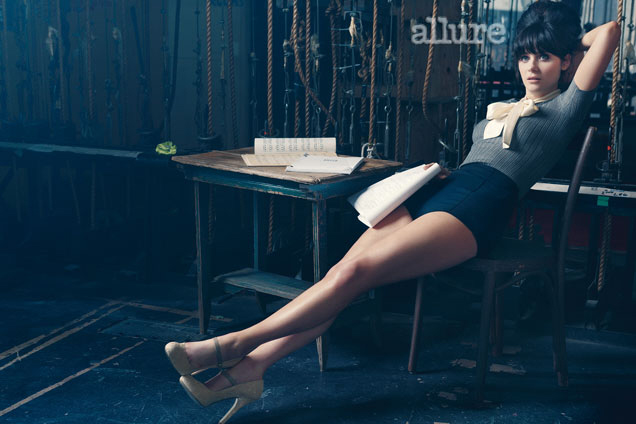 Photos courtesy of Allure.