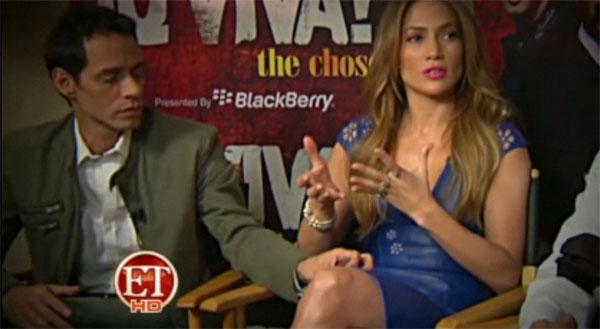 Over the weekend, photos came out of Marc Anthony and Jennifer Lopez attending a press conference together for their new South American talent search reality show, "Q'Viva". (You can see some of the photos here) Plans were in the works for the show well before Marc and Jennifer separated, and we've heard that there have been problems with production given their issues with each other. They were the picture of togetherness during the press conference – sort of. It looked more like Marc was trying to his exert some kind control over Lopez than trying to get along amicably with his ex. It was uncomfortable although she seemed to roll with it. (You can see a brief segment of an interview they did with ET at about 10:15 into the full episode on ETOnline.) I've heard before that Marc was controlling, and is rumored to have been abusive, but this really brought it home for me. He put his arm around her waist during the photocall, led her by the hand, and repeatedly touched her. During the ET interview he brushed something off her skirt.
Lopez smiled throughout everything and said "We're like Sonny and Cher." She knows what she has to do for business but I get the sense that she's happy with her new young piece, and she's also happier with the new dynamic in her latest relationship. She's in control of baby doucheface, monetarily and probably otherwise, and she doesn't have some husband telling her what to wear and how to do her job.
Maybe that was Marc's way of showing J.Lo that he still loves her, and wants her back. I know a few dudes who have cheated on their wives but are devastated at the thought of losing them. I think Marc and Jennifer had serious problems, that he had some sort of affair with Jada Pinkett Smith, emotional or otherwise, and that Jennifer pulled the plug. He's obviously insanely jealous of her new boyfriend, and he even got himself a little model to show off. He still loves Jennifer, though, and I bet he would take her back. I think she's well rid of him.
The photos below are from 2011 and 2010. Credit: WENN.com