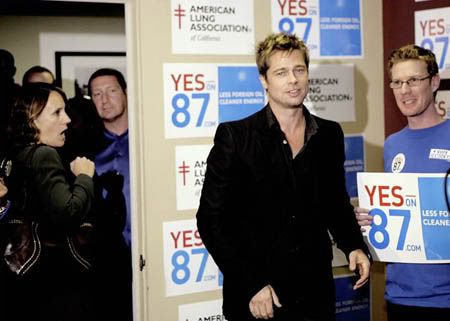 Brad Pitt held a press conference yesterday for proposition 87, a California bill that would tax oil companies. Fellow stars that have lent their support to the bill include Julia Roberts, Leonardo DiCaprio, Ben Affleck, Jennifer Garner, and Alyssa Milano.
I love the astonished look on the face of the woman spotting Pitt enter the room.
Pitt didn't campaign for the Democratic challenger to governor Arnold Schwarzenegger, who is expected to retain his position.
Democrats brought in a megastar to stump for them ahead of Tuesday's election – but Brad Pitt didn't appear for the candidate at the top of the ticket, gubernatorial challenger Phil Angelides.

Instead, Pitt held a press conference Monday in support of Proposition 87, a ballot initiative that would tax oil production to raise $4 billion for loans, grants and subsidies to promote alternative fuels and more energy-efficient vehicles.

Noting that oil companies have pumped millions into a campaign against the tax, Pitt said voters need to know the measure would also help ease California's dependence on foreign oil and not hurt working families as opponents claim.

"I wouldn't be here if I didn't believe it," Pitt said.

Proposition 87 has become the party's biggest draw for political luminaries this campaign season, with everyone from actress Julia Roberts to former President Bill Clinton backing it. Angelides supports it; Gov. Arnold Schwarzenegger opposes it. The most recent poll showed the measure trailing by a few points, but with a large number of voters still undecided.

Angelides, meanwhile, has failed to attract the same kind of attention in his bid for governor.
I'm a big Democrat and was campaigning for my local Congressional candidate four years ago at this time. I hope the Dems can take over at least one of the Houses of Congress again, but whatever your position you should make your voice heard and get out to vote today.
Pictures from Just Jared.