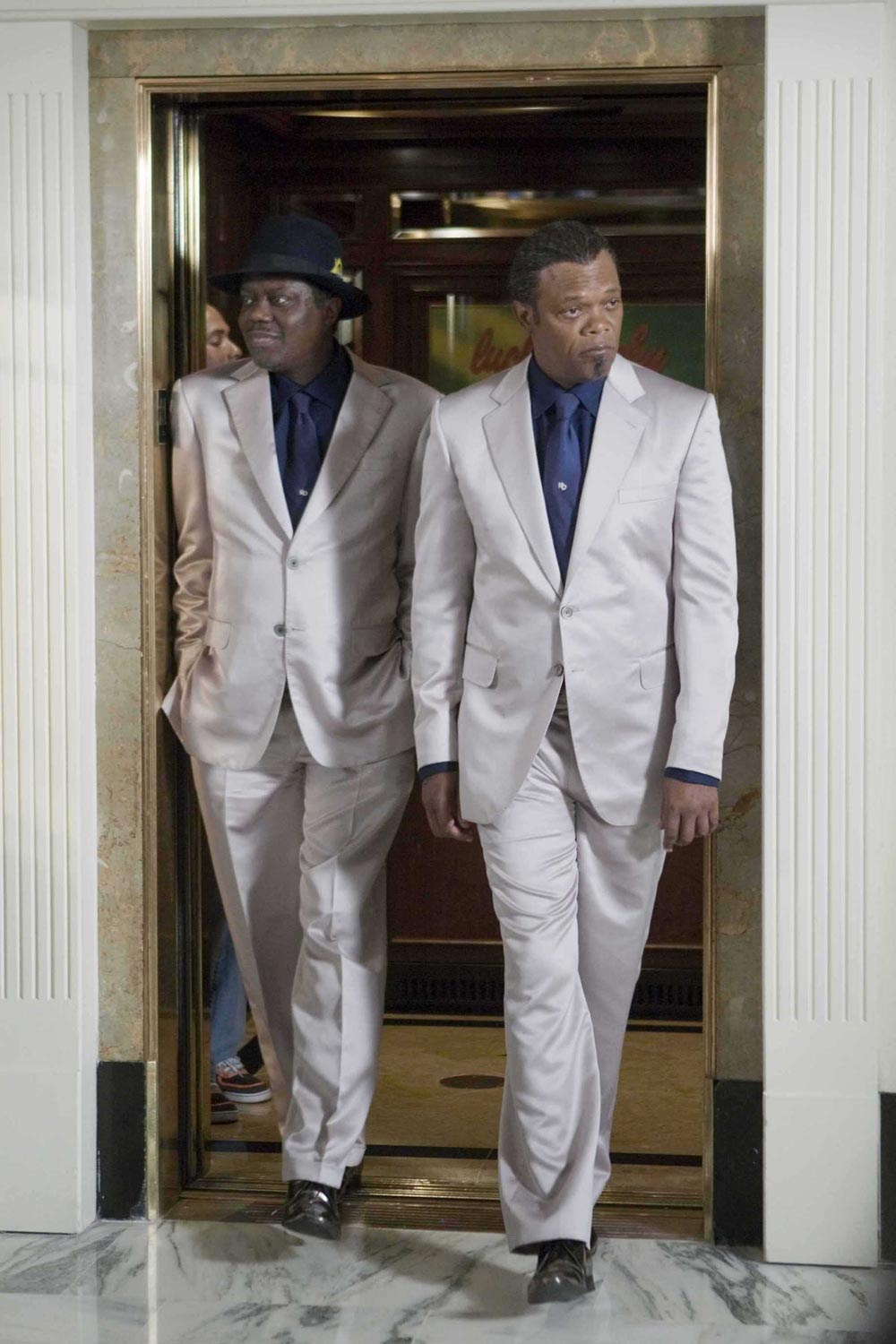 Samuel L. Jackson and Bernie Mac were friends long before they starred in Soul Men together. Bernie Mac passed away in August, just after the movie was finished, so Jackson is having to promote the movie alone. Samuel is finding it difficult to make the rounds without his friend, but he has alot of great memories about him, too.
"We used to talk about blowing up and being famous and doing all this stuff and all of that," said Jackson. "Then, when he got famous, he was here in L.A., and I never saw him because he was too busy doing his TV show every day. I didn't go by and bother him, but I would run into him at functions, and we got to get together."

The end of "Soul Men" features a dedication to Mac and Isaac Hayes—"two real soul men." The singer, who died in August after suffering a stroke, appears in the film as himself. Among the footage is Mac cracking up extras with an impromptu standup routine and an interview with Mac discussing his career in which the comedian says he cherishes "each doggone moment" of his life.
[From Breitbart]
Bernie Mac had one of the most positive outlooks on life I'd ever seen. Just as amazing, I never heard a single negative comment about him from anyone who knew or worked with him. It was quite the opposite, in fact, people raved about working with him. That's rare in Hollywood. I wasn't a huge fan but I certainly appreciated the joy he always seemed to have for life. He certainly had profound effects on the people who knew him.
"I haven't quite processed that Bernie is gone," said "Soul Men" director Malcolm D. Lee. "I see the movie. I know in my head that he is gone, but it will probably hit me most at the premiere when everyone is around. Right now, I have just been concentrating on making the best film possible on top of that paying homage to him and Isaac (Hayes) at the end of the movie. When it's all finished and said and done, and I get it out to the public, I think that's when I will realize he is gone."
[From Breitbart]
Every time I see an TV ad for Soul Men, and how animated and vibrant Bernie Mac is, for a minute, I don't remember he's gone, either. Jackson is keeping his memory alive and laughing in interviews, though, and that's the best tribute a friend can give.
Soul Men is out in the US today. Here's the trailer. It looks really funny.

And here are stills from the film, thanks to Allmoviephoto.