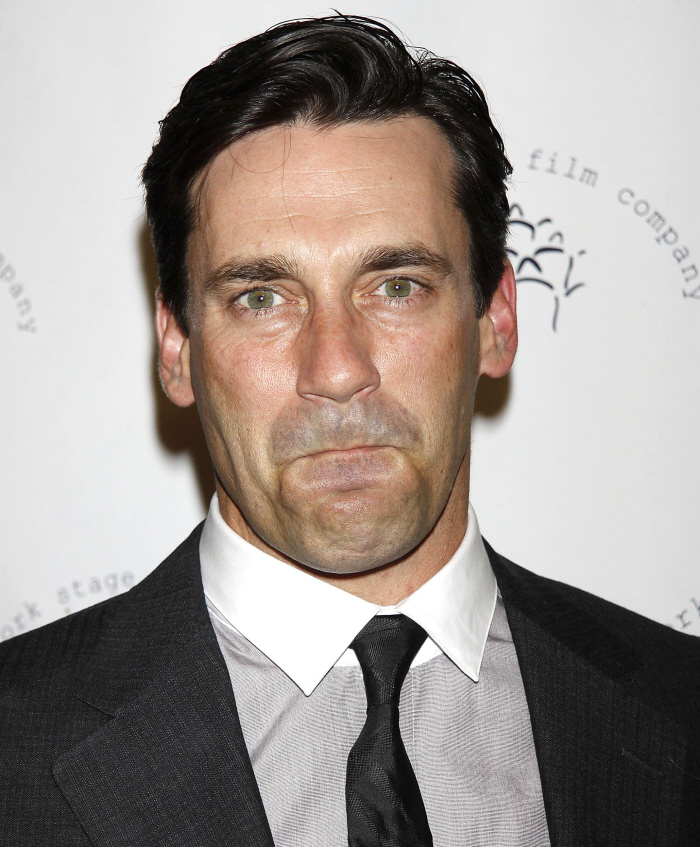 Last year, The Enquirer had an explosive (!) piece about Jon Hamm's boozehound ways. Apparently, The Hamm had gone from a easy-going social drinker to a fall-down drunk. The Enquirer had some anecdotal evidence at the time, and it's easy enough to find stories about The Hamm getting his drink on at various Hollywood events. I didn't think the situation was as dire as The Enquirer's Sobriety Society, though I did feel a twinge of concern for him. If My Hamm Dong is a drunk, we could beat this thing together. And I think you know what I mean by that.
Anyway, The Enquirer has an interesting follow-up on Hamm's drinking. Basically, he's given it up. For now. It seems like a temporary thing, perhaps even for a minor health concern or just a test of willpower:
Jon Hamm has given up booze – and those close to him say he's feeling better than ever. After numerous reports that Hamm was as heavy a drinker as his TV alter-ego Don Draper, Jon has cleaned up his act, sources tell The Enquirer.

Astonishingly, Hamm was even spotted drinking from a bottle of water – instead of his usual Midori sour – at a recent Golden Globes after-party.

"Jon isn't touching a drop these days," a source divulged. "he has given up drinking and completely changed his lifestyle… and he's never looked better."

According to the source, Jon went cold turkey just before starting to film the new season of Mad Men in August.

"It's been a battle, because Jon does like to drink," the source continued. "But he set himself the challenge and he was determined to stick with it. Even the Golden Globes parties didn't tempt him – he stayed sober and drank water. People razzed him all night about walking around with a water bottle, but he laughed it off good-naturedly."

"Jon didn't want to become another Hollywood casualty, especially now that he's at the height of his career," the source noted. "And it certainly shows in his appearance – he's slimmer, looks healthier, and is sexier than ever!"
[From The Enquirer, print edition]
Bedhead pointed out that in that Hamm interview she covered yesterday, he was only drinking water during the interview. He also talks about his character's difficult relationship with alcohol – could it be that The Hamm is trying to avoid The Draper's pitfalls? Or could it be that he simply wanted to look better, younger, and less booze-bloated for the new season of Mad Men? Whatever… all I know is that sober or drunk, I would love Jon Hamm to whisper "You know what I want" to me in bed (GAH – remember episode one of Season 4?!?!? The Draper likes it rough!!!).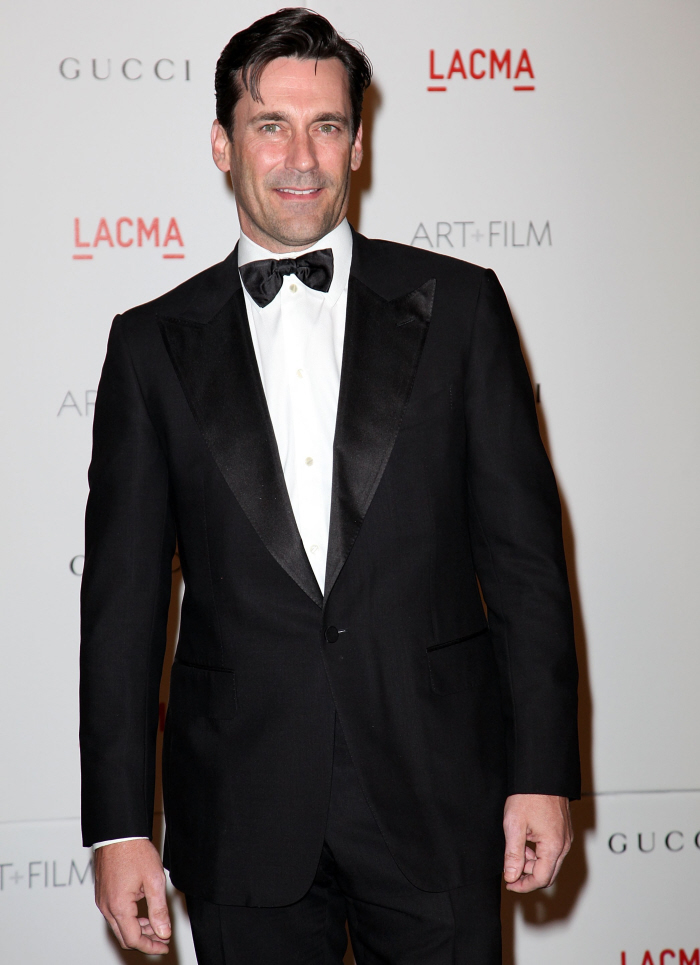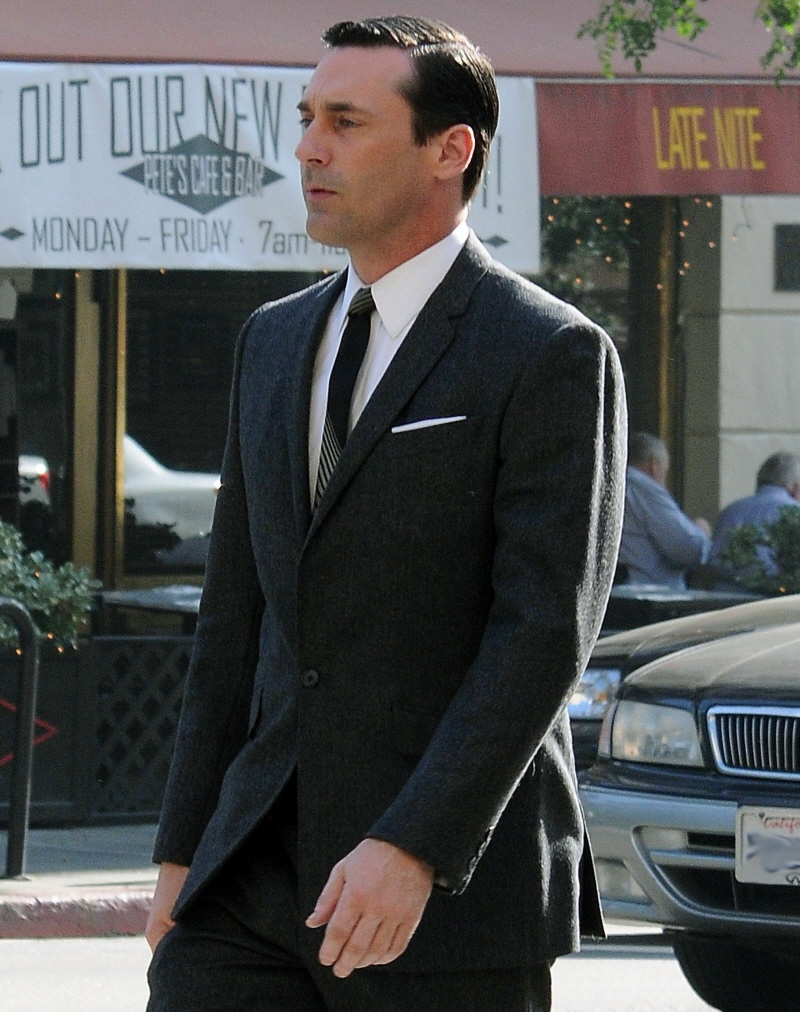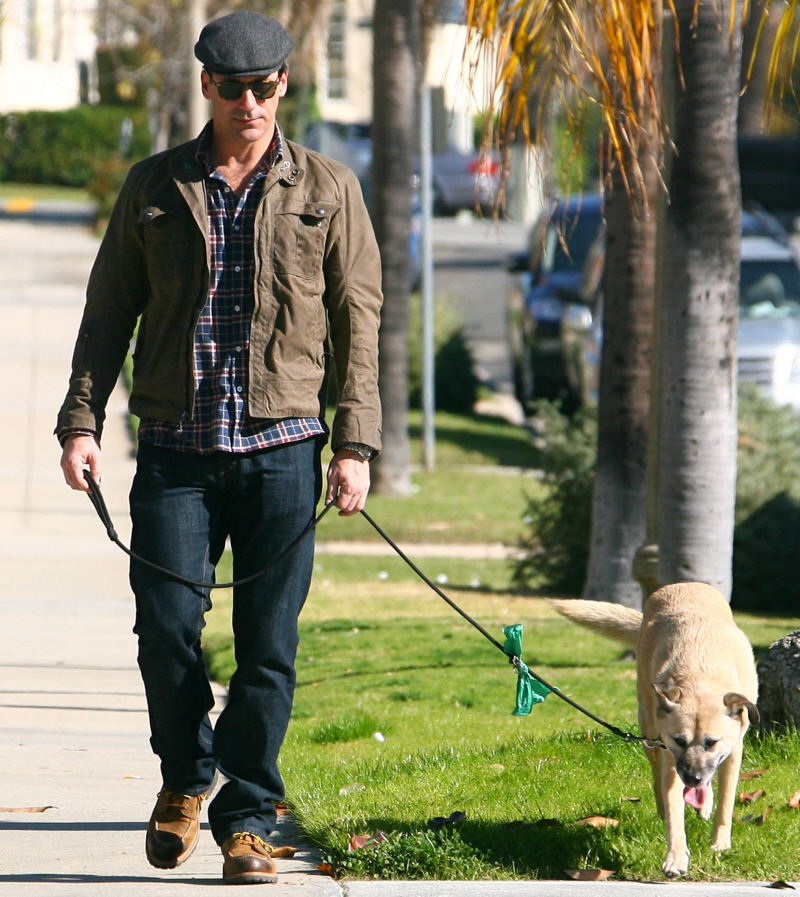 Photos courtesy of Fame, WENN.