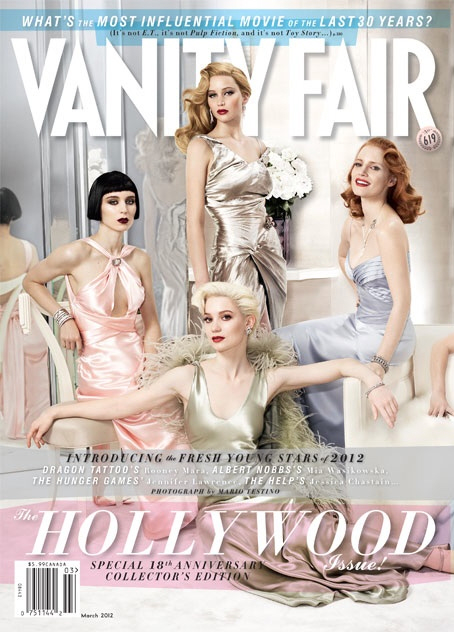 Vanity Fair has released their March cover – their annual "Hollywood Issue". I remember when VF's "Hollywood Issue" used to feature really amazing actors who everyone was talking about – but it's felt really subdued lately, right? I guess last year's VF Hollywood Issue had some talked-about actors with Anne Hathaway and Jake Gyllenhaal and James Franco and all. Last year's cover also featured Noomi Rapace, but she only got featured on the very back panel of the fold-out cover. This year's (budget) Lisbeth Salander gets front-and-center on the main panel – Rooney Mara has arrived! As for the other girls, I barely recognized some of them. And did they seriously give Paula Patton that hairstyle?
In the first-ever Hollywood Issue cover shoot from Vanity Fair contributing photographer Mario Testino, a bevy of Hollywood's most precocious beauties lounge across a three-panel foldout—including two new Oscar nominees. The Art Deco set was designed to evoke the all-white, Jazz Age interiors of English decorator Syrie Maugham, whose clients included Bunny Mellon, Elsa Schiaparelli, and the Duchess of Windsor; V.F.'s fashion and style director, Jessica Diehl, put the 11 cover starlets in pastel satin dresses and frothy feathers to lend a 20s and 30s boudoir feel. Across the panels are actresses Rooney Mara, Mia Wasikowska, Jennifer Lawrence, Jessica Chastain, Elizabeth Olsen, Adepero Oduye, Shailene Woodley, Paula Patton, Felicity Jones, Lily Collins, and Brit Marling. Mara and Chastain—both featured on the front panel—were nominated for Academy Awards in January, Mara for her portrayal of cyberpunk hacker Lisbeth Salander in David Fincher's Girl with the Dragon Tattoo, and Chastain for her supporting role in Tate Taylor's Oscar heavyweight, The Help. (The Julliard grad also had starring roles in Take Shelter, The Tree of Life, and Coriolanus in 2011.)
[From Vanity Fair]
Should we talk about race? VF managed to feature two "women of color" on the cover fold-out cover, but a woman of color still can't make it onto the front panel. Plus, it kind of feels like they just threw in Paula Patton for no particular reason, really. Is her career really that hot?
Here's the VF interview with Rooney Mara. HER VOICE. She's so bored and entitled. And yes, she's SO HARDCORE that she only had photos of Thom Yorke on her wall. Of course.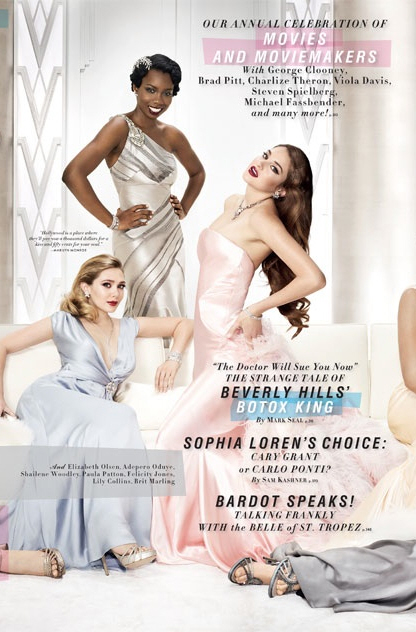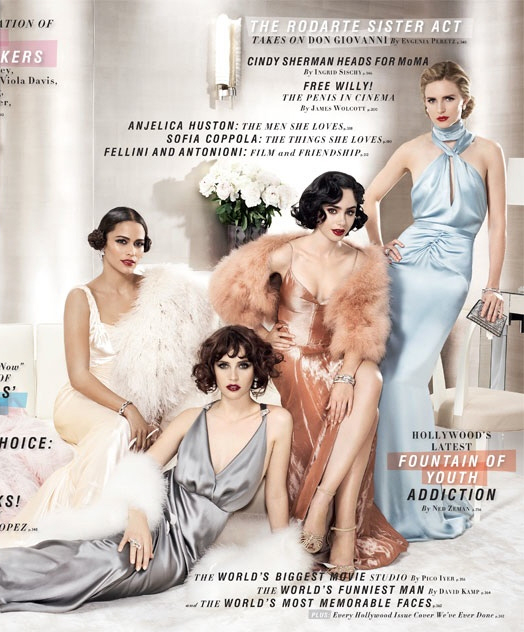 Full VF cover – click to enlarge!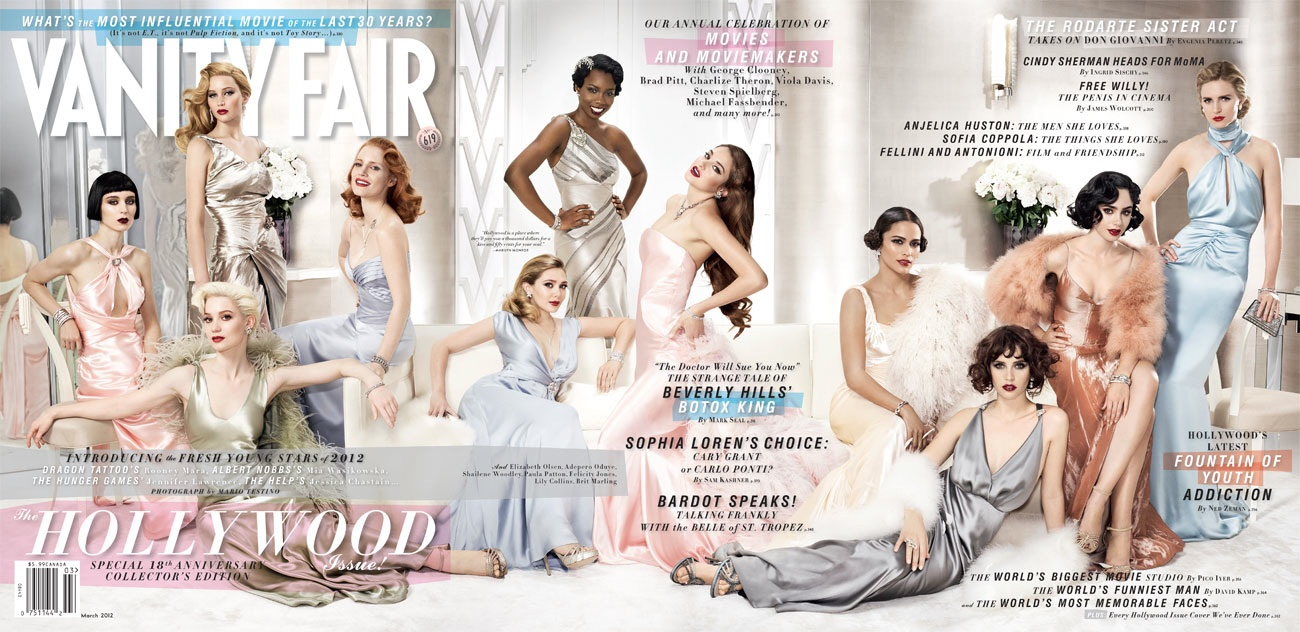 Photos courtesy of Vanity Fair.