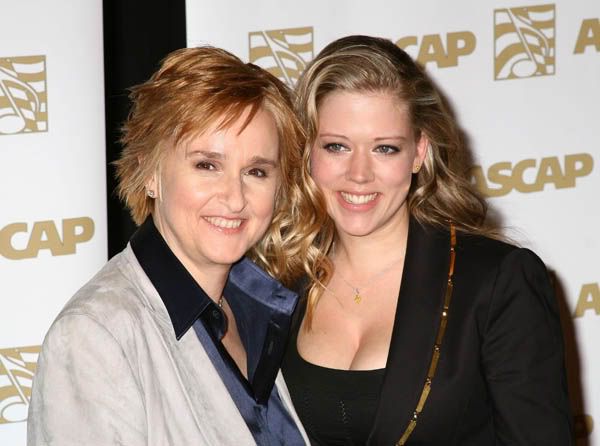 Melissa Etheridge and her partner, Tammy Lynn Michaels, had an elaborate commitment ceremony that was similar to a typical wedding and reception in 2003. At that time, they were not allowed to legally marry under California law. When gay marriage became legal in California on June 16, 2008, thousands of same sex couples took advantage of the opportunity for equal marriage rights. Etheridge said in early October that she would legally marry Michaels soon, but that they had four children and just needed to find the time. Now that Proposition 8 has passed, which strips same sex couples of the right to marry under California law, the time has run out for Etheridge and Michaels and so many other gay couples in the state.
Etheridge penned an essay for The Daily Beast in which asks why she should have to pay state taxes if the state refuses to recognize her and her partner as full citizens. People Magazine reports this as if she's outright refusing to pay state taxes, but it sounds more like she's hypothetically saying she shouldn't have to pay taxes because she can't get legally married:
Okay. So Prop 8 passed. Alright, I get it. 51% of you think that I am a second class citizen. Alright then. So my wife, uh I mean, roommate? Girlfriend? Special lady friend? You are gonna have to help me here because I am not sure what to call her now. Anyways, she and I are not allowed the same right under the state constitution as any other citizen. Okay, so I am taking that to mean I do not have to pay my state taxes because I am not a full citizen. I mean that would just be wrong, to make someone pay taxes and not give them the same rights, sounds sort of like that taxation without representation thing from the history books.

Okay, cool I don't mean to get too personal here but there is a lot I can do with the extra half a million dollars that I will be keeping instead of handing it over to the state of California. Oh, and I am sure Ellen will be a little excited to keep her bazillion bucks that she pays in taxes too. Wow, come to think of it, there are quite a few of us fortunate gay folks that will be having some extra cash this year. What recession? We're gay! I am sure there will be a little box on the tax forms now single, married, divorced, gay, check here if you are gay, yeah, that's not so bad. Of course all of the waiters and hairdressers and UPS workers and gym teachers and such, they won't have to pay their taxes either.
[From The Daily Beast]
Etheridge goes on to say that there is no "us" and "them" and that we're united as one people and Obama's future presidency gives her hope that this divisiveness will end. She also says she'll stay in California and not go to another state or country where same sex marriage is legal, because it's important that they continue to fight for the basic right to have their union legally recognized
As someone who used to live in Connecticut, I am so proud that my state passed a gay marriage bill. On November 12, it will become the second state to perform same sex marriages after Massachusetts. It's very disheartening and sad for so many couples in California that they had this right taken away from them after a long and difficult battle. Slowly but surely, gay rights are gaining ground in America and maybe the court challenges to Proposition 8 will be successful. It takes time and there are setbacks, but as we have seen there are also great triumphs.
Melissa Etheridge and Tammy Lynn Michaels are shown at a screening of Sycko on 6/26/07 and at the ASCAP Pop Music Awards on 4/18/07. Credit: WENN