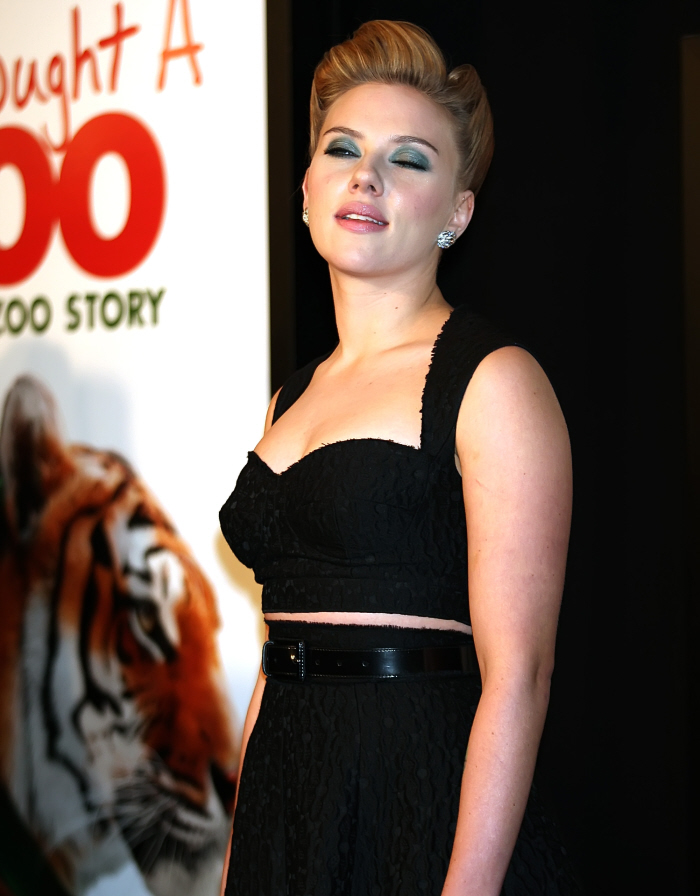 Yesterday, INF had exclusive photos of Scarlett Johansson wandering around New York, hand-in-hand with a tall, mysterious stranger. Go here to see the pics – we don't have access to them, which is weird because these photos look SO posed, you'd think that more photo agencies would have gotten access to them. Anyway, ScarJo has a new man. And he's… um… tall. In the photos, he doesn't look particularly hot or anything, but maybe "big" is good enough (word). For most of yesterday, no one had any idea who this guy was. My guess was "bodyguard turned boyfriend" but as it turns out, he actually has a big advertising career in NYC. He's a Mad Man!
Scarlett Johansson's rep has brushed off recent rumors that she's dating Kieran Culkin or Justin Bartha – but a source tells PEOPLE that the recent divorcée is now romancing someone for real.

The We Bought a Zoo star, 27, is seeing an New York City-based advertising executive named Nate, a pal of the pair confirms.

"They've been dating for five months," the source adds.

The actress's rep has no comment this time, but recent photos show the happy couple strolling the Big Apple streets, holding hands.

Meanwhile, the home that Johansson and ex-hubby Ryan Reynolds shared before they split a little more than a year ago, is back on the market.

Located in the posh hills of L.A.'s Los Feliz community, the four-bedroom, three-bathroom estate is on sale for $3,650,000.
[From People]
In a celebrity world where facially-challenged, backup-dancing man-children become official Oscar dates, it's refreshing to see a female celebrity who dates a man with an actual CAREER. Not just a "job" – if this dude is an advertising executive, he's educated and he's worked in the professional world for at least a decade, and it's a career. He has his own thing going on, he sets his alarm, he has work commitments and owns several dozen suits. I applaud this choice. I wish more celebrity women would dip into the "professional, educated, eligible man" pile and completely forgo the "backup dancer/model/struggling 20-something actor" pile.
Of course, all of my praise could come back and bite me on the ass. On the surface, it seemed like Benjamin Millepied had his own career too, but as soon as he knocked up an A-list actress, he became The Ballet K-Fed. Will the same thing happen with ScarJo?
UPDATE: Ah, Page Six has even more about the guy:
Scarlett Johansson's new mystery man is 38-year old advertising executive Nate Naylor, whom she's been dating for about six months.

Photos emerged of Naylor and Johansson wandering around Manhattan this weekend with their arms around each other. Naylor apparently tried to stay incognito under a hooded sweatshirt, hat and dark sunglasses.

But we can reveal that the tall, dark and handsome Naylor is a freelance creative director and art director in Manhattan.

We're told he lived in Amsterdam for several years while working at various ad agencies including Wieden + Kennedy. Sources say Naylor is originally from Arizona and graduated from Westmont College in California.

A source tells us he and Johansson met about six months ago through mutual friends and started dating shortly after, but so far have tried to keep their romance low-key.

But on Saturday night, ScarJo and Nate were spotted having a cozy dinner with three friends at Bowery Hotel restaurant Gemma. A spy tells us, "ScarJo was rubbing his back and kissing his neck. He was wearing a short- sleeve, V-neck T-shirt and had tattoos up his arm. "

ScarJo, who will star as the superhero Black Widow in the upcoming movie "The Avengers," married "Safe House" star Ryan Reynolds in 2008. They split in 2010.

She quickly rebounded with Sean Penn, whom she dated for five months, until they called it off in June. Reynolds is now dating "Gossip Girl" star Blake Lively.

Press-shy Naylor was photographed with actress Kristen Johnston at the Atlantic Theater Company's spring gala in 2008. Sources describe Naylor as a nice guy, but that he "keeps to himself."

Johansson will co-host a fund-raiser for President Obama with Vogue editor Anna Wintour on Tuesday at Theory's Meatpacking store. Johansson's rep didn't get back to us.
[From Page Six]
Freelance? Tattoos? Ruh-roh.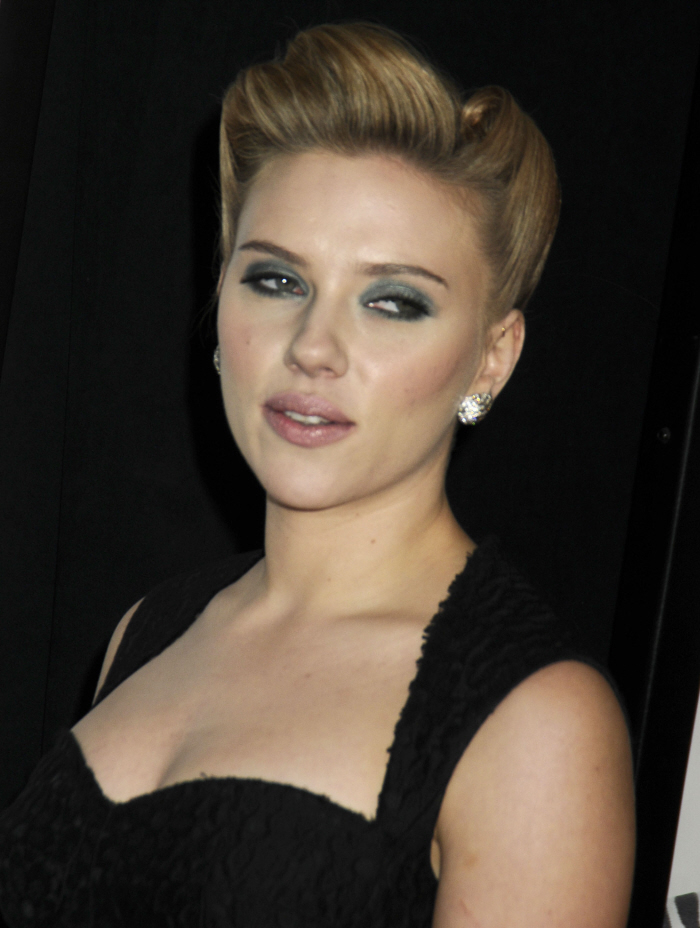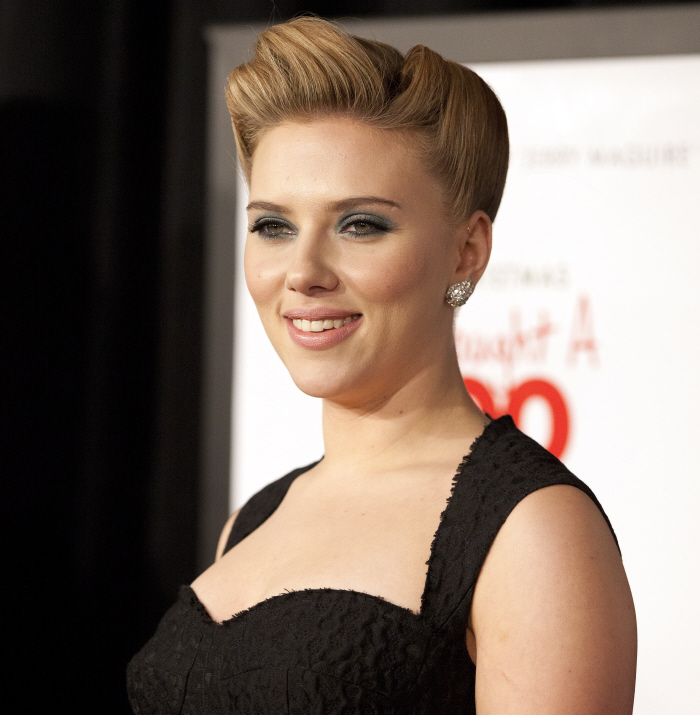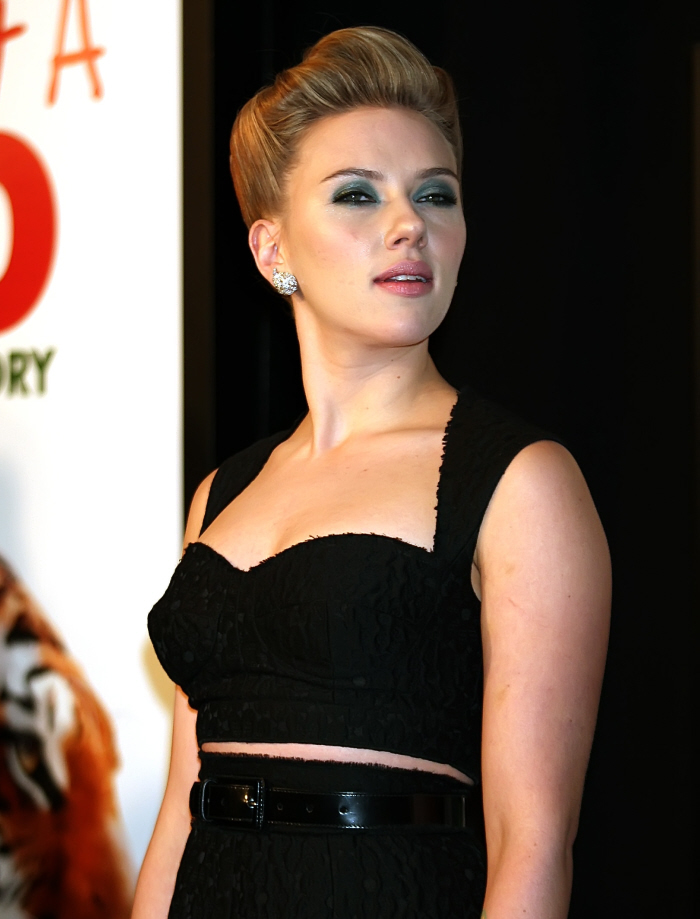 Photos courtesy of WENN.