This photo is from another disgusting challenge on Fear Factor, described below
I need to talk about this story finally after reading about it for a couple days. This is a follow-up and it's just a gross as the original stories. Apparently on an recent taped episode of Fear Factor, contestants were made to drink donkey semen. This really happened, but the episode hasn't aired and it never will thank God. Two of the contestants who participated in the show called in to a local radio station to discuss their reaction. One woman said that she understandably vomited (who wouldn't?) and she described how it tasted. There aren't enough exclamation points that I can put after "EWW"!!!! As a result, Fear Factor execs gave them a call and reminded them about their confidentiality agreements.
As if forcing contestants to drink donkey semen wasn't bad enough, "Fear Factor" executives are apparently waging a campaign of fear against contestants.

In the wake of NBC's decision to yank Monday night's episode featuring the (poor) taste test, twin contestants Claire and Brynne Odioso gave an interview Tuesday morning with their hometown Tampa Bay radio's "Cowhead Show" describing in detail what their mugs of donkey semen — complete with urine chasers — tasted like. (Bitter with "with hints of hay", for those who are really curious.)

A few hours later, however, the twins were reminded in a phone call from a show representative that they had signed confidentiality agreements. The staffer warned them to stop talking to the media or else face legal reprisal, TMZ reported.

"We are disappointed because we wanted to share the experience with our friends and family," Brynne Odioso told Patch.com

"We feel no animals were harmed during the stunt, and it is known that animal semen is consumed in parts of the world like Australia and New Zealand."

The episode, entitled, "Hee Haw! Hee Haw!," was replaced with a rerun on orders from NBC's parent, Comcast, after news of the donkey semen stunt leaked on the Internet, to much disgust.

"Fear Factor" host Joe Rogan had hinted at what lay ahead in a December interview with The Daily News.

"I say, in the real world, in a healthy society, you're not supposed to eat animal d—, but guess what, here you have to eat animal d— if you want to win $50,000," Rogan said.
[From The NY Daily News]
I had to google to see if it's true that they actually drink semen in Australia and New Zealand. It's not some long-standing cultural practice that I could find. All I found was this article from last year about how they served horse semen at a food festival as a "fad energy drink." It sounded like a "dare" drink and a publicity stunt for the company that made it.
I've seen clips from Fear Factor, and they were either bungee jumping from high places or eating whole live bugs like spiders and scorpions. I guess they remove the stingers and ensure they're "safe."For $50,000 you could not get me to even smell this donkey stuff. Ok, maybe I would smell it, that's good money. But I'm such a chicken sh*t I would never go on this show.
Modern humans have only been around for about 200,000 years. In comparison dinosaurs ruled the earth for 135 million years. We're going to be a blip in history some day. When some future civilization looks at the legacy we've left, it's not all going to be classical music and great literature. There's so much more of this tasteless, disgusting throwaway reality crap that passes for entertainment. I guess I shouldn't care about Fear Factor. Most of the programming on VH1 and MTV is much more disgusting and embarrassing to me as a member of the human race.
Here's another "drink" that they had to consume on Fear Factor. This actually aired. It was "'crappaccinos" made of pureed stinkbugs, flies and hornworms and topped with live, unblended bugs." How is donkey sperm more disgusting than this?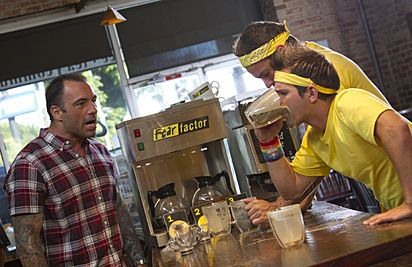 This one is possibly the worst. "One partner dives into a tank of cow's blood to retrieve cow hearts that their partner must then fling into a box with their mouth." Who watches this?!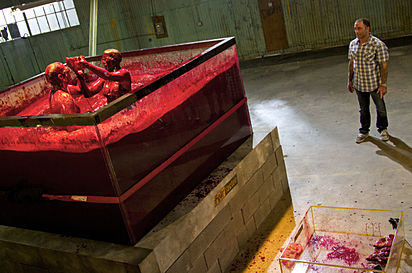 The header photo is described as "a meal of live roaches or live grasshoppers, with a side of rat-hair tortilla chips and live maggot and blood salsa."