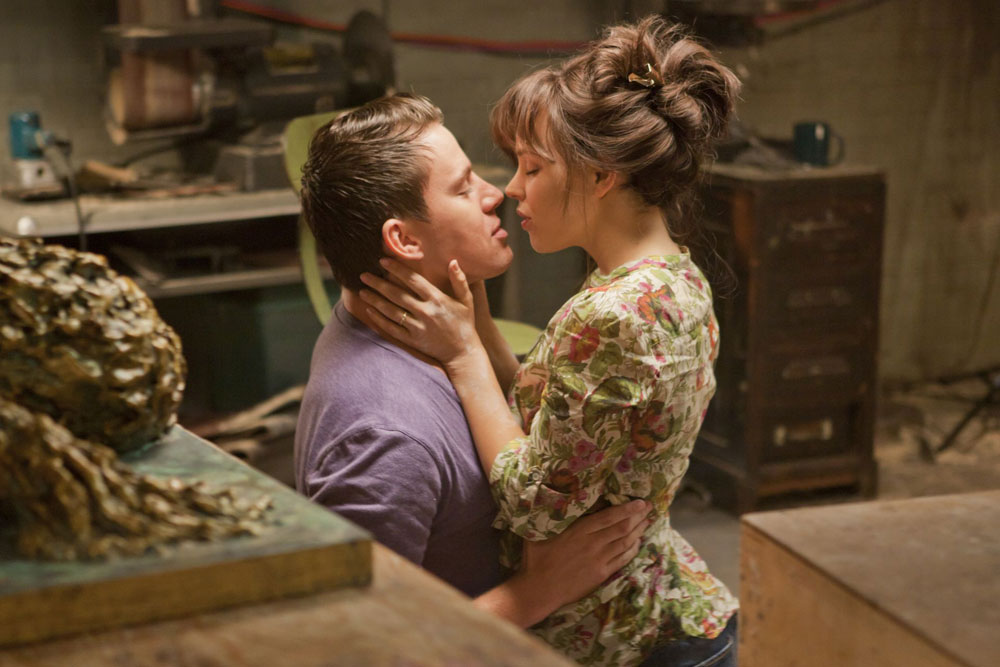 ET Online has interviews (you can watch the videos here, the embed wasn't working right) with the stars of the upcoming romantic amnesia movie, The Vow. It's about a young wife (Rachel McAdams) who suffers amnesia after a car accident and has to get to know, and date, her husband (Channing Tatum) all over again. It opens February 10 and it definitely looks cheesy but I'll probably see it with my best friend at the movies. I not-so-secretly loved Dear John, and while you know exactly what to expect with these type of movies I still enjoy seeing a good romantic film. (Note: I assumed this was based off a Nicholas Sparks book, but it's not, it's roughly based on a real story.) Plus Channing Tatum is just so nice to watch and he's old enough that I don't feel guilty finding him hot.
The best story that Channing told on ET is about how he pranked Rachel McAdams by having a prosthetic dick made and surprising her with it during a scene. Channing was characteristically low key when he described this story, and then the interview cut to a segment with Rachel, in which she explains that he planned the prank a full month in advance with the props department. What's more is that Rachel's genuine reaction to the prop peen was captured on camera and will be used in the movie. (Probably when her character sees her husband naked for the first time. I would say spoiler, but come on, we all know the ending.)
Channing Tatum and Rachel McAdams must rediscover love after an accident causes Rachel's character to lose her memory in The Vow, and Channing tells ET that he decided to pull a practical joke on her during a nude scene!

"I did have a stunt pee pee that I had made for her for her reaction," says Channing of the scene in which Rachel is surprised by her naked co-star walking into their bedroom. "It was a little prank that I pulled on her. It's in the movie – her reaction was spot on. I didn't have a lot of faith in her reaction because it was cold that day, and I didn't want her to be laughing and pointing. I wanted her to be shocked."

"A prosthetic, yes, that's all true," says Rachel with a laugh, recounting how Channing went to the prop department ahead of time to fabricate "a piece to terrify Rachel with." She adds, "But it was great because I didn't have to pretend … it was funny and got a genuine reaction out of me."

Channing adds, "I'm not shy about being naked, obviously, as you can see in most of my movies."
[From ET Online]
I would say this is creepy, but it sounds like it was called for in the scene and like she's fine with it. It obviously lead to a good reaction for the shot.
Later in the interview, they ask Channing for a moment in his life that he never wants to forget, and he tells the story about how he first said "I love you" to his wife, Jenna Dewan, in an offhand way and got really embarrassed. I thought this story was so adorable and you could see how much he loves her.
On being romantic
"I don't think it's that hard to show someone that you care. To come in and be like 'how as your day?' Make it about them. Do something cute… draw a picture or a story and put it in her purse or something."

On the moment he never wants to forget
"The first time that I accidentally told her that I loved her I didn't mean to. I was on the phone with her, I was like 'alright cool, love you… that's awkward I'm going to hang up now.'"
Jenna and Channing are great together and I hope they make it last for a very long time. I also hope this movie is somewhat decent and does well at the box office. Both the leads are just so damn likable.
Update: I just saw this story on Buzz Sugar that Channing Tatum is going to host SNL this weekend for the first time. They had this preview video with Fred Armisen (below), but it doesn't get good until the very end.
Here's the trailer. My favorite comment on YouTube is this one "if you woke up and channing tatum said he was your husband… YOU DONT QUESTION THAT SH*T!"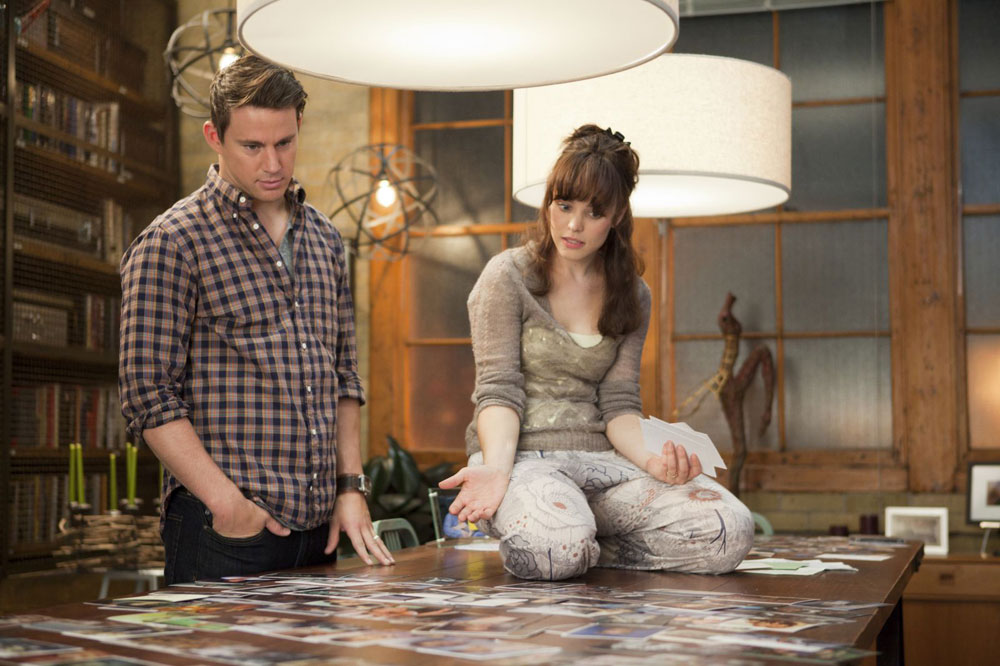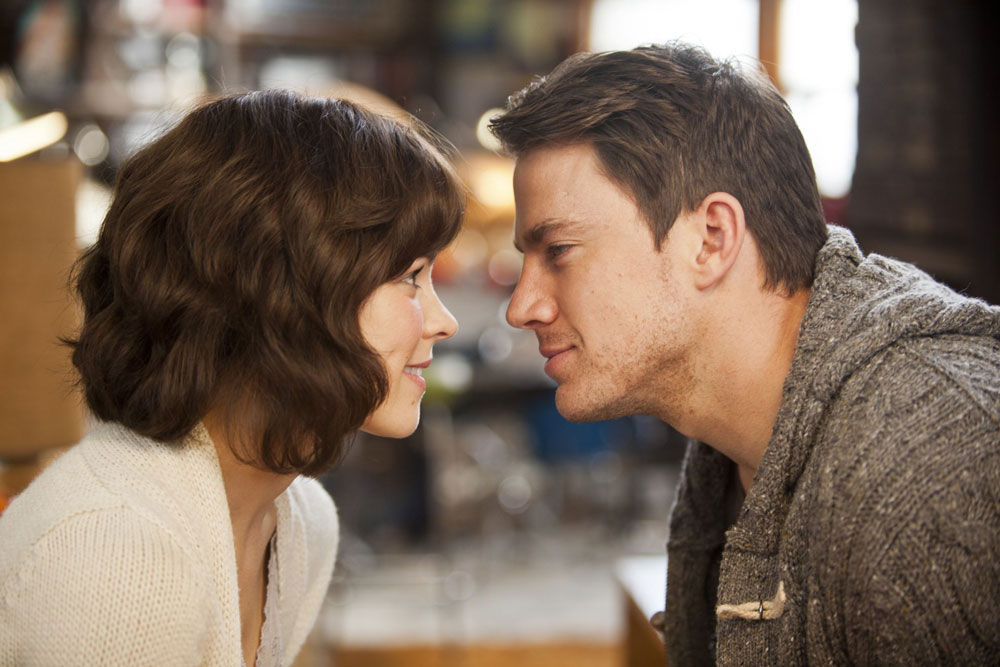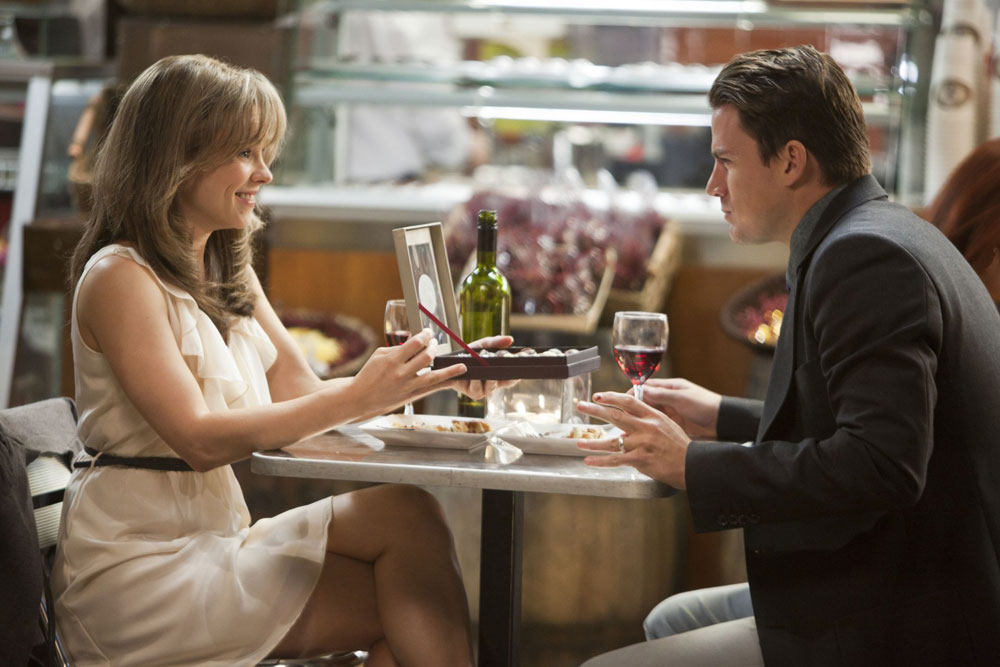 Photos via AllMoviephoto