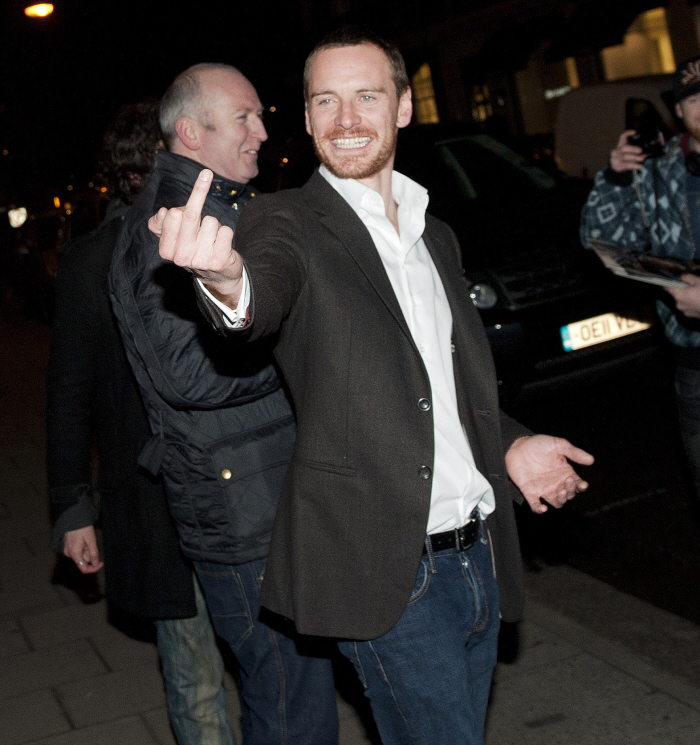 I'm writing this for several reasons. One, I can't help myself – when we have loads of new Michael Fassbender photos, I feel the itch (in my drawers) to talk about them endlessly. Two, I only covered the red carpet photos yesterday, not these candids of Fassy after the London premiere of A Dangerous Method. Three, what's good for the goose is good for the gander. All of the little Twihards were in a full-blown meltdown because I DARED to say that Kristen Stewart was an unprofessional brat for flipping the bird once while she was with Karl Lagerfeld in Paris. So here's a photo of Fassy being equally unprofessional, flipping the bird at some paparazzi who were photographing him as he (drunkenly?) smoked some cigarettes outside of 34 Restaurant during A Dangerous Method's post-premiere party. He too looks like an a–hole, just like K-Stew. There, I said it. Fassy and Kristen are the same in this instance, equally douchey. Not only that, Fassy was so out of control, he was asked to leave the party:
Michael Fassbender was asked to leave the after-party for his movie 'A Dangerous Method' on Tuesday night (31.01.12).

The 34-year-old actor was in high spirits as he celebrated at Mayfair restaurant 34 following the London premiere of the film but following antics including dancing his co-stars Keira Knightley and Viggo Mortensen around the room, taking over the venue's piano and finally lighting up a cigarette, he was asked to leave.

Speaking about Michael – who was carried out of the party on his friend's back – a source told The Sun newspaper: "Michael was politely asked to leave. He was in good spirits but it was becoming a bit of a handful for the other guests.

"He was grabbing his co-stars and waltzing around the room with them. He lit a cigarette indoors and that was the point it had gone too far. He's a great actor and women loved him in 'Shame'. It might have something to do with him having his todger penis out for most of the movie."

Michael's co-star Keira has previously revealed the pair got through the more uncomfortable scenes in the film – which include Michael spanking her – by turning to alcohol.

Keira said: "We only had one or two shots maximum. It was a vodka shot to calm our nerves and away you go really. Then we had champagne. We drank quite a lot of champagne actually. You can count on Michael to buy a bottle of champagne when one is required. The vodka and champagne is a good combination."
[From The Free Press]
Would this be a bigger story if it was an actress who was asked to leave her premiere because she was drunk and smoking and trying to waltz with people? Probably. So, there's some sexism here. But I still want to party with Fassy.
I also have a good story about Fassy… and you know it involves his beast and your sweetshop and, of course, spanking. Dear God. *crosses self*
Michael Fassbender has revealed Dutch American actor Viggo Mortensen taught him how to spank in their new film A Dangerous Method.

They star as Sigmund Freud and Carl Jung in the story about the early days of psychoanalysis and the movie involves some quite explicit scenes.

Fassbender told Sky News he took on the role for a number of reasons including: "Spanking, always up for a bit of spanking and I got some lessons from you (Viggo) the motion, I wasn't following through, like a tennis stroke. You've always got to be ambidextrous – that's what you said to me at the time I remember," Fassbender said at the movie's London premiere.
[Via Sky News]
There's video too. These bastards even act out the spanking. No joke. UPDATE: Ah, there are issues with the embed – you can see the video here.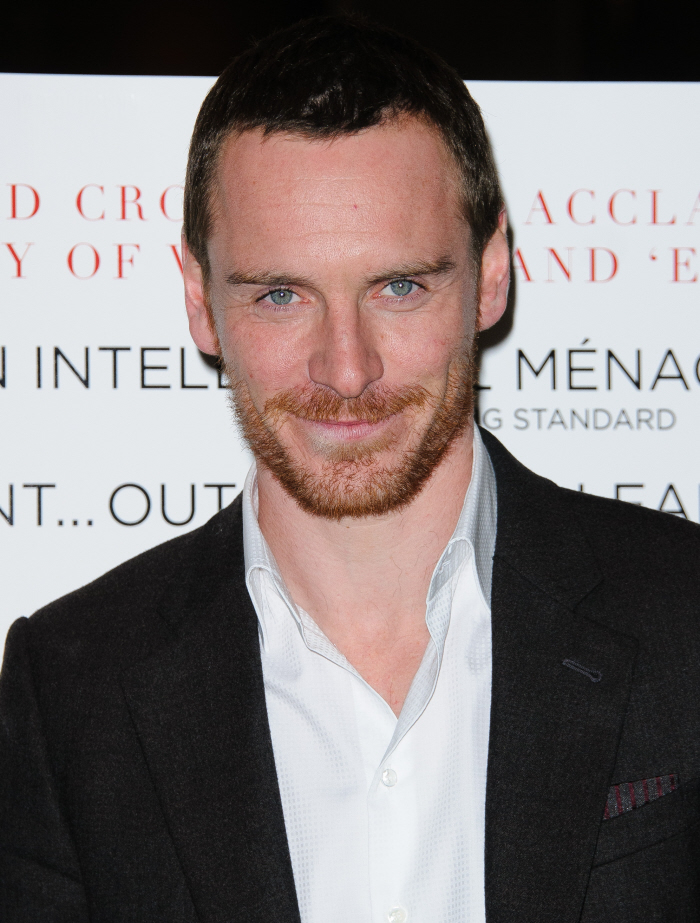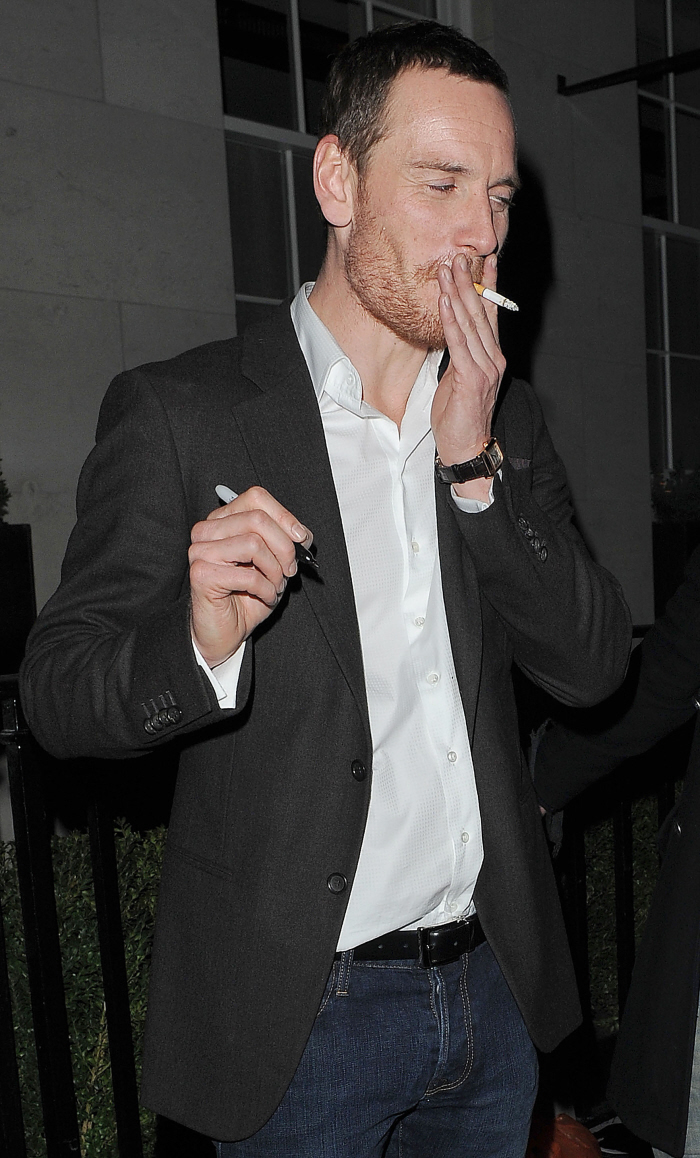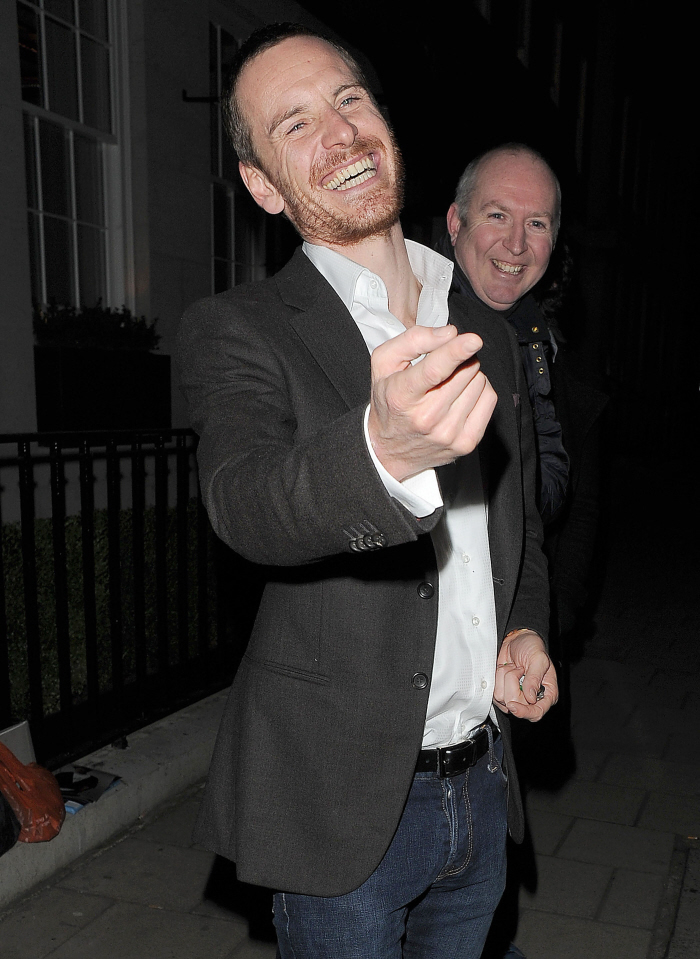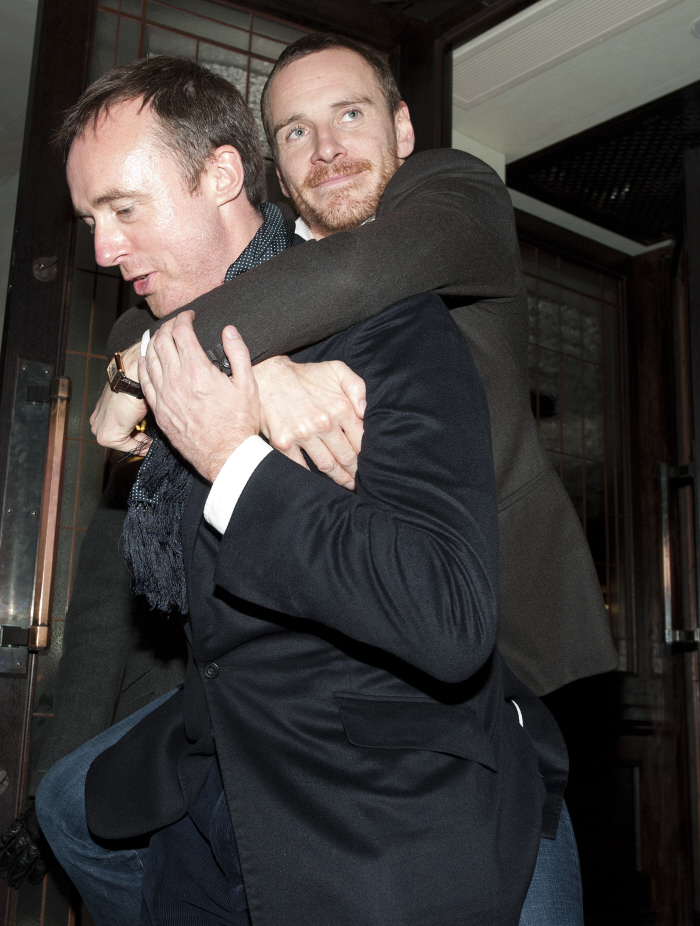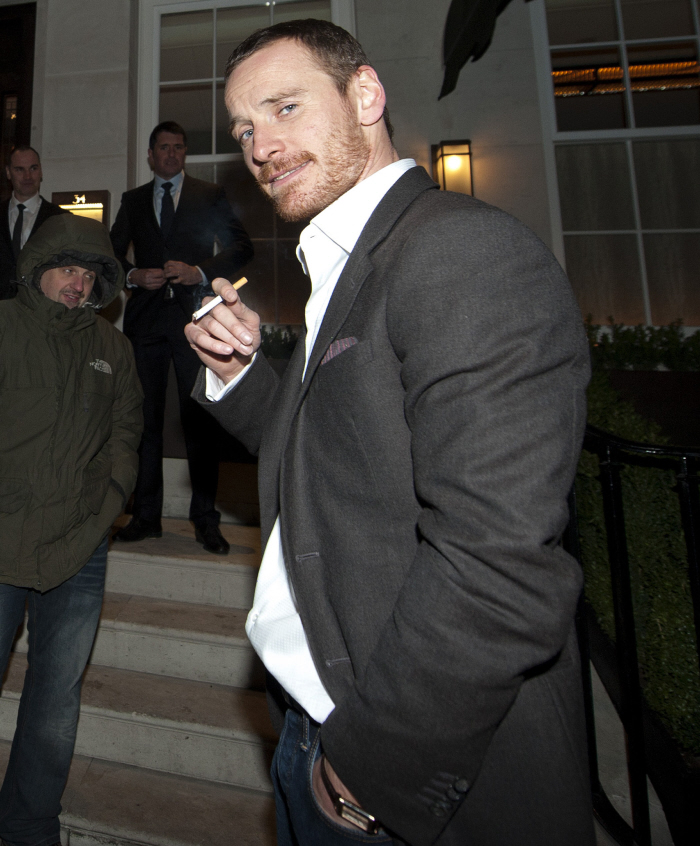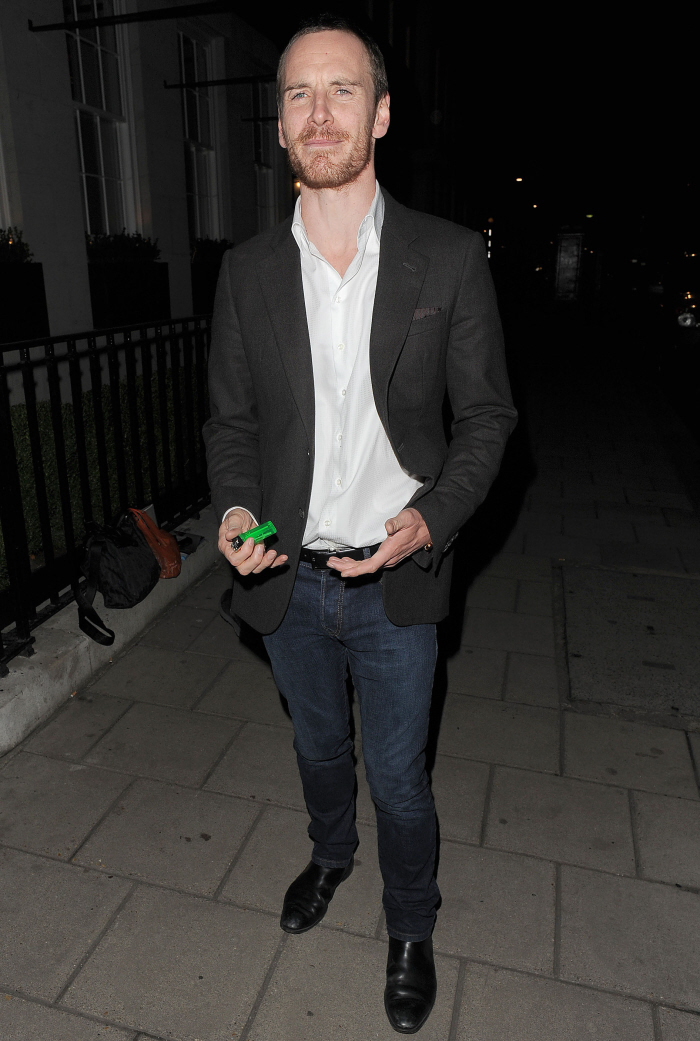 Photos courtesy of WENN.