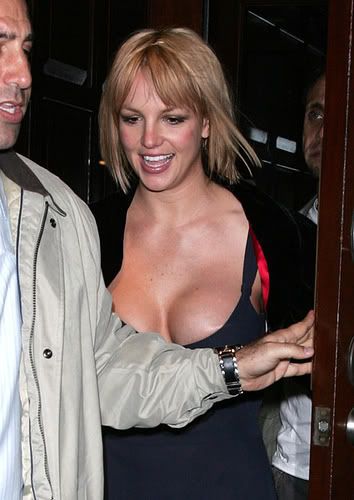 Just like Anna Nicole's sad life of cashing in and Madonna's PR adoption, the K-Fed and Britney divorce is the story that keeps on giving.
The news we reported yesterday that K-Fed will have to return all gifts over $10,000 according to the prenup might not be true. The NY Daily News is reporting that he gets to keep all the overpriced crap he raps about, including his custom Ferrari and Pepperidge Farm Chessman cookie necklace. He has also filed suit for custody of his two children with Britney, Sean Preston, one and Jayden James, 2 months. Kevin was said to be trying to file for divorce from Britney first and he supposedly wanted to try for $30 million settlement by using their kids as pawns. If he's asking for custody now that probably means that he's trying to show he's serious about fatherhood in order to better stake his claim for Britney's cash.
Still, Kevin won't get as much as he's looking for. He's a greedy bastard with expensive tastes, and he won't get half of their $7.3 million Malibu mansion since Britney bought it before she met him: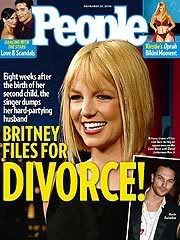 But Kevin – who reportedly has asked for custody of their two kids as well as spousal support – won't walk away empty-handed.

Kevin definitely does get to keep all the toys he has acquired over the past two years, including a personalized Ferrari (logo replaced with Federline), numerous pieces of jewelry and diamond-encrusted watches, and the $1 million Britney invested to produce his single, "PopoZao."

Legal experts say that to keep the Kevster quiet, Britney will have to work out some kind of structured settlement and confidentiality agreement to stop her ex-hubby from selling their story to the press over the next several years.

The $7.3 million Malibu mansion, the one with eight bedrooms, eight bathrooms, an Olympic-size pool, regulation tennis court, spa, gym and fully equipped outdoor kitchen, was purchased by Spears before the marriage.

The couple reportedly spent $150,000 on a new nursery and baby-proofing the house when Sean Preston was born and $400,000 to build Kevin a personal recording studio.

Britney also owned a three-bedroom, 4 1/2-bath Manhattan condominium (once owned by Keith Richards) before getting hitched to K-Fed. It sold for $4 million in August, which was $1 million more than Brit originally paid for it. It will be up to the judge on whether she must share only the actual profit with Kevin.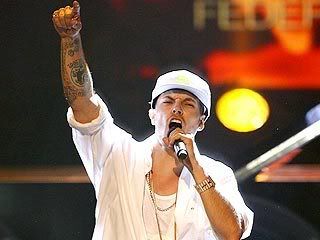 K-Fed performed in Chicago at the House of Blues last night, telling the crowd that he's a free man and pointing out a "sexy ass lady." His ticket sales were so bad that the House of Blues was giving them away.
"Hey, I see a lot of fine ladies in here," said the rapper. "You know I'm a free man, right, ladies? You wanna dance with a pimp?" Later on he added, "That's a sexy-ass lady right there," pointing into the crowd.
Pictures from People.com and Gabsmash.